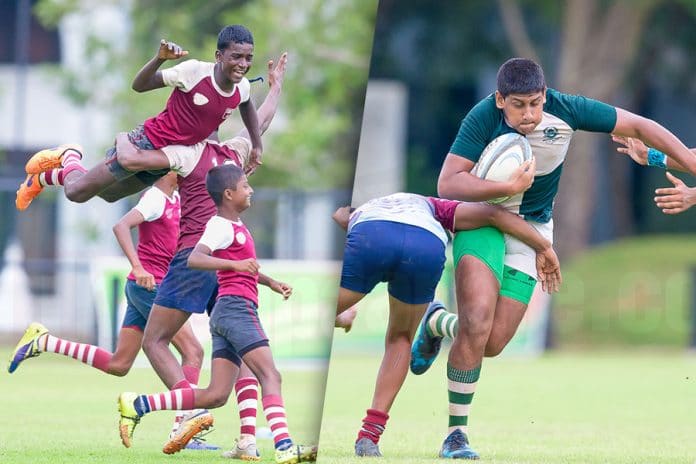 After two exciting semifinal clashes that were worked out today at the Racecourse Grounds, Isipathana College and Science College Mount Lavinia booked their final spots in the Milo Under 16 15-a-side tournament.
Eheliyagoda Madyamaha Vidyalaya, Asoka Vidyalaya, Thurstan College, Science…
The 15-a-side contest, organized by the Sri Lanka Schools Rugby Football Association (SLSRFA) kicked off in August with the regional qualifiers played in Kandy, Colombo & Galle. The tournament took a break for the 10-a-side competition and later resumed on 7th September.
With the shortlisted teams making it to the main draw, it was Isipathana, Science, Kingswood and Dharmaraja who made it to the top four.
The first semifinal was a tightly contested one with both sides showing fighting spirit but the speedy runners from Mount Lavinia sprinted towards victory.
The first half of play saw both Science and Kingswood crossing the white line with a try a-piece but Science later took the lead with a penalty kick.
Read More: Under 16 League Postponed; Richmond qualify from Southern 
The second half exposed the weak links in the Kingswood defence as the Science lads tried to creep through every space the Kingswoodians spared. With two tries coming in for the Science lads in the second half and Kingswood struggling to correct their errors, Science College was off to a final as scores read 20-5.
Final score: Science College 20 (3T 1C 1P) to Kingswood 5 (1T)
It was a one-sided affair in the Isipathana-Dharmaraja game with the Isipathana juniors marginalizing the Dharmaraja team. Isipathana drew first blood with a penalty kick and later ended up scoring six tries in total collecting 35 points.
In reply, the Rajans only had the opportunity of scoring a single consolation try.
Final score: Isipathana 35 (6T 1C 1P) Dharmaraja 7 (1T 1C)
Meanwhile, D. S. Senanayake College & Lumbini College have made it to the Plate finals after D. S. edged out St. John's College in the 1st semifinal. Lumbini College were awarded a walkover in the semifinals.
Read More: Under 16 finals set to return
Thurstan College defeated Vidyartha in a close contest to get to the Bowl finals after final match scores read 10-8. They will meet Wesley in the finals.
Maliyadewa College Kurunegala and Piliyandala MMV booked their positions in the Shield finals. Zahira College and Lalith Athulathmudali MMV
The final showdown of the Under 16 championship is set to take place on the 1st of October while the SLSRFA is yet to confirm the venue for the event.