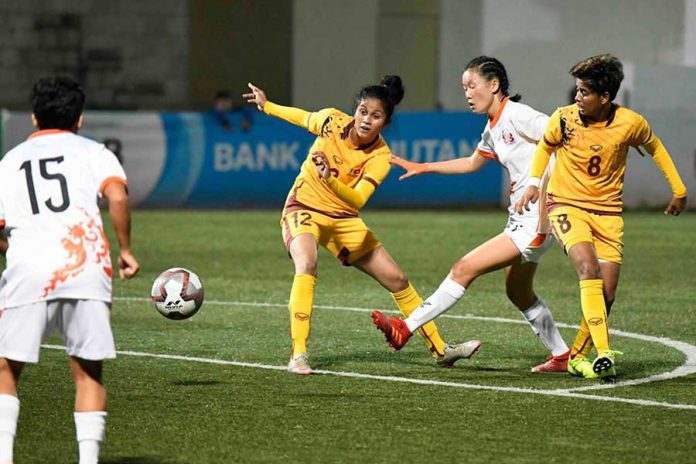 A 15th minute penalty given away by Sri Lanka earned Bhutan Women's Team a deserving win in the 2nd friendly match which was played at the National Stadium in Thimpu, Bhutan.
A 91 st minute winner by Praveena Perera gave Sri Lanka the win against Bhutan….
Tshering Yangden converted the spot kick the home team was gifted with, by Skipper Rushani Gunawardana handling the ball inside the area. Ayomi Wijerathna was rooted to the line as Yangden sent the ball high into the side of the net to give the hosts the lead.
Sri Lanka women came into the game with confidence after the late goal in the first game gave them a win. Bhutan on the other hand had a score to settle in their own turf.
The home team dominated proceedings once again and this was evident by the number of shots on target by them as Sri Lanka could muster only 1 shot on target.
The Sri Lankan Women however had the privilege of getting 5 corners but unfortunately none of them were utilized to threaten the Bhutan goal. When in position, the Lankan girls did look confident despite not having too much possession.
A long range effort by Chalani Ekanayake in the 25th minute was parried away for a corner by the Bhutanese goal keeper Nima Lhden. But from then on there was no goal mouth action on both sides of the field until the short whistle.
Sri Lanka looked more aggressive in the second half with the forwards and midfield pressing high up the field and not giving time on the ball to the home team.
Erandi Liyanage, K.P Kumuduni and Thushani Madushika played their hearts out in the midfield and Chalani Ekanayake along with Praveena Perera were constantly able to put pressure on Bhutan by moving up front.
Ayomi Wijerathna kept Sri Lanka in the game with a good save in the 65th minute after a defensive error gave the ball away cheaply. Tshering Yangden at the end of it hit the target only to be saved by Wijerathna.
Related Coverage;
Sri Lanka hung on as Bhutan kept pressing. In the 80th minute Yangden once again was on target but this time she could only hit the cross bar from outside of the box after the initial cross was brilliantly punched away by the Sri Lankan keeper.
Bhutan kept the ball in the Lankan half for the last 10 minutes. They almost doubled the score in the 85th minute from a corner, but the header was cleared away off the line by Poornima Perera.
The Lankan lasses were unable to create any goal scoring opportunities in the second half as Bhutan took revenge for the loss in the first match, winning it by a solitary goal.
   >>For more Football News Click Here<<