The first three weeks of the school's season has seen it all – administrative blunders, fisticuffs, upsets, and more importantly, some breathtaking rugby.
The commencement of the season immediately went under a dark cloud – a surprise inclusion of a 13th team, and then serious question marks raised as to the competence, or more fitting – the incompetence of the school's rugby body in running the much looked forward to tournament.
I, like other rugby fans around the country are glad to see all this unpleasantness left behind us now.
This week I reflect on the prospects of the hotly tipped sides, their prowess over the first three rounds, and the mouthwatering encounters that lie in wait.
First though, I feel the need to weigh in on the whole Wesley-Trinity fracas. Having played and watched the game for many years, I feel the events that unfolded on that fateful Friday have been blown way out of proportion. Yes, the Wesley player was guilty of a thoughtless late shoulder charge. He duly deserved a yellow card for his actions. But, it is actually the retaliation of a Trinity player that triggered the melee that broke out. It got ugly, and the Wesley bench should never have been on the field. It only aggravated and already out-of-control situation. Credit must be given to the school authorities of Wesley for taking disciplinary action against the perpetrators in the incident.
Anyway, upon appeal I was happy to see that common sense eventually prevailed regarding tge ban. Let's hope that's the last of such.
As for the rugby, Trinity have been head and shoulders above all other teams at this point. They put the double blues to the sword, scoring ten tries in the process. They followed that up with another fifty-pointer against Science College. On Monday, they played their third game – away to Zahira College. This was a potential banana skin for the Lions. I was at the Zahira grounds to watch S.Thomas' play them. And I had the privilege of actually playing there myself many a year ago when I donned the blue and black stripes. Let me tell you, that venue in Maradana can be a very imposing place for visiting teams to play at. Trinity had many a sticky moment, but in the end had enough class to get over the line by 34-26.
Some of the rugby they have dished out, I have not seen from a schoolboy side for quite a while. They seem to have all the ingredients of a great side. An experienced Scrum Half in Boyagoda running the play – knowing when to get the line in motion, and when to go off on those sniping runs, which killed off Zahira. Centre Diluksha Dange has been an absolute revelation. Opposition backs have just not been able to contain him. Playing alongside Avishka Shiek they pose a deadly combination, with Fly Half Wijesuriya also in fine form.
The biggest challenge for the lads from Kandy thus far has been their grueling travel schedule – all four of their first round games are in Colombo. Next up – the wounded Thomians.
S.Thomas' hosts Trinity on the 20th March for the Canon R.S De Saram shield. They would have expected to go into that game undefeated. However, that was not be, as they were upstaged by a determined Wesley side that did well to claw back a first half deficit. I was impressed with the way the Thomians played against Zahira. I thought they were clearly the better side, and should probably have put the game away before it got close at the end. However, closing games out seems to be a problem for the boys from mount. Injuries also seem to be affecting them, as several of their starting players failed to complete their last game.
Coach Laga has a big task in front of him to prop the boys up for Trinity. You lose two games, and you run the risk of not making the top four. To miss the cut would be calamitous for S.Thomas' having being crowned runners-up last year.
Wesley now have their full complement of players, and will be buoyed by clinching the Sir Oliver Goonetilleke Shield from S.Thomas'.
They will know that the job is far from over. Science and Zahira will also be harbouring ambitions of progressing to the next round. So the outcome from the games between these sides could well determine who advances, and who slips down to the plate.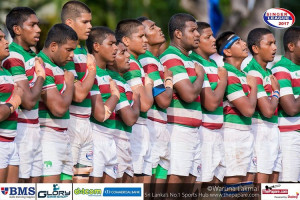 I have been particularly impressed by Zahira. They have some great runners out wide, and quite a big, but mobile forward pack. Like I said, they will be difficult to beat at home with their fanatic fan base cheering them on.
The other side of the draw is probably the more competitive of the two. But just by a bit. Furthermore, rather inexplicably, there was a seventh team added at the eleventh hour which just adds to an already grueling schedule.
Defending champions Isipathana have sprinted out of the blocks with three wins from three – against Dharmarajah, St. Joseph's, and St. Anthony's respectively. The Havelock town outfit have a bulk of their three quarter from last year. Skipper Sumudu Rankothge, and Chamodh Fernando are a constant threat with ball in hand. Their Achilles heel is their forward pack, who are somewhat small in size. They did ever so well to beat the fancied Joes outfit, and were also impressive against the Antonians. However, bigger challenges will come – especially when they play teams with big aggressive forwards.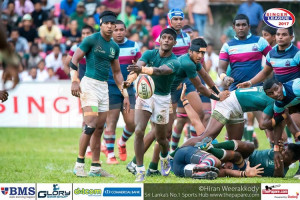 Still however, against pre-season predictions, Pathana now look the favourites to top the group.
Much has been expected of St. Joseph's, who have pumped in a lot of investment to assemble a strong squad under Nilufer Ibrahim. However, they have a poor return of two losses on the bounce. They were arguably the better side against Royal in their first game. But they just didn't seem to settle as a team till the last quarter when the game was all but gone. Too many players seemed more intent on impressing individually. Against Isipathana, it was an absolute classic. Arguably the game of the season so far. However, with all the physical dominance they had, they should have closed out the game. They now face a must win game against an ever improving Dharmarajah team.
Royal College look a side that is walking wounded. Against St. Peter's they had to mix and match players – ie field a Full Back at Flanker. Yet, they still managed to win. Against Joes, despite being severely under the pump, they found a way to win. Earlier in the week, they travelled to Kandy to play the Rajans, and despite all odds, the boot of skipper Ovin Askey got them over the line with a last minute drop goal. They are now at the top end of the table with Isipathana. But with so many injuries early on, you wonder whether they will have the legs to sustain this level of performance at the back end of the league when tougher assignments come their way. No doubt they have one eye on the Bradby. But with the Lions in red hot form, the Reid Avenue lads will know that they will have to raise their game by quite a few pegs when the time comes.
The Peterites have been a bit disappointing so far. They managed to edge out the Antonians in their opening game. But playing a Royal side badly depleted with injuries on their own turf, you would have expected them to get the job done. Especially with players such as Diyath Fernando in their ranks. But they were constantly at sixes and sevens and couldn't settle to any rhythm. That was a huge opportunity gone a begging. They now host Isipathana this weekend, and will look to dish out a much improved performance. They have the players, just need to find the right formula that works for them.
St. Anthony's have proved to be a bit of a surprise package this year. There is much more to them than just Samuel Maduwantha. They have a steady pack, and some big hard runners in the centre. They have played two big games – St. Peter's and Isipathana, and come out on the wrong end of the results. They cannot afford any more blips if they want to stay in the top tier competition.
All in all, there has been some high quality rugby dished out. What is most encouraging is the likes of Zahira and St. Anthony's really giving the more renown teams a run for their money.
After the first three weeks, Trinity looks to be the side to beat, with Isipathana staying true to their fast flowing, never-say-die brand of rugby. Isipathana vs Peters, and the Trinity-Thomian encounter looks to be the pick of the games this weekend. You wouldn't want to miss a moment.
Catch every spectacular move, and bone jarring hit – live and exclusive on the thepapre.com