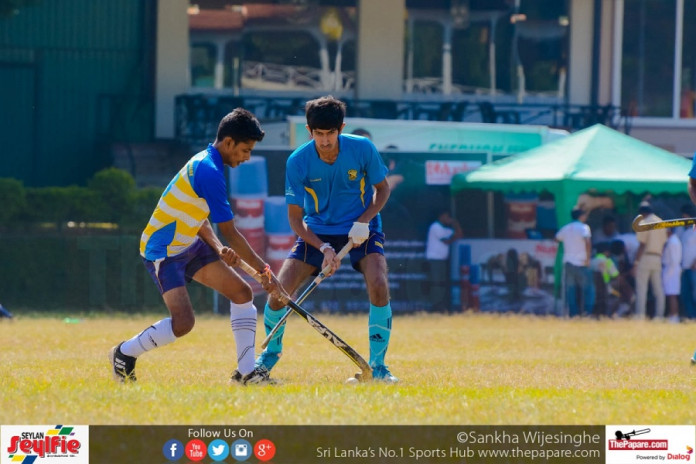 The Trinity Hockey Sixers 2017 tournament commenced today at the Asgiriya College Grounds.
The chief guest for the opening ceremony was Mr. Paul Jeyraj together with the college vice Principal Mr. Ananda Marasinghe. The tournament had been organized to celebrate the 70th anniversary for Trinity Hockey which started in the year 1946. After the glamorous opening ceremony the tournament began with Trinity playing Vijaya College Matale.
The 54 teams that participated were categorized into the boys and girls segments. The boys segment consisted of 8 groups in which there were 4 teams a piece.  The total duration of a match summed up to 12 minutes.
Photos: Trinity Sixers Hockey Tournament 2017 – Day 1
At the end of nearly 70 matches on the first day, the schools from Matale had more victories to their name. Vijaya Matale, Christ Church Matale, Zahira Matale, S. Thomas Mount Lavinia, Isipathana Colombo, St. Thomas Matale, Nalanda and Kingswood colleges emerged victors of their group in the Boys segment of the tournament. While Trinity A, Prince of wales Moratuwa, Bandaranayake Gampaha, Ananda Colombo, Aloysious Galle, Badulla Central, Joesep Vaaz Wennapuwa, and Richdmond Galle were the runners up of the respective 8 groups.
Seethadevi, Sangamiththa Matale, Christ Church Matale, Janadipathi college Colombo won their groups while Museuas College, Viharamahadevi Badulla, Viasaka Vidyalaya and St. Anthony's College Kandy came second in their groups.
Tomorrow is the second and the final day of the tournament where the schools will face of each other in a knockout half where each half and team fights for themselves to qualify towards the cup finals.
The closing ceremony is scheduled to take place at 4 pm tomorrow with Mr. Roshan Rajadurai taking part.