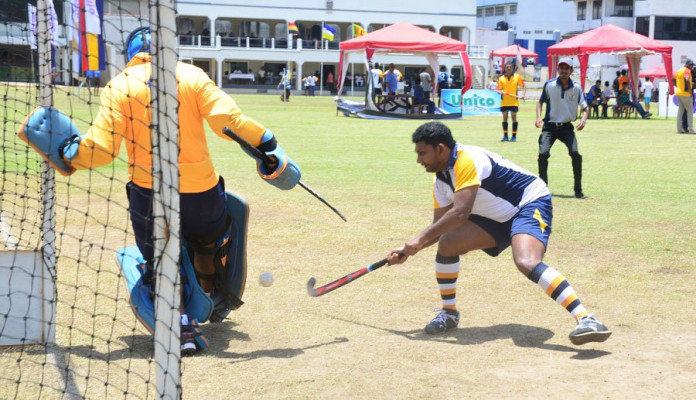 The 3rd edition of TPT Hockey Carnival (Trinity, St. Peter's, S. Thomas' Hockey Carnival) is to be held on the 16th of September 2017 at Trinity College grounds, Asgiriya.
For the first time, TPT Hockey Carnival is moving to the Hill Capital. Old Boys of Trinity College have joined hands to conduct the 3rd edition of TPT with the help of their newly founded Trinity College Hockey Foundation.
This carnival, established in 2015, serves as a frontier to maintain and further develop the standards of hockey in the respective schools of Trinity College Kandy, St. Peter's College Bambalapitiya and S. Thomas' College Mt. Lavinia, providing the chance for players from various generations hailing from all three schools to relive their passion for the sport along with their families.
The event this time is organized in such a way where the old boys of their respective schools can enjoy the day with their former teammates. To make this a fun-filled family event, stalls and fun activities have been arranged by the committee.
The matches will be conducted in 5 different categories with the Under 19 tournament being the most anticipated category of the event. The other four categories will be U-15, 20 to 30, 30 to 40 & 40 above. The U-15 category was added to the list last year
Thomas' College and Trinity College will be walking in this year as defending champions of the u-19 category. Trinity College emerged winners in the 20 to 30 and St. Peter's College secured the trophy in 30 to 40 category. S. Thomas' College went on to win the 40 and above category in the last year's TPT tournament which was held at St. Peter's College
The winners of the respective categories will walk away with the separate challenge shields. Mario Joseph & Godwin Solomons from St. Peter's College have donated the 20 to 30 shield, the 30 to 40 challenge shield is donated by the Old Trinitians Sports Club (OTSC) and the over 40's challenge shield is donated by Dr. Sarath de Alwis-Seneviratne in memory of his father.
3rd edition of TPT is all set to start on 16th of September. Opening ceremony will begin at 8.30 am with the presence of Mr. Paul Jeyaraj, who is a champion hockey coach and former vice principal of Trinity College. President or secretary of Old Boys Association of each school will grace the opening ceremony along with him. Closing ceremony will be held at 5.30 pm. Trinity College vice principal, Mr. John Shaw Wilson will be the chief guest for the event.