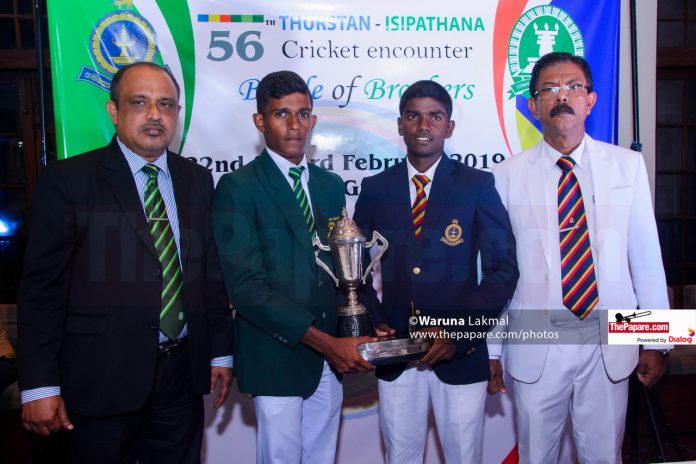 The much-looked forward Schools Cricket 'Big Match' season AKA 'March Madness' will commence on the 22nd and 23rd February as Thurstan College take on Isipathana College in the 56th Battle of the Brothers at SSC Grounds.
>>Replay : Thurstan College vs Prince of Wales College – Singer U19 Division 1 Cricket Tournament 2018/19<<
One of the oldest encounters in the country, the Thurstan-Isipathana clash was played in 1964 and, have been an uninterrupted fixture for the last 55 years.
Both teams are battling each other for the 'Blackham Wijewardene Memorial Trophy', which has been won five times by Thurstan College and four times by Isipathana College.
Speaking at the Press Conference for the match on Wednesday, Isipathana College principal Premasiri Epa shared his views, "The significance of this annual cricket encounter is that we mark the start of all the big matches in Sri Lanka. Hence, we take a huge pride in organizing this match. We have been renowned as two schools, who play the game to the best of our abilities but within the proper rules and regulations. Also, with this encounter, our main aim is to further strengthen the brotherhood between amongst the two schools."
>>Replay – Isipathana College vs Lumbini College – Singer U19 Division 1 Cricket Tournament 2018/19<<
This year, the unique fact will be that both teams will be captained by two left-arm spinners. Madushika Sandaruwan for Isipathana and Sandaru Dias for Thurstan. Both the left-arm tweakers have been amongst the wickets this season.
The 39th Thurstan-Isipathana limited-overs cricket encounter will be played on 3rd March, Saturday at P. Sara Oval Stadium, while that will be played for the W.A De Silva Challenge Trophy.
"Coinciding the big match, we have organized plenty of other events such as the Old Boys match, Teachers Match, Joint-Cycle Parade to make sure that everyone gets to experience the true spirit of Thurstan-Isipathana big match." Thurstan College principal Lakshman Dias said.
Photos: Thurstan v Isipathana Annual Cricket Encounter 2019 – Press Conference
The 56th Battle of the Brothers encounter and the limited overs match, both will be shown Live on Dialog Television Channel No. 77, ThePapare.com & MyTV.