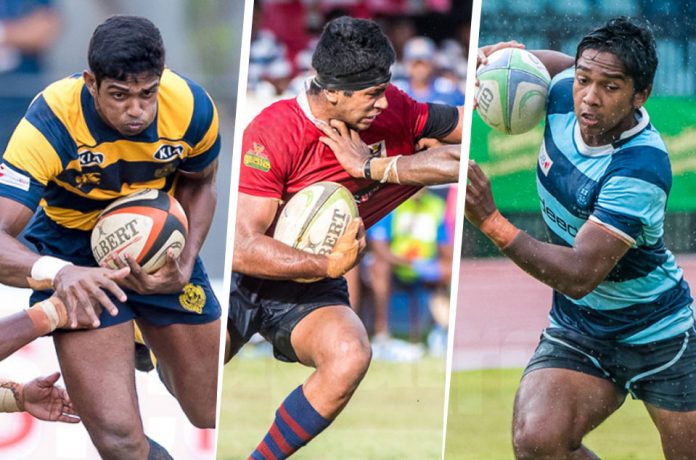 The most looked forward to line up and most anticipated of teams, based on season skills, performance (run on and exposed form) for 2018 is now out. You all saw the video, now here's the detailed breakdown and with each position.
We have a "bubbling under"— "shadow" player, essentially creating a thirty man horde from best of the best. Loaded with ball carriers, team captains, absolute game breakers with side steppers and lethal goal kickers, we present to you ThePapare.com all stars as picked by our expert.
>>Read more exciting pieces from Boa Athu<<
1. Himantha Hirushan (Royal College) Loose head prop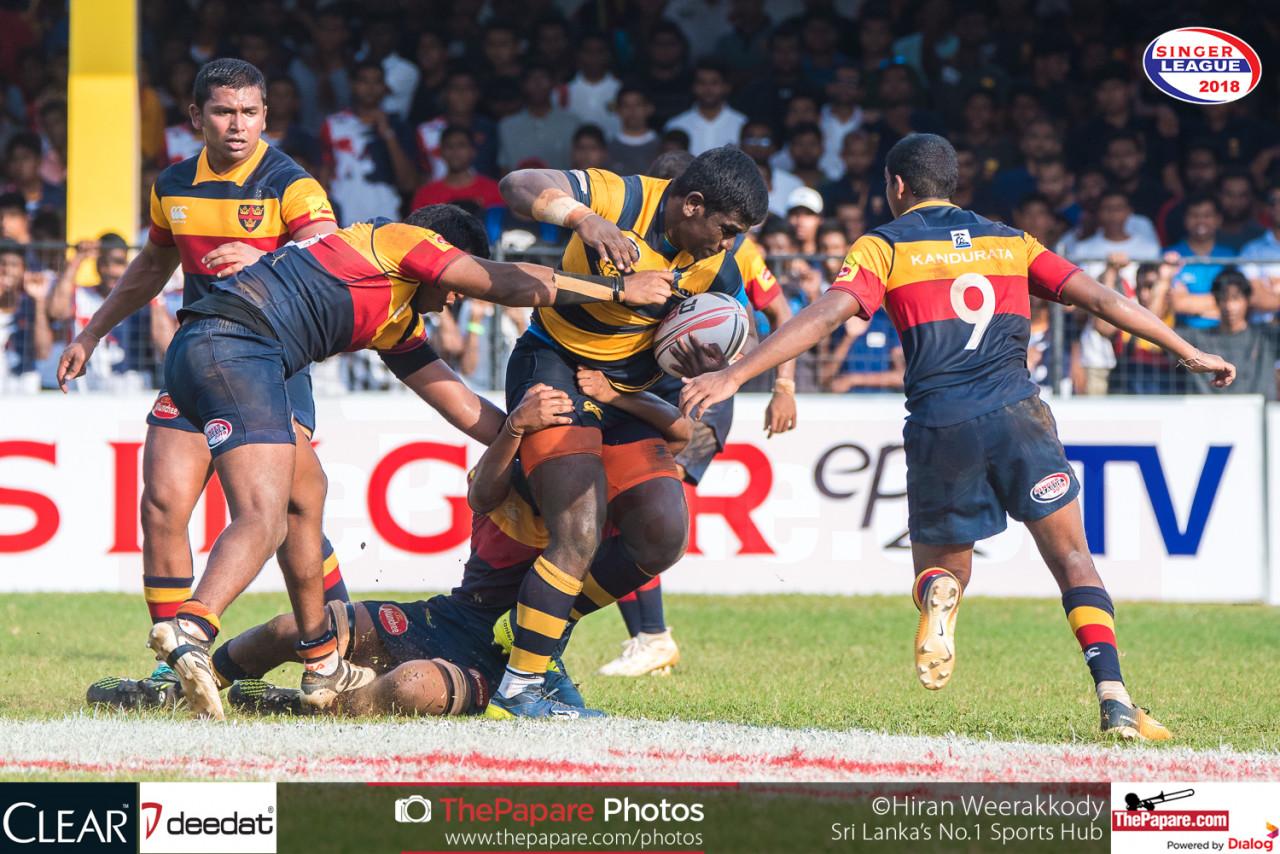 Alias the "Black Panther". When your loose head prop resembles and plays like the very marvel super hero he is dubbed with, fair to stay it is a star-studded start. He is versatile and can play as loose forward. Essentially, he is your fourth back row forward. Built like a true Avenger and gone are the days, where props were essentially well-rounded humans on three square meals.
Read More:
Excellent scrummager, a pit bull terrier in the loose and drives the fear into his opponents with an ability to lurk around back play. Outran and outpaced the Trinity back three in his Bradby try, one of five times he scored. Welcome to the new age- Hybrid prop forward.
Bubbling under: Abdullah Faiz (St Peter's College)
2. Ifham Fareed (Royal College) Hooker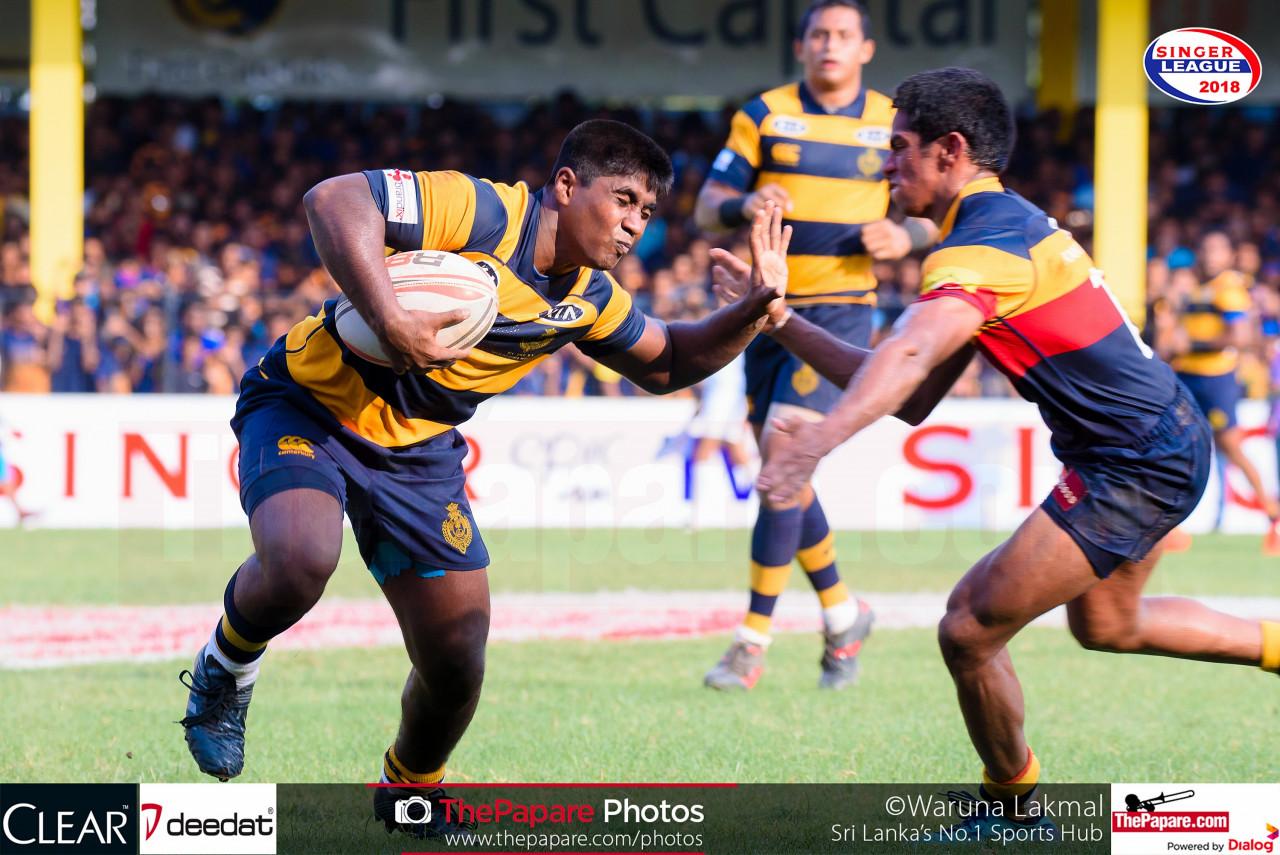 Easily the best No.2 and hooker in both set plays-throwing and loose play. Part of the key thrower- jumper combination of the unbeaten title winning team of Royal. Again, versatile enough and makes up, adding on as another loose forward.
Tremendous body position with his ball carries and very much a coiled viper ready to strike, five meters out from a ruck. One of the fittest front rowers seen for a while.
Does his role to perfection and understands the physics of playing as a unit when it comes to close quarter rucking and driving mauls. Another versatile player who can interchange into the back row if required.
Bubbling under: Julian Charles (St Peter's College)
3. Rashmika Chandrarathne (Kingwood College) Tight head prop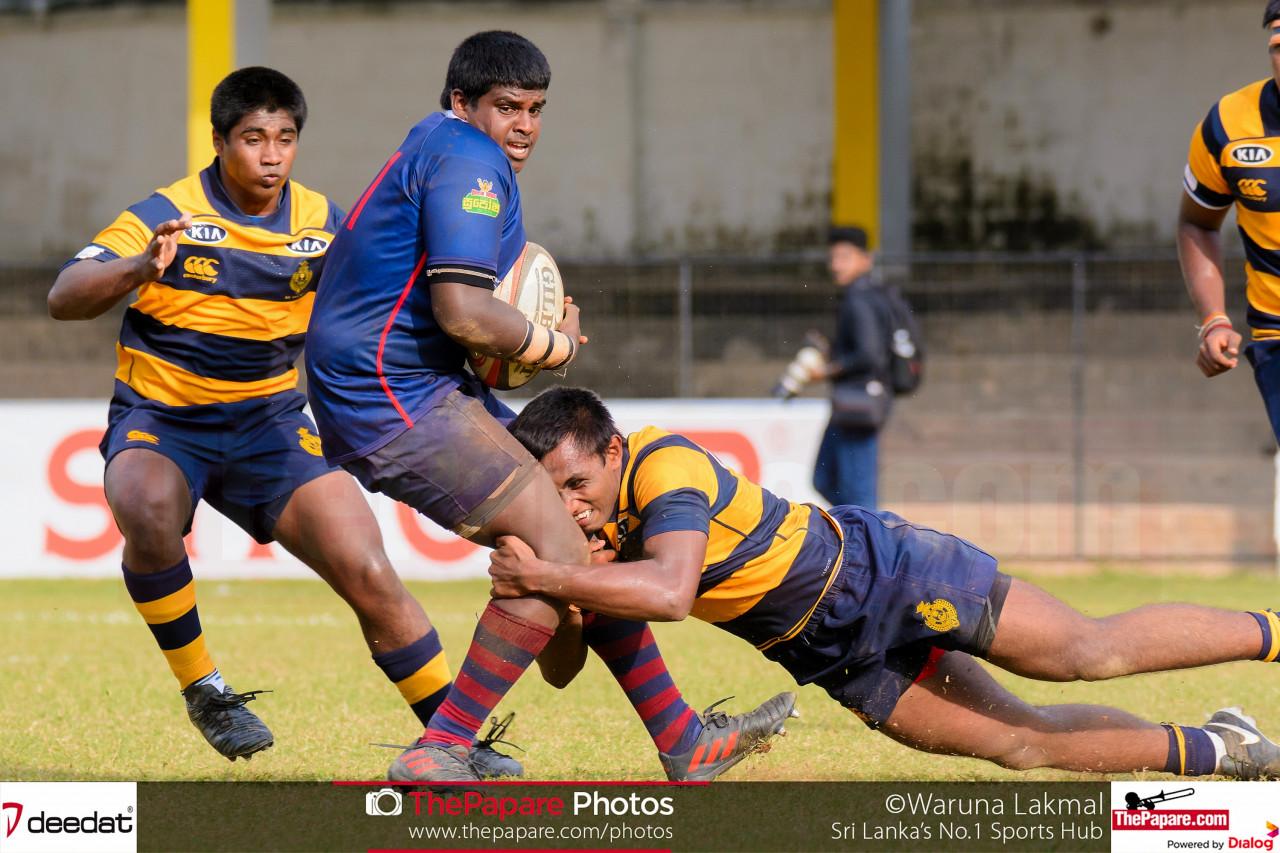 Don't let his mild manners and big wide- smile fool you. Picture this, a big teddy bear coming to life at a rodeo, wanting a piece of the big bad bull, and he does, carrying the bull on his shoulders and smiling for the cameras. A big lump of a first fifteener, his physicality and getting involved at the right time is delightful. Bumps in and out of tackles at will and easily a body-ready player to step into a club side. Old fashioned Osdu Rant style prop with the skills of an agile third rower when a ball carrier. It is very secure tucked under his arm and hardly, if ever, gets turned over. Exciting front rower with huge potential to be sensational.
Bubbling under: Maadhi Abdullah (Trinity College)
4. Fadhil Adahan (Royal College) Lock forward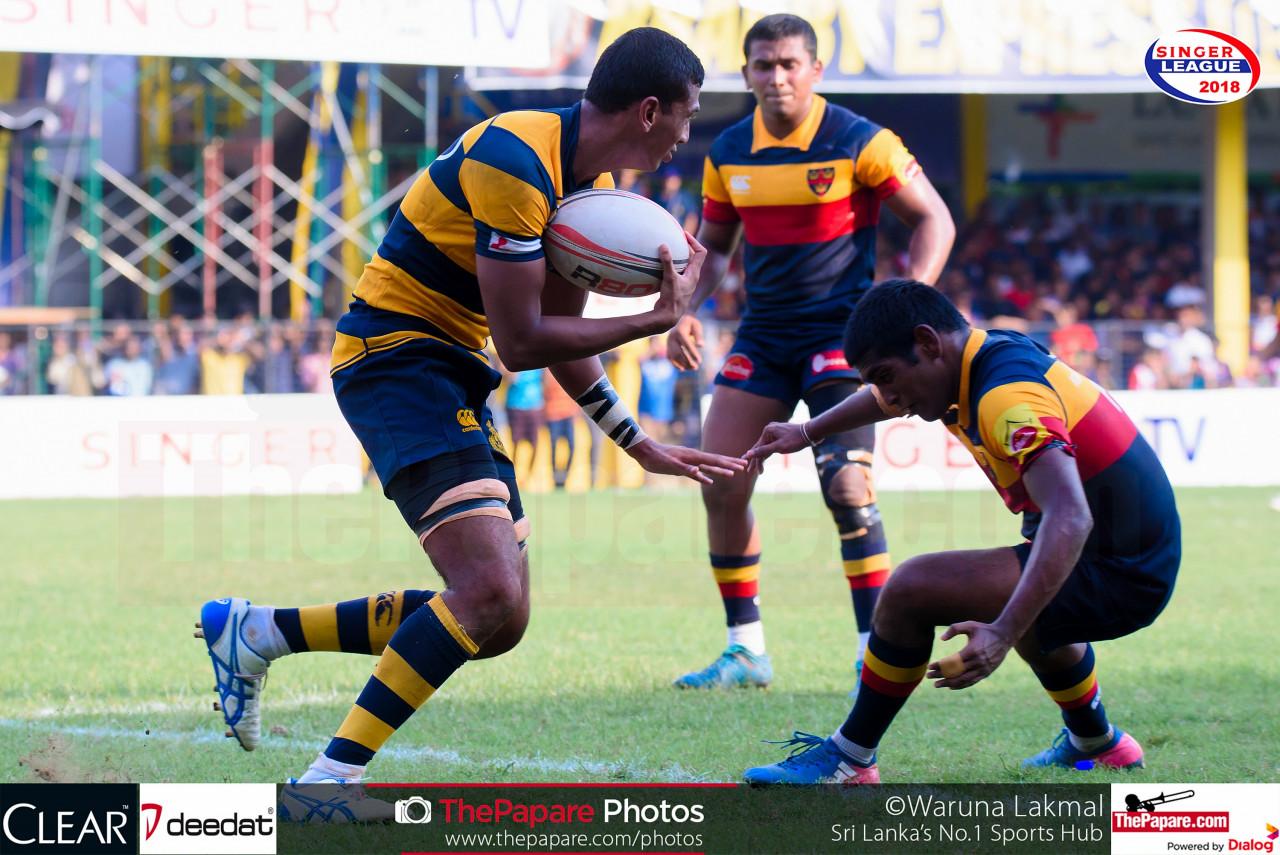 A genuine aerial artist and line out jumper. One the best in the business and would rival any jumper, anywhere in the tunnel when contesting. Enjoys the matchup and is not just a "lift me please and I will get you the ball" lock.
Equally gifted in his broken play, has got his basics in close quarter combat right down to a T. His heroics in this year's season proper was amazing. Makes the crucial pairing with hooker and thrower, Ifham which will get this all-star lineup, plenty of ball to play with.
Easily provided over 60% of his teams set phase ball and very noticeable in jumping against the throw and winning. In theory, any line out is more or less his own.
Bubbling under: Harith Senanayake (S Thomas' College)
5. Samuel Ogebor (Wesley College) Lock forward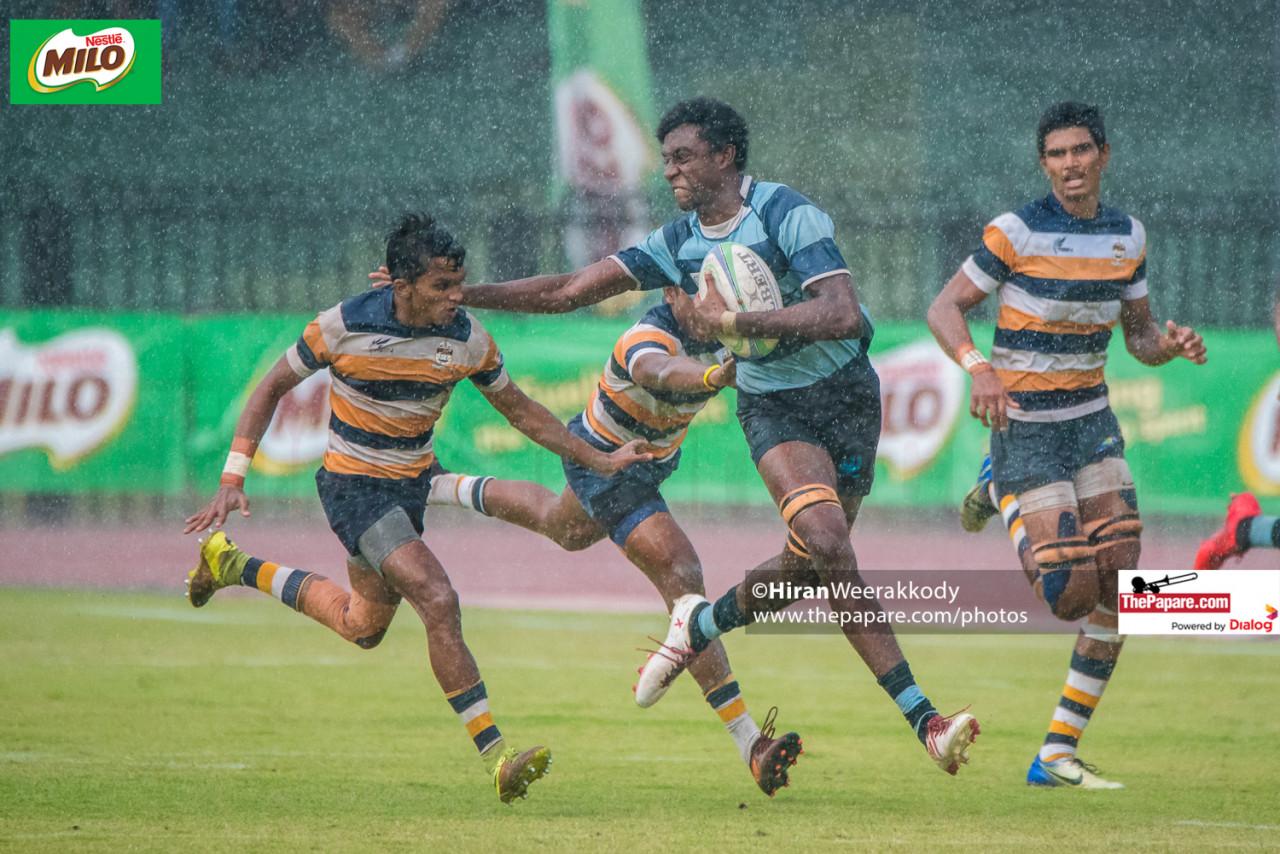 Our second jumper and airborne specialist. Wesley's go to man in their line outs this season and a sure thing in the air. Like his locking partner, terrific loose player and on first sight, in broken play will be mistaken for a No.8 forward.
Great skill and technique with his jumping, setting up rucks and mauls. Easy pick for the second, second rower. Will make a dynamic pairing with Adahan as he too can jump from almost anywhere in the tunnel.
Bubbling under: Mohamed Shabeer (St Anthony's College)
6. Christian De Lile (S Thomas' College) Loose forward/flanker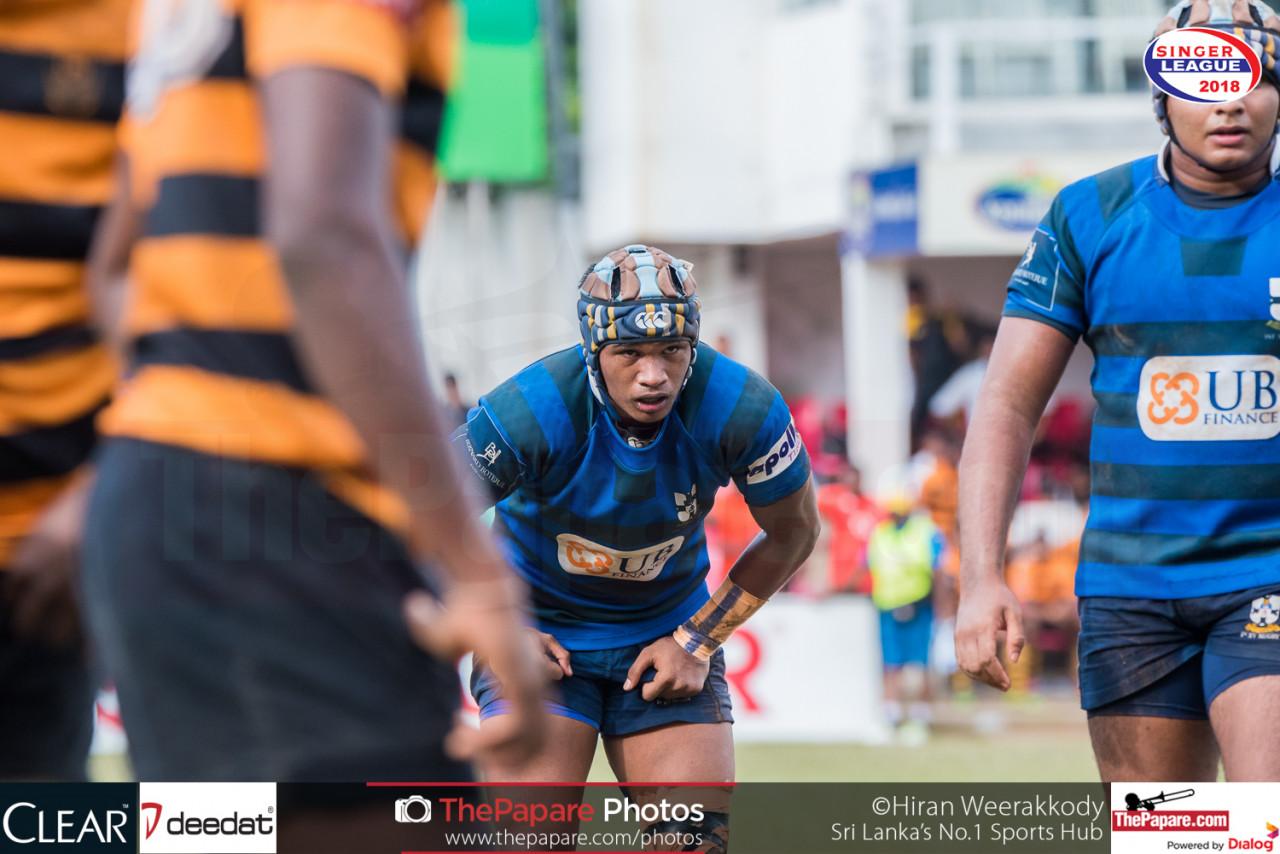 The Knight in shining armour for what was a disappointing Thomian side and season. Fought all the way to the end, especially in the 0-55 drubbing at the hands of Royal but was a menace to their superiority from the word go, till the end.
Does what any good number six does, slick in the loose and watertight with the close in stuff. Best technician at the tail of a maul and equally good with pick and goes, frequently scoring for STC. Inspiring presence on field with his trademark head gear. We didn't see the best of him as his side faired way below par.
Bubbling under: Maleesha Madhumewan (Royal College)
7. Janitha Rajanayake(Kingswood) Loose forward/flanker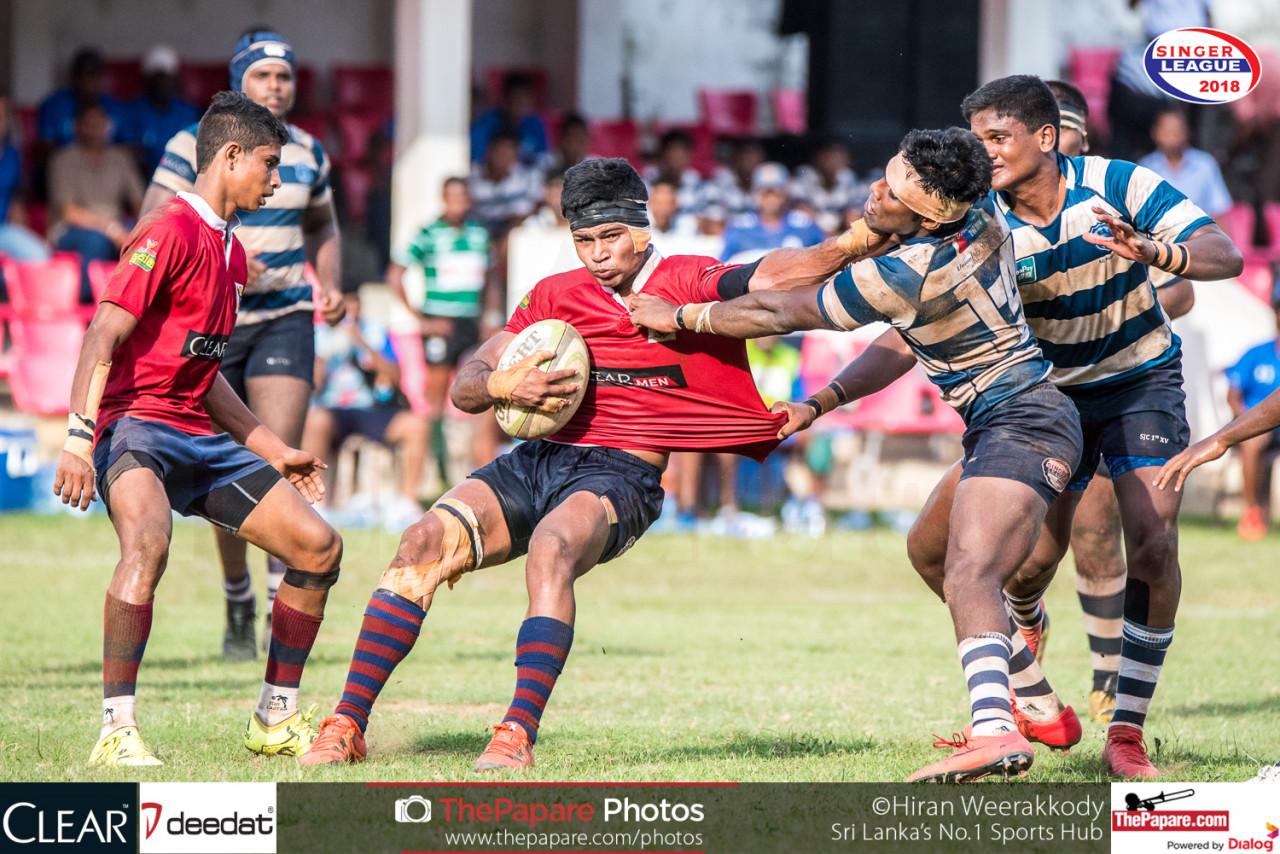 The best loose forward in the competition. He is fit, strong, technically sound and most accurate at the breakdown. Runs like a three quarter and is on the spot almost every single time. The best loose forwards, more specifically, open side flankers have a sixth sense to know which lines and shortcuts to take. He has it, he knows it and the amount of times he is up and over to "jackal" the ball is proof enough. Will be the pivot in defence for this all-star side and allow his backs, ample ball from turnovers. Again, with a unit as strong as this he will get better and faster as the demand and thirst to attack will pick up a notch.
Bubbling under: Muammar Deen (Zahira College)
8. Tharindu De Alwis (St Joseph's College) No. 8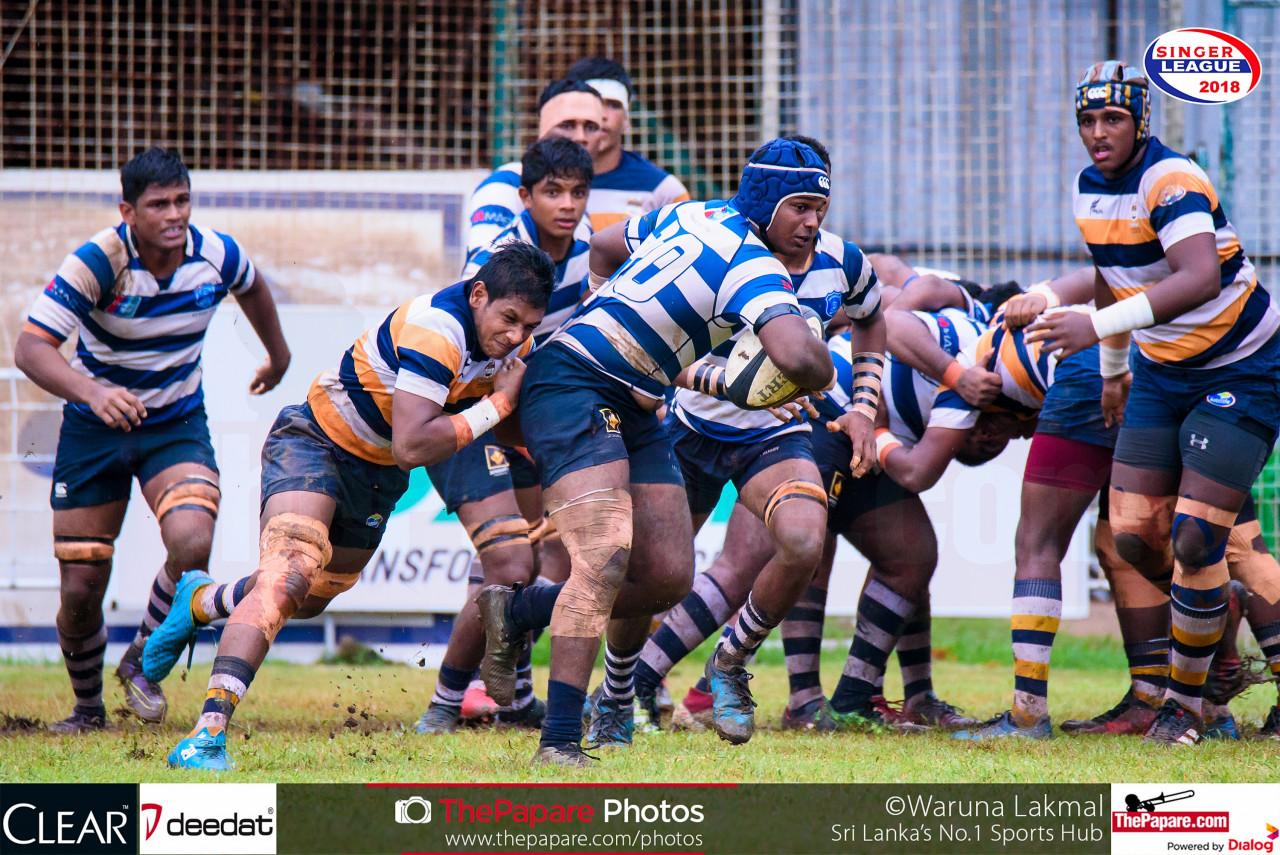 The hardest man on the park and the one who has the most physical presence with ball playing skills. Excellent in the set piece and keeps pace with his back three in broken play. An astute reader of the game and on any given day, he will get photographed a dozen times or so, ball in hand, running hard in offence.
Brilliant defender and great tackle technique. Makes the cut with ease as the most wanted position in the forward pack. His breaks from the base of the scrum as demonstrated in the KO final, resulting in a try, evidence of his technique, power and confidence.
Bubbling under: Daiyan Sabar (Wesley College)
9. Jason Karunarathne (St Peter's College) Half back
*No. 5 Gamebreaker of the year.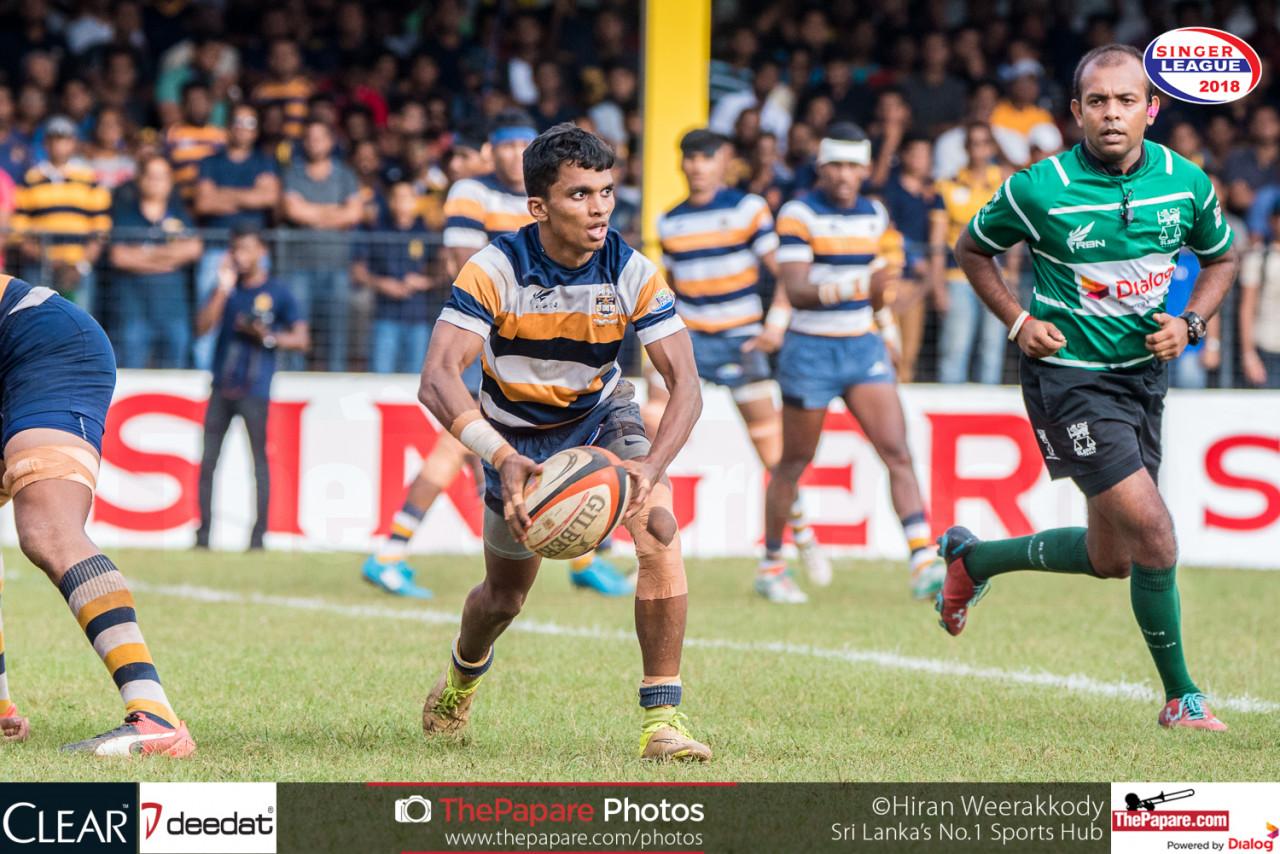 There is a good old saying that "it's not the dog in the fight but the fight in the dog". Well, look no further than fifty-three-kilogram Jason "Bourne" Karunarathne. He is very much your poodle but has the bite of an American pitbull. Easily the most fearless and jolly Rodger style player in the comp. Never short of a word and knows his place and responsibility for his team.
Ever the encouraging taskmaster who directs his forward pack. Has an electric step and beats defenders for pace. Blessed with a low center of gravity and his light body weight gives him great agility. It's almost as if he has the same amount of downforce when he runs. In theory, he could do so running upside down and yet, score. Usually, under the posts.
The best halfback in the comp by a Jurassic mile and one of the toughest competitors in the league. Hard to coach that sort of commitment and athletic prowess. Has an excellent kicking game from the base and a wonderful defender when falling back as cover. This is a common denominator in the best No.9s in the game who read the plays and what's coming up. Size and volume is his handicap but he more than makes up for it with skill and heart.
Bubbling under: Rashean Gunawardena (St Joseph's College)
9. Asiri Seneviratne (Kingswood College) First five eighth/Fly half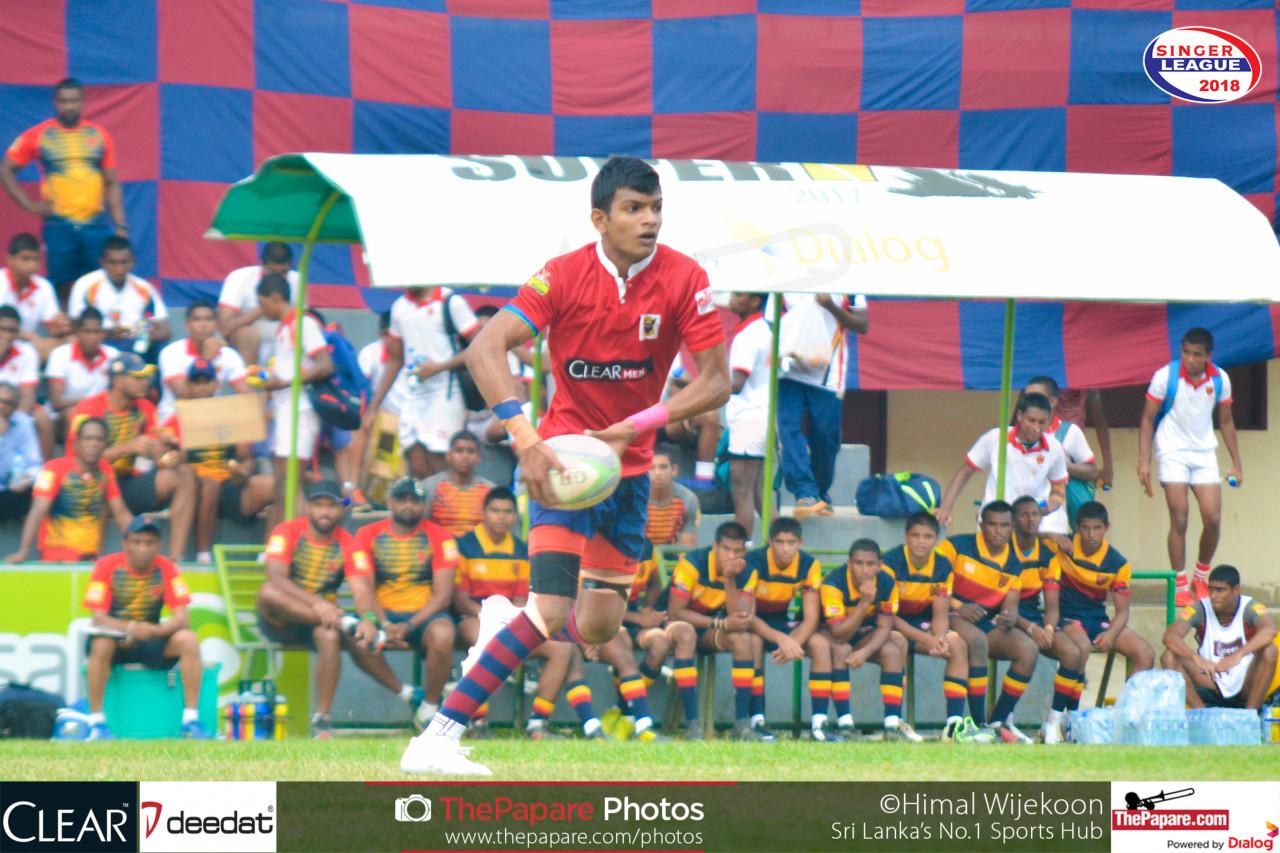 Tradesman first five and a man with a fierce step, hit and spin off when challenging the line. In a season where there were no obvious, stand out fly halves- he is the one shining light. This hit and spin, a very aggressive and patented skill he possesses just like a slippery eel on the loose. Ticks all the boxes and will supply his backs plenty of ball and put them in to holes, giving good- front foot ball. Sound kicking game and excellent exit player with his boot. Has good pace and speed to beat one on one tackles and has the knack of scoring when in the green zone, close to the opponent's line. This forward pack will give him good service, allowing for more freedom and flair. The ideal fuse to ignite this powder keg like three quarters.
Bubbling under: Kenneth Wimaladasa (St Peter's College)
10. Sabith Feroze (Royal College) Captain of the side /Winger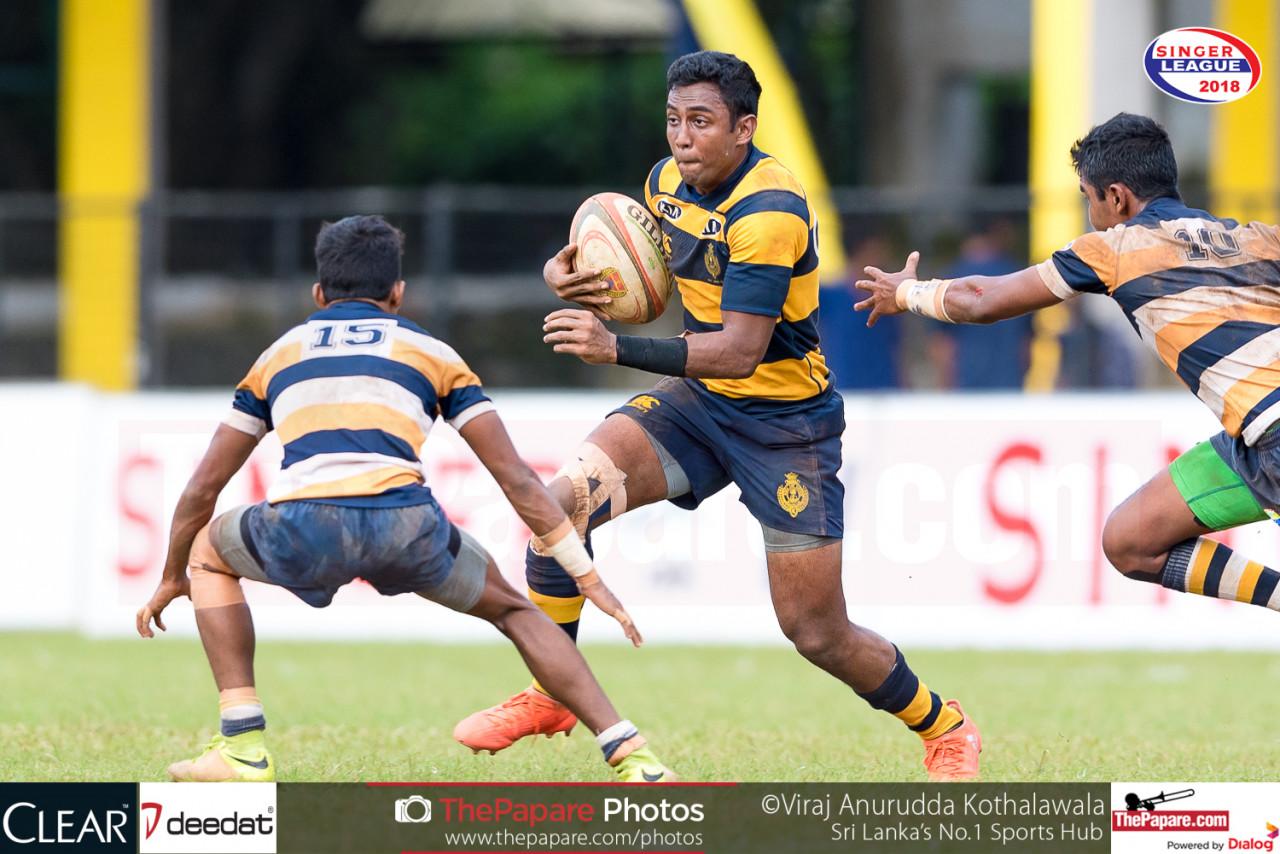 On the back of an unbeaten season proper and his inspiring leadership, good enough to hold his own for a starting spot in an ultra-competitive backline. Automatic selection to captain this team of super stars.
As a winger, he has the speed to burn and swerve to go, opening up almost every major defense in the league. Deceptive runner who is good at hitting gaps and switching angles, making the most of tight spaces. A masterclass against St Peter's was the highlight of his season. Showed his speed and guile even at the sevens, late in the season.
Bubbling under: Vishwa Ranaraja (Trinity College)
12. Manilka Rubeyru (Isipathana College) second five eighth
*No. 2 Gamebreaker of the year.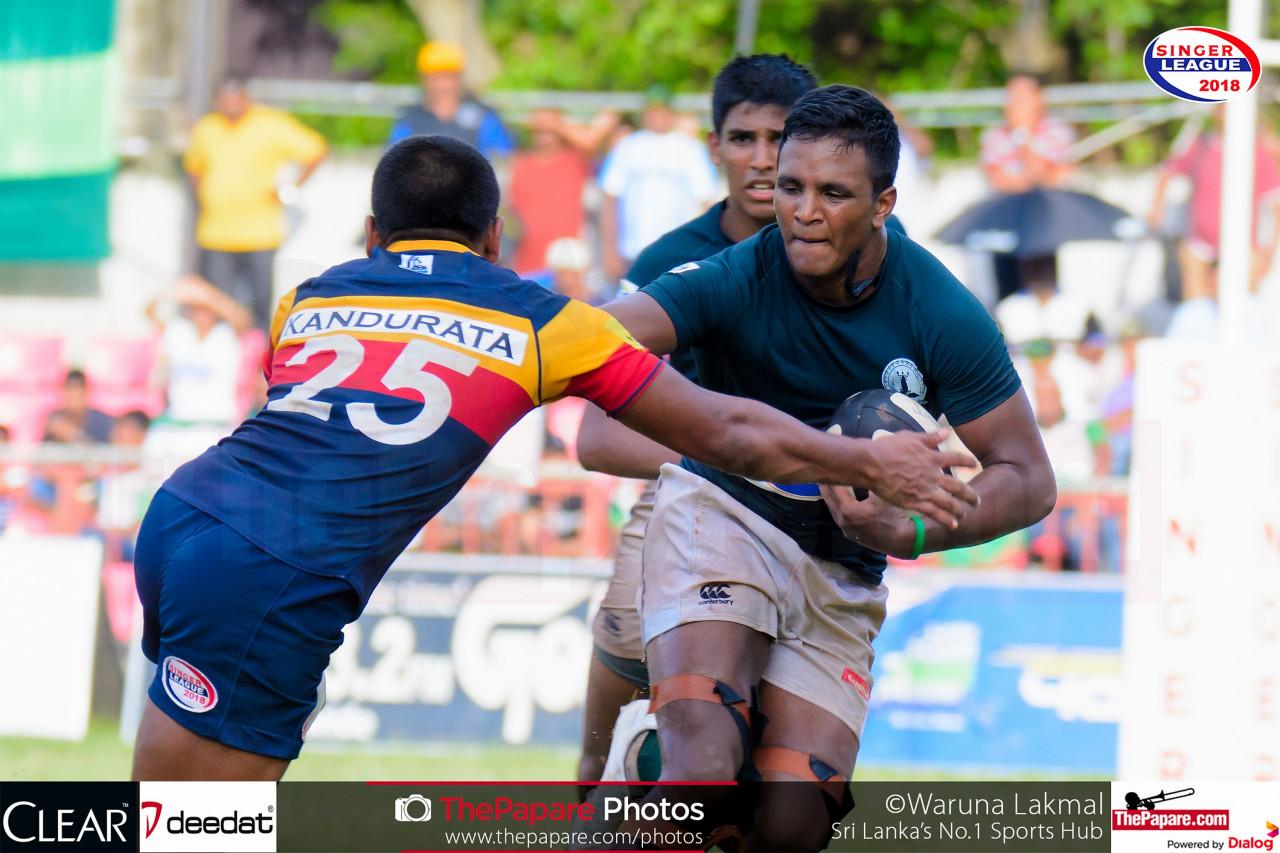 The lone wolf for what was essentially an under eighteen Pathana side playing in the big boys' league. Two more years in waiting at first fifteen level, Rubeyru quite literally waged a lone battle, playing an invaluable hand. Skipper and second five-eighth (No.13: center) who has the ability to influence the outcome of almost any game.  
Isipathana didn't have the most flattering season. In fact, it was way below par and substandard. However, skipper Manilka had a brilliant one. He ran, he stepped, scored tries with hat tricks, kicked goals and scored all of his team points to salvage face-saving results.  
He has a vicious step off his left and at times right. It's a delight to watch. Any man in a green shirt with rocket shoes is a treat to watch and he brings a sense of anticipation with the ball in hand, given the fortunes of his team.
A great carrier of the Gilbert with both hands on it, putting his pass ahead for the receiver running on to it at pace. Furthermore, he is the goal kicker and sharpshooter of the side. Kicked four penalty goals and all his side's points versus Trinity for an honorable draw. It should have read, Trinity 12- Rubeyru 12. Draw. His hat trick against Dharmarajah was a stunner and all highlight-reel action, straight out of a Roadrunner cartoon episode.
Bubbling under: Thulaib Hassen
13. Janindu Dilshan (Royal College) Center
*No. 3 Gamebreaker of the year.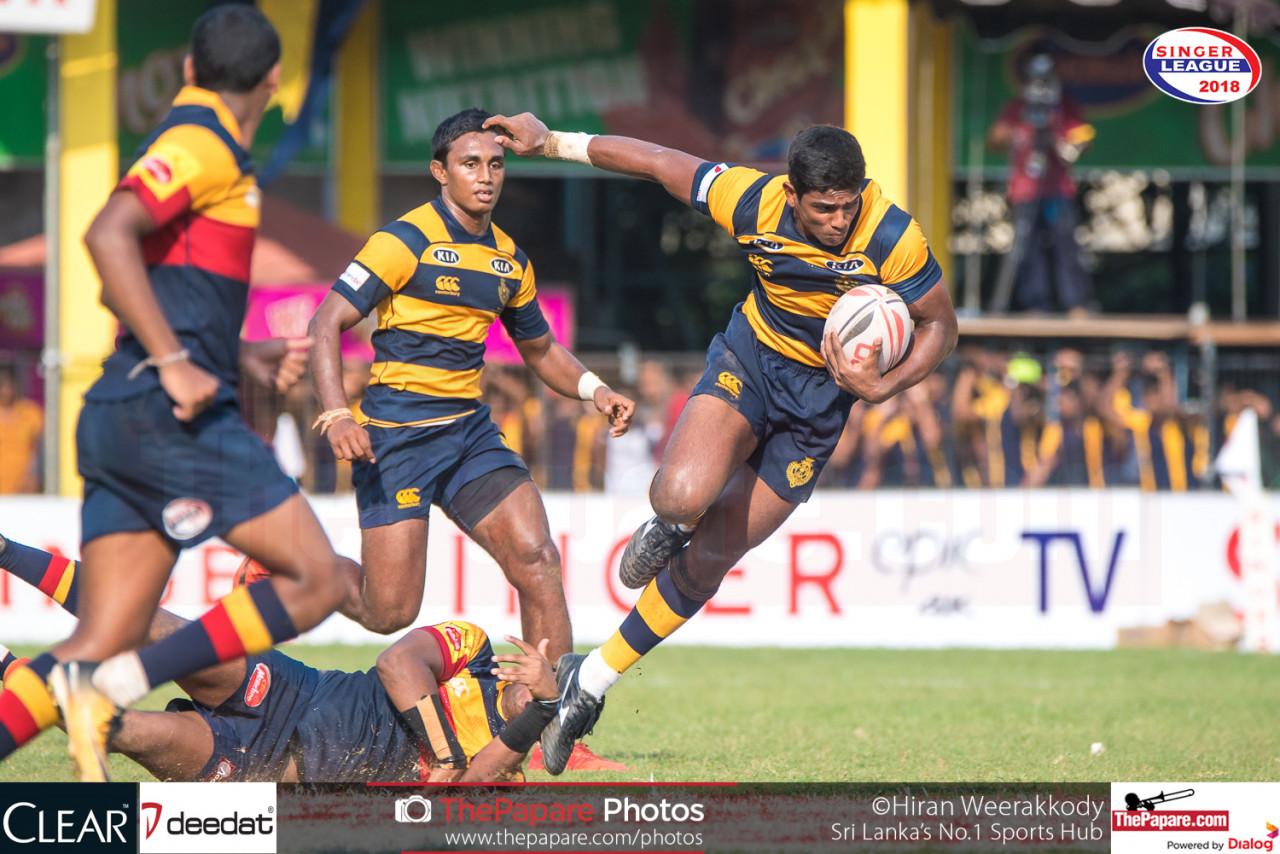 The strongest ball carrier of the competition and a leg drive that will rival the power of a big Mac truck.  A superb physical specimen and athlete.
The best schools' midfielder– if not, one of the best in the country so as far as his work rate goes. Swats defenders at will and has the speed and presence to put away sides, running on the wing as demonstrated in the Bradby first leg.
The go-to player for tackle busts and knowing he can break through and loves the contact for what it is.  He has the fear factor and puts fear into his opposite number with his fend off.
Not only is he a strong ball carrier and line runner but an outstanding kicker. Tactically, his brilliance which St Peter's had no answer to, was a masterclass. Uses his strength and technical accuracy, quietly getting about his business. A perfect running stance and carry, ball tucked securely in his arm, looking for contact and bouncing out of tackles.
Six tries in the league and well over half a dozen, try assists. Royal's most potent game breaker and ably supported by the other playing fourteen. Notably Himantha "Black Panther" Hirushan. That will be a tremendous combination in counter attacks from kick returns.
Bubbling under: Manula Rathnayake (Isipathana)   
14. Gamunu Chethiya (St Joseph's College) Winger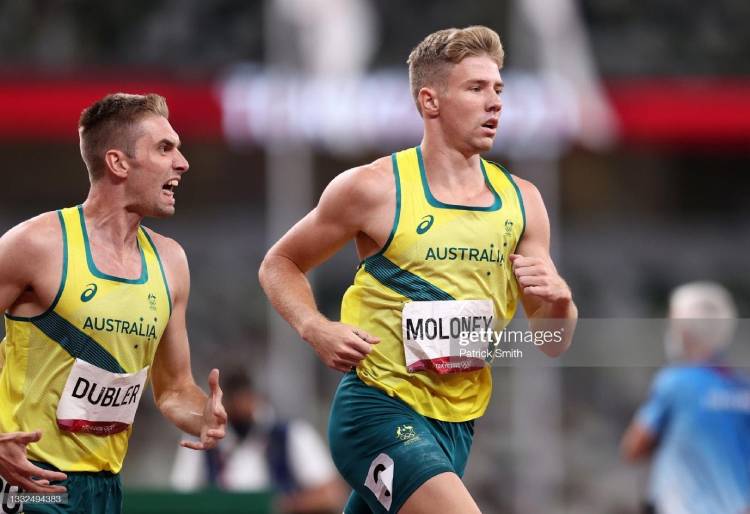 #GC and the one true style bender of the league. An incredible talent who can step, jinx, stop-start and accelerate, leaving the defense gassed as if they were ghosts. They don't exist in his world or so it seems.
This kid has some skill and knows when and how to use it. At times, he was too fast for everyone including his own shadow. Athletic and agile, he has an uncanny ability to "gas" and swerve when required. Similar to the attributes former Fiji and Auckland Blues winger, Rupeni Caucau possessed. If you're looking for a metaphor, he's your McLaren F1 supercar. Throttle on demand to step and corner like Honda CBR motorbike.
Playing at fullback and having the ability to play almost anywhere in a back division, he was the highest individual try scorer for the season proper. That is hardly surprising given his number one game breaker status and sheer skill-ability. Scored twelve tries, that is nearly double that of the next highest on the list- Thulaib Hassan at seven. A staggering total of almost 24% of his team's total, season points for. Should have easily have more, had he been more selfish, but he wasn't — proving that he is a team man.
A mesmerizing few moments and flirting frequently with the touchline where most others would stay away. Why? — because he knows he can and backs his ability. Probably has more skill than most "professional" club players in the country.
I would dare say that his skill set and ability to step will even see him make the playing squad of a top secondary schools' side at a worldwide, regional level. Wrapping equally good game breakers around him would be one mesmerizing thought. After all, he is of export quality stock at St Joseph's.
Bubbling under: Dilan Kavinda (St. Joseph's)
15. Mursheed Zubair (Wesley College) Full back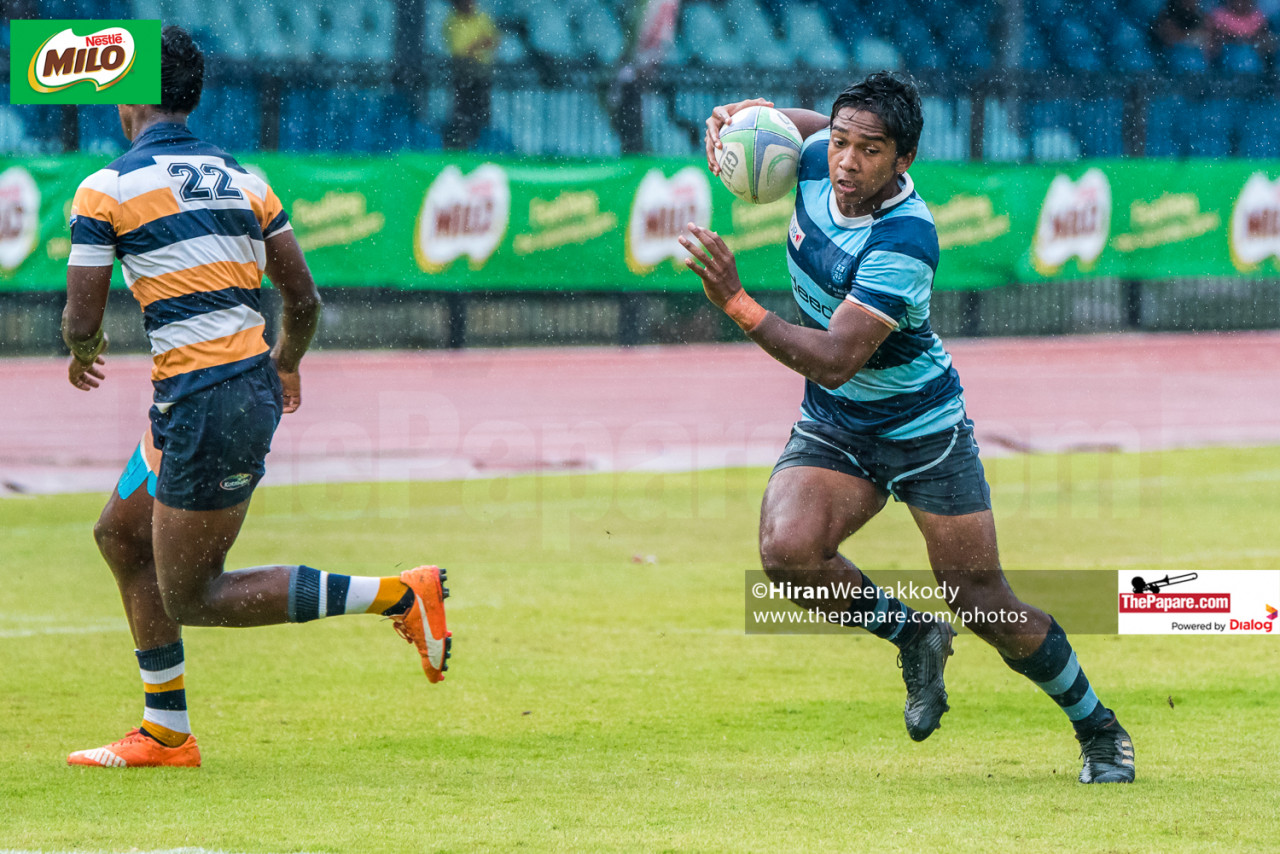 The second placekicker to make the cut.
He is, without a doubt, the league's most elegant and smartest tactical kicker. Finds space like a bear does honey. Demonstrating what I call, class in a time capsule. No matter who or what is around on hand to defend, he will and can find a way to get his kick away. It works and goes to the intended space. As if he has an automatic GPS based space finder in his head.
Excellent goal kicker and running lines for a three quarter. Has the gas to burn and an ability to shift angles and present the ball with it to oncoming support makes him very dangerous.
His line bust against Royal's midfield, leaving them frozen in time, then providing a beautifully angled pass with the swerve of his hips will forever be etched in Wesley's rugby history. One of the highlight reel moments if not the moment of the season proper. All class and sheer individual brilliance.
Reliable with an easy going, relaxed kicking technique which will find the uprights, and on target when it counts. Personifies what Wesley rugby is and quite the quiet achiever.
The shining diamond in the goat's ear with what Wesley and their season did. Would have placed higher had his team seeded better and possibly beaten Royal, the benchmark by far for season 2018.  That would have truly set the cat amongst the pigeons but they missed by millimeters.
Bubbling under: Shehan Liyanapathirana (St. Peter's)
READ NEXT: Seven things we know after the sevens