This year at Nittawela when Kandy sports club clinched the coveted Clifford cup knock out trophy having earlier won the League title for the 2017/18 season,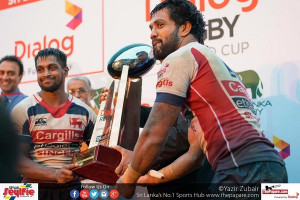 Kandy SC skipper Roshan Weerarathne dragged another player to receive the trophy; it was arguably, a player who was instrumental in turning Kandy's fortunes that year and Roshan's older brother, Gayan Weerarathne.  Gayan was brimming with pride as his younger sibling lifted the knock-out trophy marking a successful campaign as the skipper.
The Barrets; Bauden and Jordie have taken the rugby world by storm for their showing at the Super Rugby franchise Hurricanes alongside the Savea duo.  The Blues we have Ioane siblings, Akira and Reiko. Brothers' playing together is always a special treat to watch and we don't have to look far from our very own shores which boasts of a proud history of over a century of playing the oval shaped ball game. Representing the local club rugby giant Kandy SC, the siblings of our story, hail from the school on Randle's hill, Kingswood College, Kandy;  the first school to take up Rugby football in the country.
In a day and age where Rugby has become highly professional and demands the athletes to be at the top of their game day in day out in the various competitions though out the season, these two siblings have managed to dominate the local rugby scene for the past half-decade be it club or national colours they have donned.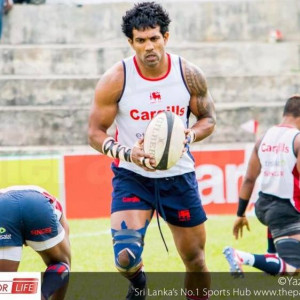 It was Gayan who was the first took to rugby at Kingswood College; Roshan two years junior to Gayan was first drawn to cricket but quickly joined rugby practices alongside hisbrother. The siblings turned out for the same team for the first time in the year 2000 representing the Under 13 team at Kingswood.  Gayan actually makes fun of Roshan as a recent article surfaced claiming that Roshan was a cricketer turned rugby player "Apart from the cricket we played on the road, he tried his luck at school practices but I'm sure he was no good" says Gayan teasing his younger brother like all older brothers do.
Gayan a destructive center formed a lethal mid-field partnership with Thilina Manoj and were stand out performers in the league winning 2005 Kingswood 1stXV outfit. They turned a lot of heads and are still considered as one of the best center combinations to take the schools rugby field in the recent years. Both of them represented Sri Lanka Under 19 teams in 2005, 2006 & 2007.
"Thilina and I are best friends to date, he was my captain in 2007 and he is one of the best center partners I have ever had. Having played together with each other from a very young age we built a great understanding " says Gayan. Roshan is quick to add "For me Thilina was my best captain and he has been my other brother, it's a shame Thilina didn't continue rugby due to injury "
The 16 year old Roshan, a nippy scrumhalf was first picked to the senior team as the replacement #9 in 2005 and claims that the league winning season had telling effect on him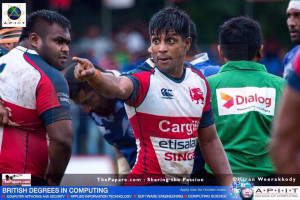 as a player "I was just 16 when I got my 1st XV jersey. Coach Ronny Ibrahim is the person who really pushed me. I was just 45kg then and coach asked me to work and become 60kg, I trained with Aiya (Gayan) on our free time and managed to become 60kg, to be able to win the league in my first year alongside my brother was a dream come true. " Roshan went on to Captain the school on the Randles hill in 2009.
Soon after finishing his school rugby season in 2007 Gayan, turned out for the hometown giants Kandy Sports Club, the team he represents to date. He was soon joined by his younger sibling in 2009 and the duo have made the #9 and #12 jerseys at Kandy SC their own ever since.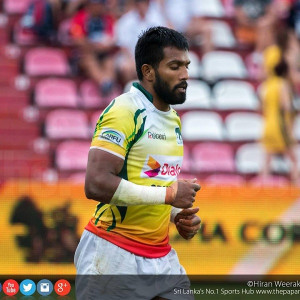 "I was first selected to represent the country in 2010 in Singapore at the Asian 5 nations division 1 tournament. Gayan was playing for Sri Lanka from 2008 and I always wanted to do what my brother does but only better and that has been my motivation. That year we were champions in the tournament" says Roshan. From then till now the Weerarathne brothers have donned the National colours with pride and distinction.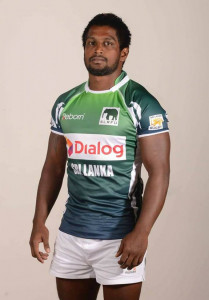 Roshan has just been appointed the National 15-a-side skipper forthe 2017 Asian Rugby Div I championship and claims it to be a childhood dream come true "I am humbled and honored to have been appointed as the national skipper. It's a big responsibility but it was dream for of mine to lead Sri Lanka XV's team from my childhood days"
Fazil Marija who is hailed as one of the best Fly-halves to grace the Islands' rugby field has had the Weeraratne duo on either side of his shoulder for most part of his career at Kandy Sports club. This combination has been the lending its service not only to the champion Kandy SC but also have paired up in the national colours since 2010. The flamboyant Marija will be playing his final international tournament as a National XV a side player was nostalgic and had this to say about the Weerarathne duo.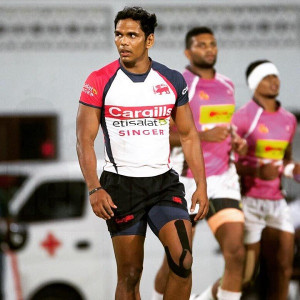 "Throughout my career I was privileged to have been able to play alongside the two Weeraratne's, be it at Kandy sports club or in the National jersey, they are brilliant athletes and are have been influential in assisting me to become the payer I am today.  Roshan is one of the best scrum-halves I have played with and he reads the game very well. Gayan is a workhorse and a very strong lad and has so much power. Their excellence on either side of my shoulder has allowed me to exploit the gaps that are created in the opposition defenses"
Having shared the dressing room with the Weerarathne siblings for almost a decade, we queried Marija on how the duo handle the pregame prep. Marija reminisced "Gayan requires quite a bit of strapping before the match and starts getting strapped hours ahead of the game. Roshan on the other hand likes to get dressed in his gear very earlier prior to the games and wait at in the dressing room"
Weerarathne's responsible for the success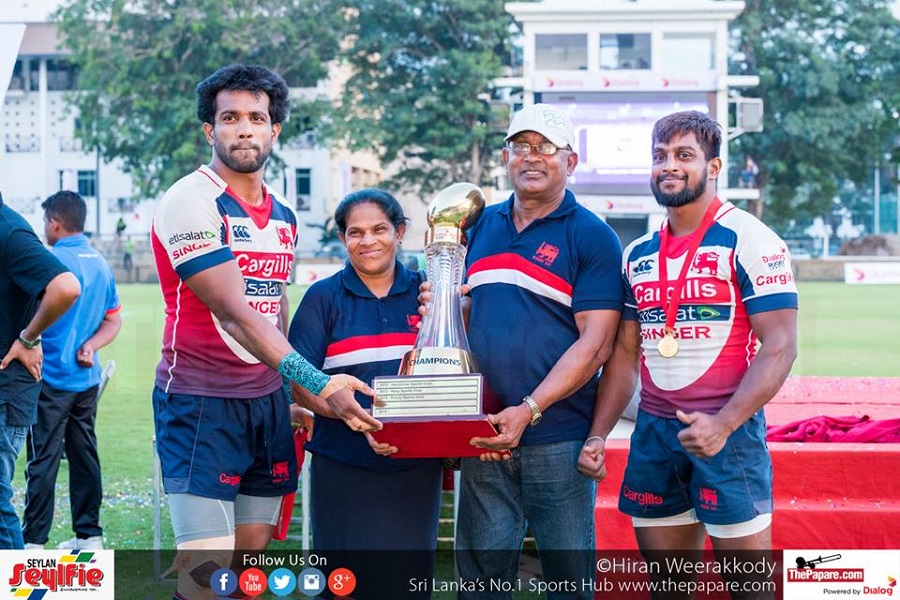 Successful rugby players require a strong support system backing them up, assisting them through the demanding regimes that they put their bodies through. For the Weerarathne's parents they had to make sure they support not one but two rugby players who have been playing rugby at the highest level in the country.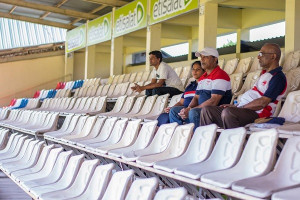 If you are to come to a match venue where Kandy Sports club is scheduled to play their game whether it be Kandy or Colombo, two hours prior to kick off, you are sure to notice an elderly couple in Kandy supporter jersey's without fail. They are Mahinda & Nilimini Weerarathne,  parents of Roshan and Gayan are the courageous couple who have selflessly committed their lives to support these two rugby legends from an early age.
Roshan and Gayan are very grateful to their parents for the care they have lent them throughout the years "Both of them have been extremely supportive of our rugby from the junior age groups.  They have not missed a single game ever since we started playing. No matter what comes up they make it a point to come for the games to back us. We owe who we are today to all the hard work and the sacrifices made by them. They have been the best parents one could ask for"
With an already astute career in their hands, the Weerarathne duo have already carved their names in the chronicle that is Sri Lankan Rugby.
We at ThePapare.com exalt Gayan and Roshan Weerarathne for their successful journey and their service to Sri Lanka Rugby. We wish them many more seasons of record breaking rugby.