Once again, the shuttlers of Sri Lanka has carried our nation high in the international arena, when they finished with high honour medals and checked in as the world's 21st best nation at the recently concluded Sudirman Cup 2019.
Read More : Buwaneka and Thilini win the defenders open title
Team Sri Lanka consisted of Sachin Dias, Thilini Hendahewa, Dilmi Dias, Dinuka Karunaratne, Kavidi Sirimannage and Buwaneka Goonethilleke for this tour.
After an unbeaten run in the group stage of the tournament, Sri Lanka won the medal for Group Champions after three days of coarse action. Beating Slovakia, Lithuania and Switzerland, the Lankans topped the group and went on to play their final clash between Ireland yesterday (24th May).
It wasn't the best start for the side as they soon found themselves two rubbers down, losing the Mixed Doubles and the Men's Singles early on. However, the youngsters stepped up from 2-0 down, to win the next three matches consecutively to pull out a miraculous win over the stunned Ireland side.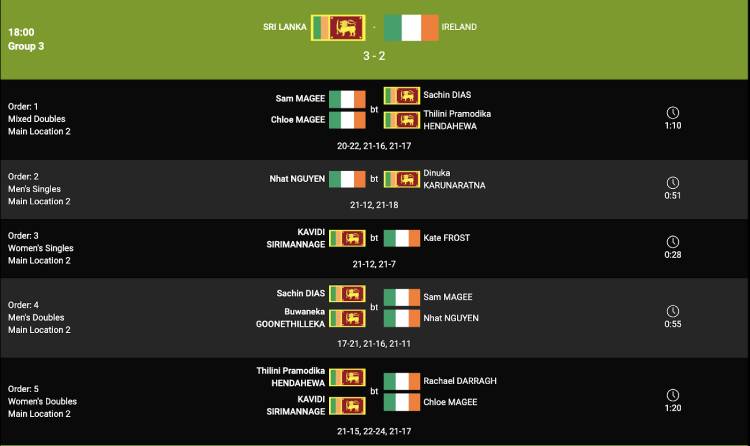 With this win, Sri Lanka finished the tournament securing the 21st place in the world and have once again proven that there's much hope left in Sri Lanka Badminton.
Earlier in the tournament..
 Sri Lanka vs Slovakia
Sri Lanka faced their opening fixture against Solvakia. Losing just 1 rubber of the 4, Sri Lanka got off to a flying start to the tournament.
Sri Lanka won 4 rubbers in the tie, having lost just the Women's singles.
Sri Lanka vs Lithuania
On their second day of competition, Sri Lanka faced off against Lithuania in a 5-rubber contest. Leaving no room for error, Sri Lanka finished with a whitewash over a helpless Lithuanian side to secure their entry into the knockouts.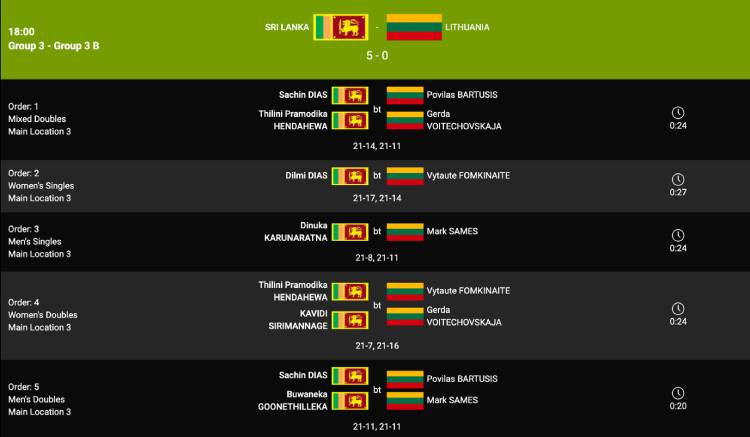 Sri Lanka vs Switzerland
On their 3rd match day, team Sri Lanka held their own in a nail-biting clash between Switzerland, the last tie in the group. After being 2-1 down in the tie, the Men's and Women's doubles pairings drove it home for Sri Lanka in 2 three-setters, leaving the bench at the edge of their seats till the very end.
As usual, reigning national champion, Dinuka Karunaratne started the day off for the Lankan team with a straight set victory. However, Sri Lanka started to sweat with two quick losses in the Mixed Doubles and Women's single that followed.
Around closing time, the Men's and Women's Doubles were the two remaining ties to draw and possibly pull out a win. After more than an hour of tight action, the women of the hour did the deed for Sri Lanka winning the final and crucial decider.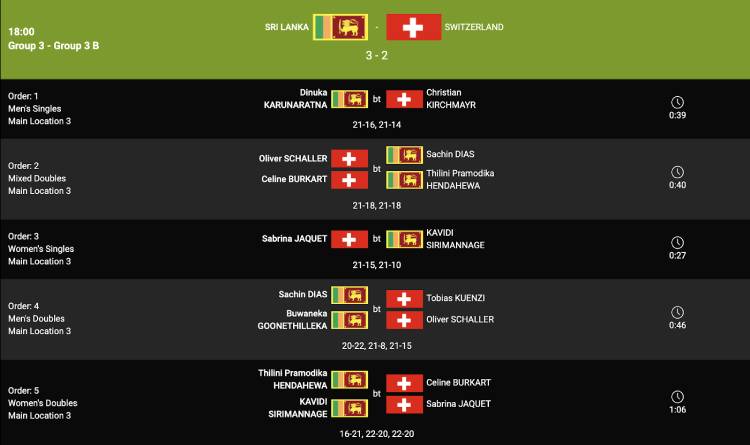 >>Click here for more Badminton news<<