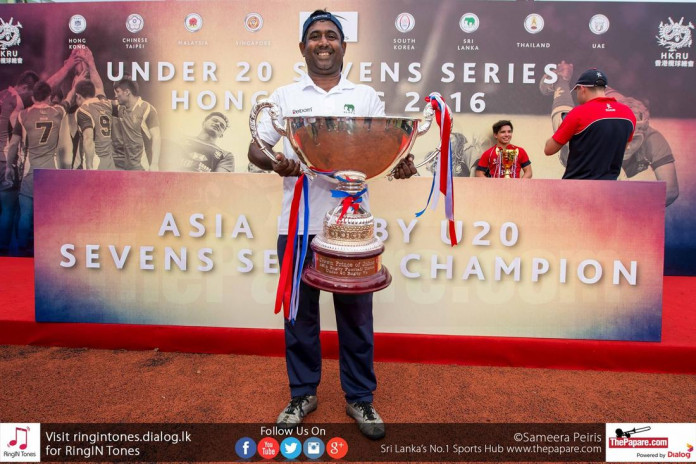 Former Isipathana College and Sri Lanka national sevens player Sudath Sampath will take over the Police Sports Club for the upcoming Dialog Rugby League that is expected to kick off in mid November this year.
The CR & FC jersey winner was at one time the most prolific sevens players in the national circuit and is fondly remembered by many in the international sevens circuit after making his debut in the Sicily Rugby Sevens that was held in Italy in the year 1990. Sampath also had the privilege of leading the Sri Lankan side in the year 1995 when Sri Lanka toured for the Hong Kong Sevens.
Making his return to the coaching arena, Sudath Sampath was the victorious coach of the Sri Lanka under 20 team that was led by Kevin Dixon who were crowned as Asia Rugby Under 20 Sevens champions a fortnight back. The Sri Lanka side that toured Malaysia for the 1st leg secured the title honours and later were runners-up in the Hong Kong leg losing out only to Hosts in the finals. That earned them the overall title and the Sri Lanka Junior Tuskers brought home their first ever Asian Sevens title.
Having held a series of coaching positions during his ten year coaching tenure, taking the reigns as the head coach for the Police rugby side will be a tough challenge for Sudath. Despite fielding a very high-profile outfit last season, Police missed the beat and ended up winning only 7 out of the 14 matches they played. This placed them in the sixth spot in the overall league table.
Police rugby was a pillar in club rugby, dominating the arena in early 1990's, but since then times have not been the best for the Policemen. Sudath Sampath, who by profession is a Police Inspector, will be looking to re-incarnate the golden years at Police in rugby in the coming years.