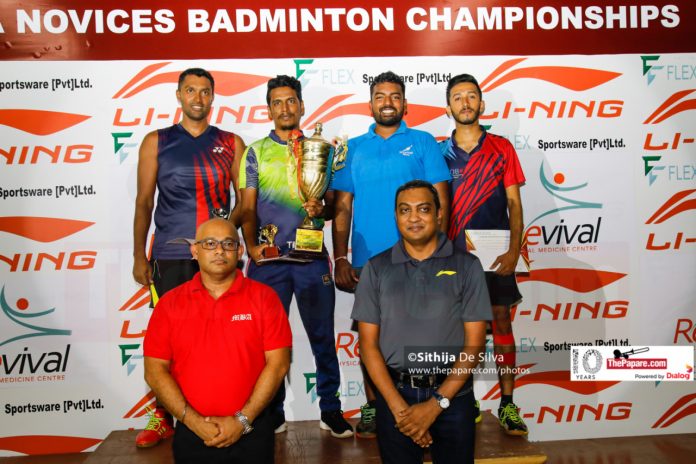 The 36th Novices Badminton Championship was held from the 22nd to the 30th June at the MBA Head Quarters & GT Jayasuriya Court Complex. The tournament was once again proudly hosted by the Mercantile Badminton Association.
Mr.Sanjeewa Akuratiya (Managing Director Flex Sportware (Pvt) Ltd) graced the occasion as the chief guest while Ms.Rajini S Jayatilake (CEO Revival Physical Medicine Centre) and Dr. Kuma Iddamallena (Professional Motivational Trainer) were the guests of honor at the awards ceremony.
The tournament was played with over 354 players from 47 companies from around the island. Lining Flex Sportswear Pvt. Ltd partnered with the Revival Physical Medicine Centre as event sponsors.
The Men's Single title was a 21/15, 21/18 win for Thushan Gomes of Expolanka over Pubudu Mallikaarachchi of Citizens Development Bank. The women's championship was claimed by Nimasha Perera of Union Bank PLC defeating Ayesha De Silva of Seylan Bank in a tightly contested three setter 15/21, 21/7, 21/18.
Photos : MBA All Island Age Group Badminton Championships 2019 & 36th MBA Novices Badminton Championship
The Men's over 35 category saw Shangrila Hotels Lanka Pvt Ltd mark its territory, winning the singles. Indika Weerasinghe won over against A.A.S.S. Prasad of Dialog Axiata in the Men's singles as the scores read 17/21, 21/18, 22/20. 
In the Men's Veteran Single category Saminda Katapearachchi of Abans PLC defeated Samantha Kumara of Douglas and Sons (21/13, 15/21, 21/14). The Women's Veteran Singles was won by Shiromica Thissera of South Asia Gateway Terminals against Priyanthi Jeniffer of MDS Enterprises (21/4, 21/5).
The Masters Men's singles title went to R.M.L Muthukuda of Sri Lankan Air Lines as he beat Sandanam Shankar of Eskimo Fashion 21/12, 21/7.
>>Click here for more Badminton News<<
Below are the full results of the event
Mercantile Badminton Association
36th Novices Badminton championships 2019
Result Sheet
Masters (Single)

 

 

 

Winner 

R M L Muthukuda

 

 

(Sri Lankan Air lines)

 

 

Beat

 

Runner – up

Sandanam Shankar

 

 

(Eskimo Fashion)

 

Score
21/12, 21/7

 

 

 

 

3

rd

place 

Terrance Subasinghe

 

 

(Techno Media)

 

 

 

Challenge trophy donated by

 

:   MBA

Veterans Mixed Doubles

 

 

 

Winner 

R M L Muthukuda 

 

 

Dushanthi Dissanayaka

 

 

(Sri Lankan Air Lines )

 

 

Beat

 

Runner – up

Chaminda Gamage 

 

 

Priyanthi Jeniffer

 

 

(MDS Enterprises)

 

Score
24/22, 21/10

 

 

 

 

3

rd

place 

Sudesh Fernando

 

 

Madusha Withanage

 

 

(National Developtment Bank PLC)

 

 

Beat

 

4

th

place 

kamal Roshan 

 

 

Achala Wijekoon

 

 

(Softlogic PLC)

 

Score
21/15, 15/21, 21/15

 

 

 

Challenge trophy donated by

 

:   MBA

Women's  veteran Doubles

 

 

 

Winner 

Manjula Hemachandra

 

 

Dushanthi Dissanayake

 

 

(Sri Lankan Air Lines )

 

 

Beat

 

Runner – up

Priyanthi Jeniffer

 

 

Poornima Kudahetti

 

 

(MDS Enterprises)

 

Score
21/6, 21/11

 

 

 

Challenge trophy donated by

 

:   MBA

Women's  veteran Singles

 

 

 

Winner 

Shiromica Thissera

 

 

(South Asia Gateway Terminals)

 

 

Beat

 

Runner – up

Priyanthi Jeniffer

 

 

(MDS Enterprises)

 

Score
21/4, 21/5

 

 

 

 

3

rd

place 

Dushanthi Dissanayaka

 

 

(Sri Lankan Air Lines )

 

 

 

Challenge trophy donated by

 

:   MBA

Men's  veteran Doubles

 

 

 

Winner 

Saminda Katapearachchi

 

 

D Samantha 

 

 

(Abans PLC)

 

 

Beat

 

Runner – up

Roshan De Silva

 

 

Amila Ranasinghe

 

 

(Hatton National bank PLC)

 

Score
21/8, 21/10

 

 

 

 

3

rd

place 

Buddhika Jayaweera

 

 

Shalinka De Silva

 

 

(Carson Cumber batch)

 

 

Beat

 

4

th

place 

Samantha Samarasinghe

 

 

Chanaka Gunathilaka 

 

 

(Hatton National bank PLC)

 

Score
21/16, 15/21, 21/17

 

 

 

Challenge trophy donated by

 

:   MBA

Men's  veteran Single

 

 

 

Winner 

Saminda Katapearachchi

 

 

(Abans PLC)

 

 

Beat

 

Runner – up

Samantha Kumara

 

 

(Douglas and Sons)

 

Score
21/13, 15/21, 21/14

 

 

 

 

3

rd

place 

Buddhika Jayaweera

 

 

(Carson Cumber batch)

 

 

Beat

 

4

th

place 

Naleen Janaka

 

 

(Douglas and Sons)

 

Score
21/18, 17/21, 21/18

 

 

 

Challenge trophy donated by

 

: Prof Keerthi Disanayake

Men's over 35Doubles

 

 

 

Winner 

Suneth Gamage

 

 

A A S S Prasad

 

 

(Dialog Axiata)

 

 

Beat

 

Runner – up

T G S Pushpakumara

 

 

H B Athula

 

 

(South Asia Gateway Terminals)

 

Score
21/16, 21/13

 

 

 

 

3

rd

place 

Thepul Gajanayaka

 

 

Prasad perera

 

 

(Mclarens Holdings)

 

 

 

Challenge trophy donated by

 

: MBA

Men's over 35 Singles

 

 

 

Winner 

Indika Weerasinghe

 

 

(Shangrilla Hotels Lanka Pvt Ltd)

 

 

Beat

 

Runner – up

A A S S Prasad

 

 

(Dialog Axiata)

 

Score
17/21, 21/18, 22/20

 

 

 

 

3

rd

place 

T G S Pushpakumara

 

 

(South Asia Gateway Terminals)

 

 

 

Challenge trophy donated by

 

: MBA

Mixed Doubles  

 

 

 

Winner 

Dasun Wickramasekara

 

 

Nimasha Perera

 

 

(Union Bank Plc)

 

 

Beat

 

Runner – up

Lasindu Nimsara

 

 

Ayesha De Silva

 

 

(Seylan Bank PLC)

 

Score
21/15, 14/21, 21/19

 

 

 

 

3

rd

place 

Thimira Disnaka

– HSBC

 

 

Roshani Dissanayaka

– Seylan Bank PLC

 

 

Beat

 

4

th

place 

Dilshad Farook

 

 

Nimethri Gunasekara

 

 

(HSBC)

 

Score
21/18, 19/21, 21/19

 

 

 

Challenge trophy donated by

 

: Princely cooke & mike cook

Women's Doubles   

 

 

 

Winner 

Ayesha De Silva

 

 

Roshani Dissanayaka

 

 

(Seylan Bank PLC)

 

 

Beat

 

Runner – up

Malka Dasunmali

 

 

Subodha Danali

 

 

(Abans PLC)

 

Score
21/10, 21/13

 

 

 

 

3

rd

place 

Gayathri Chandima 

 

 

Punsara Jayalath

 

 

(National Developtment Bank PLC)

 

 

 

Challenge trophy donated by

 

: Princely cooke & mike cook

Men's  Doubles 

 

 

 

Winner 

Pathum Dushmantha 

 

 

Dasun Wickramasekara

 

 

(Union Bank)

 

 

Beat

 

Runner – up

Madhawa Mihiranga 

 

 

Chrishan Galabadage 

 

 

(Nestle Lanka) 

 

Score
 

 

 

 

 

3

rd

place 

Lasindu Nimsara

– Seylan Bank Plc

 

 

Harsha Edirisinghe

– Dockyard

 

 

Beat

 

4

th

place 

E H K Vidanapathirana 

 

 

A H G I Niroshan

 

 

(Citizens Development)

 

Score
22/20, 14/21, 21/11

 

 

 

Challenge trophy donated by

 

: Princely cooke & mike cook

Women's  Single

 

 

 

Winner 

Nimasha Perera

 

 

(Union Bank PLC)

 

 

Beat

 

Runner – up

Ayesha De Silva 

 

 

(Seylan Bank)

 

Score
15/21, 21/7, 21/18

 

 

 

 

3

rd

place 

Sasini Witharana 

 

 

(Brandix)

 

 

Beat

 

4

th

place 

Subodha Danali

 

 

(Abans PLC)

 

Score
21/6, 21/8

 

 

 

Challenge trophy donated by

 

D Samson & sons (PVT ) LTD

Men's Single

 

 

 

Winner 

Thushan Gomes

 

 

(Expolanka)

 

 

Beat

 

Runner – up

Pubudu Mallikaarachchi

 

 

(Citizens Development Bank)

 

Score
21/15, 21/18

 

 

 

 

3

rd

place 

D B Y Dahanayake

 

 

(SriLankan Airlines)

 

 

Beat

 

4

th

place 

E H K Vidanapathirana

 

 

(Citizens Development Bank)

 

Score
21/11, 21/19

 

 

 

Challenge trophy donated by

 

D Samson & sons (PVT ) LTD