The Colombo South under 15 finals took place last evening at the St. Peter's College basketball court between St. Peter's College and Royal Institute with the home team emerging victorious 44-30.
The game started off with the Peterites wasting no time in gaining the ball and converting it successfully into a basket while the RI team, on the other hand, found it difficult to penetrate the St. Peter's man to man defense and take a clean shot. With excellent team coordination, the Peter-ites moved the ball around the court well and left RI trailing early on in the game. It seemed that RI had 2 crucial players Malindu Wickramasinghe and Yazid Makoon and RI had slim pickings for scorers once they were marked by the opposing team. RI scored mainly by capitalizing on the high foul count of the opponents and making good use of the free throws. Although it still wasn't enough to make it a close game as they were trailing by 18 points at the end of the 1st period of play.
Half-time: Royal Institute – 11 St. Peter's College – 29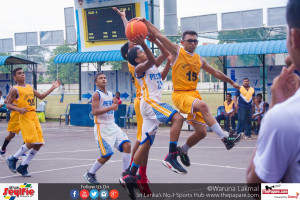 The boys from RI had a strong start scoring first in the second half, however the Peterites didn't let up in any way, showcasing great endurance. During the last 10 minutes of the game RI finally upped their game, scoring a couple consecutive baskets and began to reduce the deficit. They changed their offensive strategy to take shots from around the perimeter to cover up the score, however, they weren't very successful as very few shots connected. The RI players ran out of both time and luck as the clock went off while they were still trailing by 14 points leaving St. Peter's College as the winner.
Full-time: Royal Institute – 30 St. Peter's College – 44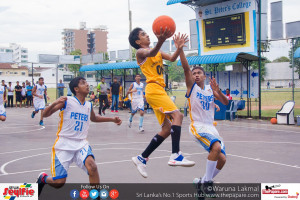 The St. Peter's coach shared his thoughts on the tournament with ThePapare representatives: "We practised very hard for this tournament and from the very first match we set our hearts on winning the entire tournament. I think the key reason was that it was a great team who supported each other on and off the court resulting in great team chemistry during matches. There was also a great deal of support extended to me and this team by the 2 assistant coaches and the fitness coach as well as of course the parents"