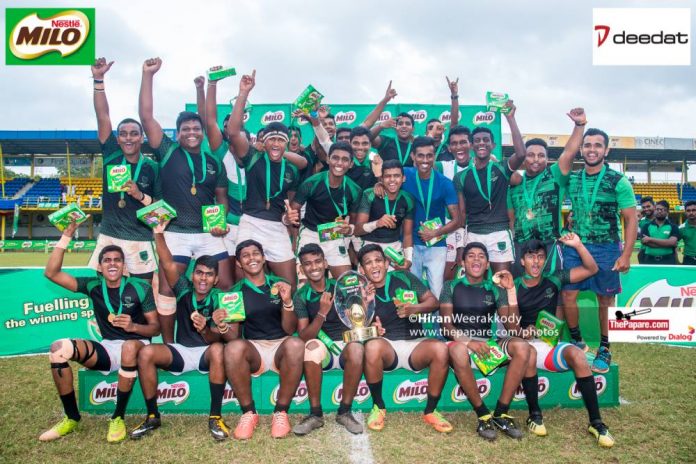 St. John's College Nugegoda beat Nalanda College 41-10 in their Milo Knockout – Chairman's trophy final which was played at the Royal Complex earlier this evening.
St. John's were clinical in all aspects as they put their counterparts to the sword. They were leading 22-10 at half-time through two tries from Waruna Fonseka, with the number eight powering over line, while Januth Jayawardana and Kevin Santhush went over in either corners with some brilliant stepping and sheer pace in the first 20 mins. St. John's capitalized on the wind factor with good sense which helped them put Nalanda under the pump for major parts of the game.
In the early exchanges Waruna Fonseka used his weight to good use as he barged through the defense with utmost ease and at one stage of the game it was 15-0 in favor of St. John's. 
Nalanda however replied through Nipun Thilina and Deshan Alahakoon, who scored two tries to pull back some respect for themselves. Nipun Thilina played for the whistle as he took a quick tap and barged over the line from close quarters while Deshan Alahakoon scored in the corner courtesy of a lovely wrap around pass from his center. (SJC 15-10 NC) 
On the brink of the half time whistle St. John's extended the lead courtesy of some fantastic footwork from fullback Nimantha Perera, who was able to sidestep several defenders before darting over the line and dotting down. (SJN 22-10 NC)
The referee who deemed there was still time for half time, restarted the game in the 35th minute as St. John's went over the try line again for their 5th try of the half. Pasindu Lakshitha who saw some space in the backline darted to the whitewash after taking a very cheeky quick tap. (SJN 29-10 NC)
Half Time: St. John's College 29(5T 2C)-10(2T) Nalanda College
St. John's made the perfect start to the second half as Kevin Santhush went over in the corner. Santhush yet again showed his pace run around defenders, scoring under the posts. Nimantha Perera added the extras. (SJN 36-10 NC) 
And in the dying minutes of the game, St. John's had their 7th try of the evening courtesy of Tharindu Niroshan on the wing.
It was a simple backline move to the left that allowed Nimantha Perera to offload to the speedster, who went over in the corner to give his side some breathing space.
The manner of the five-pointers would have been pleasing for the coaching staff as both efforts came from long-range and showed what they were capable of when they keep the ball in hand.
With the St. John's team 41-10 to the good, they ran away towards the end, and claimed a valuable trophy for themselves. 
Full Time: St. John's College 41(7T 3C) – 10(2T) Nalanda College
ThePapare.com Player of the Match: Waruna Fonseka (St.John's College)
Score Breakdown 

St.John's College – Waruna Fonseka (2T), Kevin Santhush (2T), Tharindu Niroshan (1T), Nimantha Perera (3C), Pasindu Lakshitha (1T), Januth Jayawardana (1T), Nalanda College, Nipun Thilina (1T), Deshan Alahakoon (1T)