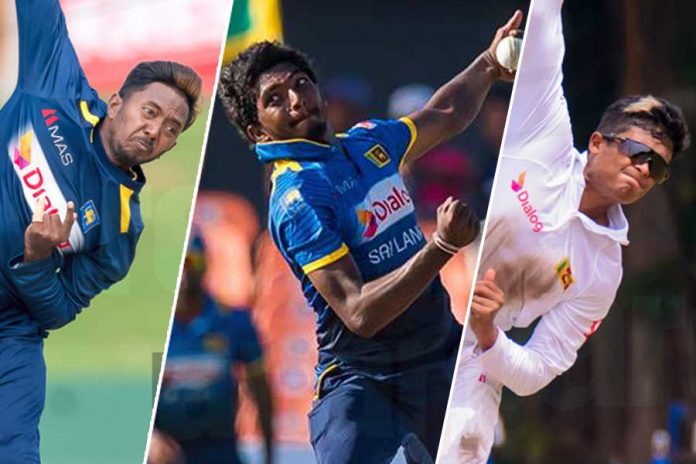 Sri Lanka's bowling attack for the limited overs format is one of the major reasons for the island's poor run in ODIs & T20Is for past couple of years.
Free hit contributor – Chathura Kumarasinghe
They have plummeted to bottom in the team ranking columns as a result. Though that's the case for Sri Lanka, countries who are enjoying excellent track records in the limited overs formats, have one mantra in common: "win the middle overs". While batting, teams have adopted an attacking mindset rather than consolidating as in the past. While bowling, winning teams have taken more wickets in the middle overs and have controlled the situation from there onwards. Of late, wrist spinners have been assigned to achieve that exact goal and they have taken the world by storm. The stats suggest that leggies are the new 'x-factor'. Between 2017 Jan – 2018 Dec, the top three wicket takers in ODIs have been wrist spinners.
| | |
| --- | --- |
| Bowler | ODI Wickets in 2017,2018 |
| Rashid Khan (AFG) | 91 |
| Adil Rashid (ENG) | 68 |
| Kuldeep Yadav (IND) | 67 |
The following graphic shows, the economy rates of the bowlers who enjoyed the best bowling average throughout 2017-2018. Out of the top 14 best averages, 7 of them are wrist spinners. They (wrist spinners except Adil Rashid) have managed to fall under 5 runs per over.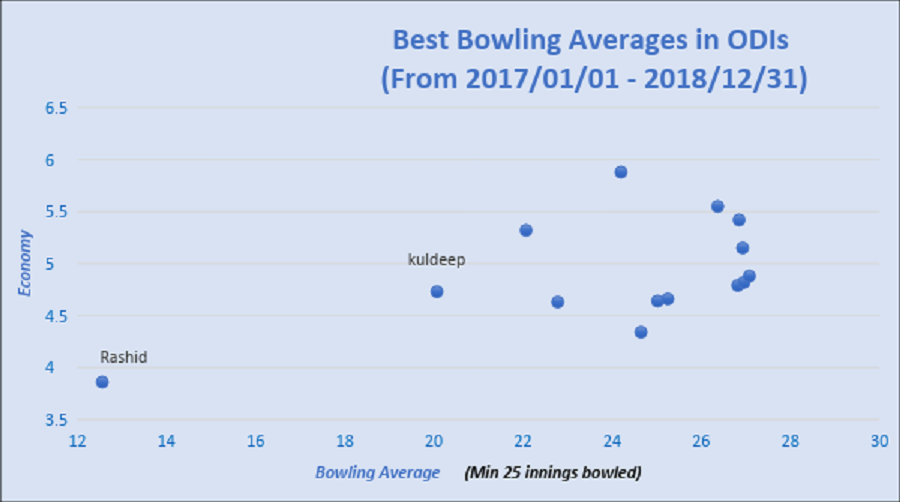 Even in the T20s, wrist spinners rule the cricket field. The best example of this would be none other than Nepal's spinning sensation Sandeep Lamichchane who is performing well in different T20 leagues around the world. It shows the demand wrist spinners seem to attract these days. The T20I bowling rankings table is a fine example to show how wrist spinners have affected the modern game.
T20I Bowling Rankings

(on 1/1/2019)

Position

Bowler

1

Rashid Khan
2
Shadab Khan
3
Kuldeep Yadav
4
Adil Rashid
5
Adam Zampa
6
Ish Sodhi

7

Shakib Al Hasasn

8

Faheem Ashraf

9

Imad Wasim

10
Imran Tahir
11
Yuzvendra Chahal

*Wrist Spinners have been highlighted
Every team seems to have a wicket taking wrist spinner who wins them games but.…Sri Lanka, where have all the leggies gone?
Sri Lanka is the home for the most prolific bowler in cricket history with an astounding record of 1347 international wickets to his name. Murali will hold that prestigious throne for a long time: may be forever. After Murali's retirement, the Sri Lankan bowling attack was led by a certain down-to-earth, quiet fellow who went on to become the most successful left arm bowler in Test cricket history. Rangana Herath had taken 433 test wickets when he hanged up his boots. These bowling machines have decimated oppositions many times, single handedly.
Read More : Memoirs of Mathews
Recent history of Sri Lankan spinners (most of them) can be divided into two catagories: Mystery (Murali dominant) & Lefty (Herath dominant). If you look closely you would realize those two legends have created trends in the Sri Lankan domestic system. When Murali was causing mayhem; every young spinner in the country would have wanted to bowl like him, coaches would have wanted to produce another Murali, club & school team managements would have loved a bowling attack armed with a "Murali". After Murali's retirement we found lot of spinners similar to Murali's bowling type: "Right Arm Mystery".
Ajantha Mendis was a successful soldier for a certain time for Sri Lanka Cricket. Who could forget how he single handedly destroyed the Indian batting line up in the Asia Cup final in 2008? He was known for his mystery. Once he was decoded by batsmen, he became history. Suraj Randiv was in the scene for some time for his slight bouncy off spin but faded away because he had less weapons in his arsenal. Sachithra Senanayaka, Young Tharindu Kaushal and Sri Lanka's most trusted bowler of recent times – Akila Dananjaya were all found to have illegal actions. It isn't hard to notice off spinners in limited over cricket are becoming a rare breed due to less variations available to them because of the restrictions placed on their actions.
Johan Botha (SA), Shane Shillingford (WI), Marlon Samuels (WI), Kane Williamson (NZ), Saeed Ajmal (Pak), Prosper Utseya (Zim), Sohag Gazi (Ban), Mohommad Haffez (Pak) are some other right arm off spinners who have been sanctioned for bowling action in the recent past. Though off spinners like Ravi Ashwin, Nathan Lyon, Dilruwan Perera are still ruling the world in test cricket, they aren't being used as main weapons by their respective teams in limited over games.
After Rangana Herath left the game Sri Lanka has marched on to a "Lefty Era". Suddenly Sri Lanka's domestic cricket arena is populated with a tsunami of left arm orthodox bowlers. Malinda Pushpakumara who is basically a "long lost younger brother of Herath" will most likely fill Herath's boots for Sri Lanka when they play Test matches in spin- friendly conditions.
Prabath Jayasooriya, Amila Aponsu & Sachith Pathirana are a few other Lefties who come to mind, making a name for themselves. Lasith Ambuldeniya who had an impressive Asia Emerging Cup 2018, Shashika Dulshan who was unstoppable in U19 Asia Cup 2018 and Nimesh Vimukthi who is currently having a dream premier league club season with 20 wickets in 4 matches so far, are few youngsters knocking on the door. Rohan Sanjaya is another impressive left arm orthodox bowler who has been selected to play in the U19 national squad.
Read More : Is the Coach the difference? – Free Hit
If you observe the wickets column in Sri Lankan Premier League club tournament, you wouldn't have to search more to find the effect of the Herath era. Most of the leading wicket takers are left arm orthodox bowlers which means, the best performing pack of spinners in the country does not include a quality wrist spinner.
| | | |
| --- | --- | --- |
| Bowler | Bowling Type | Wickets |
| Malinda Pushpakumara | Left Arm Orthodox | 70 |
| Chanaka Komasaru | Left Arm Orthodox | 69 |
| Lasith Ambuldeniya | Left Arm Orthodox | 63 |
| Sachithra Senanayke | Right Arm Off break | 58 |
| Prabath Jayasooriya | Left Arm Orthodox | 53 |
2017-2018 Premier League Tournaments – Highest Wicket Takers
| | | |
| --- | --- | --- |
| Bowler | Bowling Type | Wickets |
| Tharindu Ratnayake | Ambidextrous Spin | 29 |
| Amila Aponsu | Left Arm Orthodox | 29 |
| Chathuranga De Silva | Left Arm Orthodox | 25 |
| Malinda Pushpakumara | Left Arm Orthodox | 22 |
| Nimesh Vimukthi | Left Arm Orthodx | 20 |
2018-2019 Premier League Tournaments – Highest Wicket Takers so far*(as of 2019-01-03)
It is pretty clear that Sri Lanka have not followed the trend for bowling attacks in modern cricket. Instead they have marched on a different path: following the legends. Pitches used in Sri Lanka's domestic tournaments have not helped the cause too. Doctored, extremely-spin-friendly pitches in club games assist finger spinners as much as wrist spinners. But when they graduate to the International stage, they will find hard to keep up with the limited overs game. The coaches in the school cricket system should recognize this void of quality wrist spinners in the island as soon as possible.
Read More : Sangakkara Syndrome and no Moneyball: Killing Sri Lankan T20
Because of this void in the domestic system, Sri Lankan batsmen would find hard to face opposition's quality wrist spinners. Dinesh Chandimal's dismissal by Ish Sodhi in the 2nd ODI (2019) where he wasn't able to read the googly is one of the examples.
Akila Dhananjaya's suspension has hit Sri Lanka's world cup plans like a train as he was the only reliable, penetrative bowler who could operate in the middle overs for Sri Lanka. The team management is trying to control the damage and find a better replacement. Lakshan Sandakan, Seekkuge Prasanna, Jeffrey Vandesay, Jeewan Mendis & Wanindu Hasaranga are the wrist spinners who can raise their hand and grab the opportunity. We can't be sure Akila would come back in the same effective form after the remodeling of his bowling action. Sandakan is not hitting the same line and length twice in consecutive deliveries to make his googly a deadly weapon. The World Cup is just 5 months & 8 ODIs away. The clock is ticking…
*Disclaimer: The views and opinions expressed in this article are those of the author's and do not necessarily reflect the official policy or position of ThePapare.com