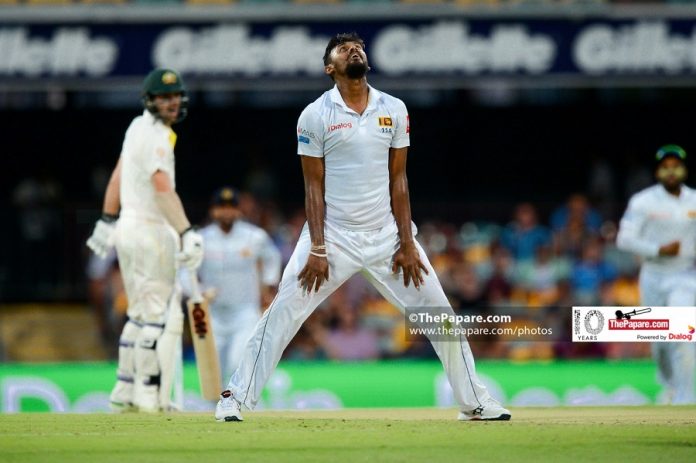 When Rev. Rayappu Joseph ended his brilliant 24-year stint as the Bishop of Mannar, the Catholic Church couldn't find a successor from that Diocese. The Holy See was forced to find a replacement from outside. Their struggle was the same as that of the national cricket team right now! Finding a fully fit fast bowler, in other words, is like finding a needle in a haystack.
The Sri Lankans' woes in Australia are barely believable. Four fast bowlers injured inside two weeks and the selectors have been forced to scratch the barrel. At this rate, by the time we get to Port Elizabeth for the second Test against the Proteas, Ashantha De Mel, the Chief Selector or Rumesh Ratnayake, the Fast Bowling Coach will be forced to come out of retirement. Sri Lankan cricket is facing some serious problems on and off the field. They need to fix them. Fast.
Read More : Much to learn from Dickwella's positive attitude, admit Sri Lanka camp
Despite the heavy defeat at the Gabba last week one of the positives for the tourists was the pace that Lahiru Kumara generated. He was quicker than both Pat Cummins and Mitchell Starc clocking 148kmph at one point. Dushmantha Chameera wasn't far behind. It was a shame that both missed out on the second Test here in Canberra.
Prior to that Nuwan Pradeep had pulled out with a hamstring strain and on the eve of the second Test Suranga Lakmal, who bowled expertly in Brisbane, was struggling to get out of bed. He was ruled out from the inaugural game at Manuka Oval due to a stiff back.
It's a pity that fast bowlers break down after sending down a few overs. Mind you Australia batted only once at the Gabba and all three bowlers sent down an average of 20 overs in the opening Test.
The likes of Pradeep, Chameera and Kumara are all coming back after serious injuries having missed out on a considerable amount of cricket in 2018. So there's something wrong somewhere.
Fast bowlers need to look after themselves. Certainly 'looking after themselves' doesn't mean just gym work, spot bowling or running. These aspects are regularly monitored by the support staff, but what is not monitored is whether they consume the required food and fluids.
Read More : Cricket needs Chandrishan back badly
They have got to learn a lesson or two from the indefatigable Chaminda Vaas. In a career spanning for 15 years and over 111 Test matches, would you believe that Vaas missed just one tour due to injury. When it comes to 'looking after yourself' there was no better person than Vaas and that is why he had such a spectacular, injury-free career.
Sri Lanka Cricket needs to do a study as to why so many injuries have taken place in recent times. Is it because of excessive cricket? Well, Lakmal can complain about too much cricket but not the other three.
More so the problem lies with lack of effort fast bowlers put in when they are involved in domestic cricket. Like our home Test matches, First Class cricket in Sri Lanka encourages an overdose of spin. Some clubs have been content to play the lone seamer with a spinner sharing the new ball from the other end. After just a couple of overs, the fast bowler is rarely used until the new ball is taken again. By doing this, you are killing the ones who practice the tough art of fast bowling while even the ones who get a chance to play are not being made to go through the mill. Very rarely do you see these days a fast bowler sending down 50 overs in a First Class match.
Suddenly when you travel to places like Australia, South Africa, New Zealand and England, the onus is on the fast bowlers to step up to the challenge but they have fallen short. Way too short. In Australia, the tourists have been found wanting.
There seems to be a tendency to stick to locals in choosing the support staff of the national cricket team. The knowledge and the professionalism of these people are second to none. However, the same cannot be said of physiotherapy. It is safe to say that places like England and Australia have made vast strides when it comes to medicine, compared to Sri Lanka. That is why you need a foreigner to look after this vital area with no disrespect to the locals. 
Read More : The final frontier
Look at India, they have relied on locals to manage their cricket but have not poked their fingers into physiotherapy. Australian Patrick Farhat has done an outstanding job over the last three years with the Indian side.
Once you get hold of a good physiotherapist, you should not lose him. Take the case of Alex Kontouris. Injuries were few and far between when he ran the show for eight long years. His no-nonsense approach saw him looking into every aspect from how players train to what they eat.
For some strange reason SLC didn't renew his contract in 2003. He returned to his native Australia and Cricket Australia was quick to grab him. Now he has spent 15 fruitful years managing the Australian team. Well, it's yet another case of missed opportunity for our cricket. Mind you, there are plenty of them.
*Disclaimer: The views and opinions expressed in this article are those of the author's and do not necessarily reflect the official policy or position of ThePapare.com