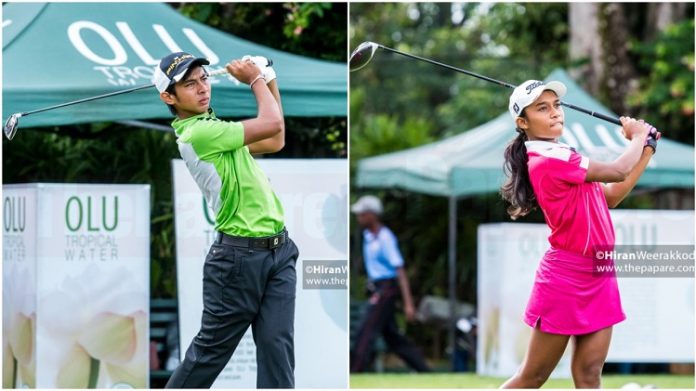 The second oldest Amateur Golf Championship in the world, the Sri Lanka Amateur Golf Championship, played at the RCGC in its 131st edition, recorded a historic All-Sri Lankan final showdown.
Sisira Kumara defeated Ahaan Nath of India 4 & 2 to meet M.U. Chanaka Perera in the final. Perera beat G.M Pradeep Kumara 4 & 3 in the other Semi-Final played at the RCGC yesterday to book his spot in the final.
N.Thangaraja is the last Sri Lankan to win the Sri Lankan Amateur Golf Championship, winning the coveted trophy twice consecutively in 2011 & 2012. Since then the Championship has been dominated by Thailand (thrice) and India (twice), whilst Sisira Kumara was the unfortunate finalist in the last two Championships.
Sisira Kumara will try his luck a third time this year in an All-Sri Lankan battle against young prospect M.U Chanaka Perera in a 36-hole final.
The Sri Lanka Ladies Amateur Golf Championship 2018, also has two Lankans playing for the championship with defending Champion Taniya Minel Balasuriya meeting Kaya Perera in the standard 36-hole final.
Taniya Minel beat Yun Jeong Choi in the Quarter Final and overcame a serious challenge from veteran Lady Golfer Niloo Jayatilake who squared the match after 12 holes but the rigours of the quarterfinal match where Niloo overcame Suneya Osama at the 19th hole in the morning, may have taken its' toll on Jayatilake and Taniya Minel took advantage of the situation to overcome the semifinal 4 & 2.  
Kayla Perera beat Swen Selvaratnam and Sherin Mithara  comfortably to set-up yet another exciting final against recently crowned Junior National Champ, Taniya Balasooriya.
131st CONTINENTAL SRI LANKA AMATEUR GOLF CHAMPIONSHIP RESULTS
Sisira Kumara bt B A Sanjeewa (Seed # 4) 6/4 – Q-Final  

Sisira Kumara bt Ahaan Nath 4 & 2 S -Final

M U Chanaka Perera bt J M D Indika (Seed #2) 2/1 – Q- Final

M U Chanaka Perera bt G M Pradeep Kumara (Seed #3) 4/3 – S-Final

36 Hole Final G P Sisira Kumara vs M U Chanaka Perera
SRI LANKA LADIES AMATEUR GOLF CHAMPIONSHIP 2018 RESULTS
Taniya Minel bt Yun Jeong Choi 8/6 – Q/final

Taniya Minel bt Niloo Jayathilake 4/2 – S/Final

Kayla Perera bt Swen Selvaratnam  5/3 – Q/Final

Kayla Perera bt Sherin Mithara 5/3 – S/Final

36 Hole Final Taniya Minel Balasuriya vs Kayla Perera
>>Click here for more Golf News<<