The South Asian Junior and Cadet Table Tennis Championship 2017 organized by the South Asian Table Tennis Federation (SATTF) got underway at Mount Lavinia yesterday. The tournament hosted by the Table Tennis Association of Sri Lanka (TTASL) will be held from the 19th to the 21st May 2017, at S. Thomas' College Indoor Courts, Mount Lavinia.
Teams from Sri Lanka, India, Pakistan, Maldives and Nepal are participating in this year's tournament. It will be held in the under 15 (Cadet) and under 18 (Junior) categories.  
Concluding day 1, the Sri Lankans did well to win 5 out of 6 games they had, in both the boys and girls segments. The Sri Lankan junior boys recorded their first win beating Maldives 3 games to 0. Dishanka Thennakoon, Dinesh Kawishka and Nimesh Ranchagoda beat Sajau Thabin, Ismail Shaffan and Shanoon Khumaal in their respective games.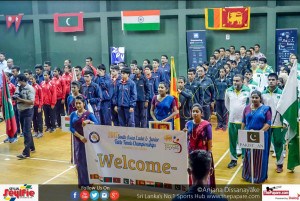 Next up, the Sri Lankan cadet girls beat Pakistan 3 games to nil. Jithara Warnakulasooriya, Dilmi Kolambage and Dilmi Kolambage/ Sanduni Prabuddika (doubles) beat Maheen Sheraz, Kalsoom Khan and Maheen Sheraz/ Pernya Zaman (doubles) in their games.
The Sri Lankan cadet girls beat Maldives yet again 3 games to 0. Kolambage, Warnakulasooriya and Kolambage/ Warnakulasooriya (doubles) beat Muaz Malysha, Nazim Rafa and Muaz Malysha/ Nazim Rafa (doubles) quite easily.
The cadet boys from the hosting country then beat Pakistan 3 games to nil in their respective games. Chandupa Alahakoon, Devmith Weerasena and Chandupa Alahakoon/ Thisas Ranchagoda (double) beat Haseeb Khan, Shah Khan and Shah Khan/ Haseeb Khan (double).
The junior girls beat Pakistan comprehensively 3 games to nil. Pareek Priyanka, Kamath Archana Girish and Dutta Moumita beat Fatima Khan, Hareem Ali and Kaynat Malik, respectively.
The only loss for the Sri Lankans came through the junior girls when they lost to Maldives, 3 games to 1. Ismaila Laisa, Nazim Rafa, Muaz Malusha beat Hansani Piumila, Imasha de Silva, Thanushi Rodrigo. Hansani Piumila and Nazim Rafa played two games each.
Apart from Sri Lanka, neighboring India is yet to beaten in this tournament.
The second and third days of the tournament will be held today (20th) and tomorrow (21st) at the same venue.