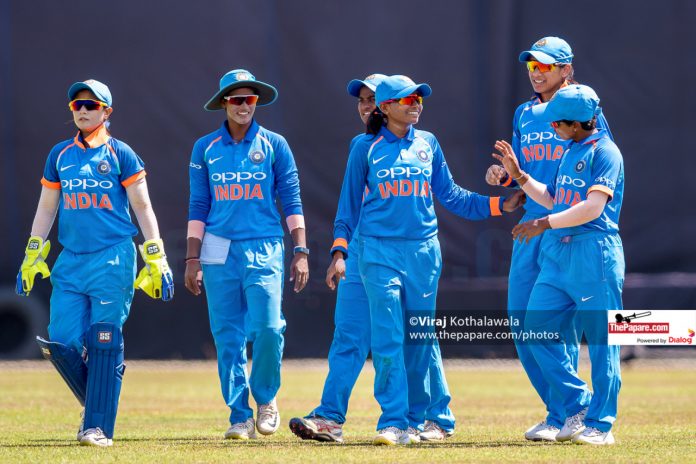 After a delayed start due a wet outfield the 4th T20 between Sri Lanka Women and India Women was reduced to 17 overs a side.
Indian skipper Harmanpreet Kaur won the toss and decided that chasing would be a rather good option. The Sri Lankan openers put up a better show this time around compared to the previous matches, going at over nine runs an over. The Sri Lankan Skipper stuck to her usual attacking approach whilst Yasoda Mendis played some confident shots for the first time in the series.
>>2nd WT20I washed out due to inclement weather<<
Anuja Patil broke the opening stand in the 3rd over dismissing Mendis for 19 runs. Chamari Attapattu took over the reins from Mendis looking to take Sri Lanka to a formidable total in a must win encounter for Sri Lanka in the series. Attapattu was in prolific form on her way to a big score, but sadly misjudged a well-executed delivery by left arm orthodox bowler Radha Yadav. Attapattu was stumped for 31 thanks to some brilliant glove work by Taniya Bhatia.
Shashikala Siriwardene was once again Sri Lanka's liberator amassing a much needed 40 runs off 32 balls, which included three fours and one massive six. After the dismissal of Siriwardene in the 14th over the boundaries dried up as Sri Lanka was able to post a decent score of 134 for the loss of five wickets. Anuja Patil picked up 3 for 36 runs for India.
One would have thought 135 was a defendable score given the conditions. Mithali Raj and Smriti Mandhana thought otherwise and gave India a good start once again. In the second over of the innings Oshadi Ranasinghe got the priceless wicket of Mandhana while the score was at 17. Ranasinghe picked up Mithali Raj in the same over, giving Sri Lanka a fighting chance. Despite the fall of two wickets in quick succession the Indian ladies maintained a steady run rate of over nine runs per over.
>>Indian women continue winning ways in Colombo<<
Ranasinghe was back for more dismissing wicketkeeper batsmen Taniya Bhatia in the very next over. Sri Lanka once again had a snuffle in the match. Anuja Patil showcased her all-round abilities, but it was the Jemimah Rodrigues show once again. The teenager continued her form from the previous match dispatching the Lankan bowlers to all parts of the ground. Patil and Rodrigues' fifty plus run partnership had bought India right back into the game.  With 29 runs required off the final four overs Sri Lanka were leaking runs which did not seem to help their cause.
The 13th over was very crucial was Sri Lanka. Attapattu turned to her most experienced bowler Shashikala Siriwardene, but she was costly conceding 13 runs in the over as Patil bought up her maiden T20 half century. India was well set for a famous series victory as Patil and Rodrigues guided India past the 134 run mark with Rodrigues hoisting a massive six to bring up her second consecutive fifty of the series.
The 5th and final T20 International will be played at Katunayake tomorrow. (25).
INDW won by 7 wickets
Sri Lanka Women's Innings
Batting
R
B
Yasoda Mendis
c V Krishnamurthy b A Patil
19
12
Chamari Athapatthu
st T Bhatia b R Yadav
31
26
Hasini Perera
b A Patil
10
8
Shashikala Siriwardene
c V Krishnamurthy b D Sharma
40
32
Nilakshi de Silva
c R Yadav b A Patil
15
14
Eshani Lokusuriya
not out
11
10
Ama Kanchana
not out
0
0
Fall of Wickets:
1-27 (Y Mendis, 2.5 ov), 2-44 (H Perera, 4.3 ov), 3-96 (C Athapatthu, 11.4 ov), 4-109 (S Siriwardene, 13.4 ov), 5-132 (N de Silva, 16.5 ov)
| Bowling | O | M | R | W | E |
| --- | --- | --- | --- | --- | --- |
| Arundhati Reddy | 3 | 0 | 30 | 0 | 10.00 |
| Deepti Sharma | 4 | 0 | 26 | 1 | 6.50 |
| Anuja Patil | 4 | 0 | 36 | 3 | 9.00 |
| Radha Yadav | 3 | 0 | 21 | 1 | 7.00 |
| Poonam Yadav | 3 | 0 | 21 | 0 | 7.00 |
India Women's Innings
Batting
R
B
Mithali Raj
c U Prabodhani b O Ranasinghe
11
7
Smriti Mandhana
b O Ranasinghe
5
3
Jenimah Rodrigues
not out
52
37
Taniya Bhatia
c C Athapatthu b O Ranasinghe
5
5
Anuja Patil
not out
54
42
Fall of Wickets:
1-17 (S Mandhana, 1.2 ov), 2-18 (M Raj, 1.5 ov), 3-41 (T Bhatiya, 4.0 ov)
| Bowling | O | M | R | W | E |
| --- | --- | --- | --- | --- | --- |
| Udeshika Prabodhani | 2 | 0 | 20 | 0 | 10.00 |
| Oshadi Ranasinghe | 3.4 | 0 | 33 | 3 | 9.71 |
| Ama Kanchana | 1 | 0 | 13 | 0 | 13.00 |
| Sharina Ravikumar | 2 | 0 | 17 | 0 | 8.50 |
| Shashikala Siriwardene | 3 | 0 | 26 | 0 | 8.67 |
| Chamari Athapatthu | 3 | 0 | 18 | 0 | 6.00 |
| Nilakshi de Silva | 1 | 0 | 8 | 0 | 8.00 |