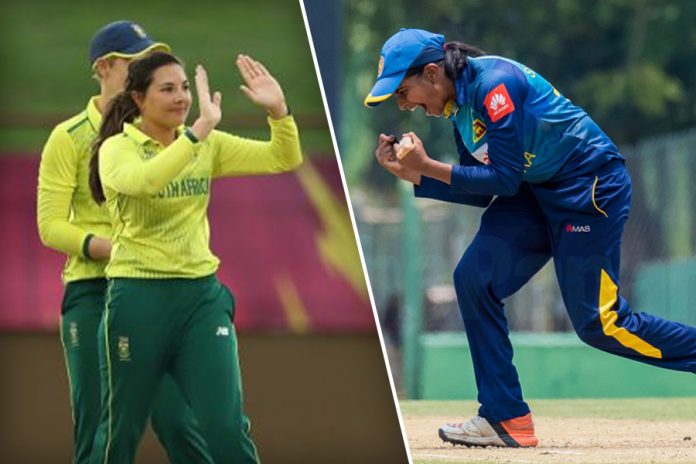 Sri Lanka women lost the 2nd match of the T20I series by 2 wickets, after a thrilling sea-saw battle, against South Africa today, to hand the 3-match series victory to the home team.
Sri Lanka decided to bat first at Johannesburg, but quickly found themselves in trouble in the first powerplay as experienced fast bowler Marizanne Kapp sent both Sri Lankan openers: Hasini Perera and Anushka Sanjeewani to the dressing room before they could go into double figures. (2/8)
South Africa Women managed to register a comprehensive victory over the touring Sri Lanka Women in the 1st T20 match……
Sri Lankan captain Chamari Atapattu had to consolidate the innings but couldn't find another gear as she fell for 20 runs eventually. After Atapattu's departure former captain Shashikala Siriwardene showed her experience in the middle and found a flurry of boundaries to up the ante as she scored a valuable 38 off 33 balls.
23-year old leggy Sune Luus destroyed Sri Lanka's middle order to pick up 5 wickets as the Sri Lankan innings was wrapped up before the full quota of 20 overs for 105 runs.
Watch: Sri Lanka Women vs India Women – 3rd ODI
Proteas in-form skipper, who had a dream WBBL this summer, went on her usual business opening the innings with 6 fours and 1 six within the first 4 overs before granting a return catch to Achini Kulasuriya on 33.
Then the Sri Lankan spinners kept the scorers busy as they picked up wickets at regular intervals to keep Sri Lanka in the game. Right hander Nadine De Klerk held her nerves to see  her team through to victory in the penultimate delivery of the game.
The ICC Women's T20 World World Cup 2020 will take place in Australia from 21 February to 8 March, 2020.
Atapattu, Siriwardene and left arm orthodox bowler Inoka Ranaweera chipped in with two wickets a piece.
Third and final match of the T20I series will commence on 6th of February at Super Sports Park, Centurion before the One Day series starts.
SAW won by 2 wickets
Sri Lanka Women's Innings
Batting
R
B
Hasini Perera
c M Klaas b M Kapp
1
3
Anushka Sanjeewani
c F Tunnicliffe b M Kapp
6
8
Chamari Athapatthu
c M Kapp b T Sekhukhune
20
29
Imalka Mendis
c M Klaas b S Luus
12
21
Shashikala Siriwardena
st F Tunnicliffe b S Luus
38
33
Nilakshi de Silva
st F Tunnicliffe b S Luus
4
8
Umesha Thimashini
c T Sekhukhune b S Luus
7
6
Oshadi Ranasinghe
(runout) T Sekhukhune
1
1
Achini Kulasuriya
not out
2
3
Udeshika Prabodhani
b M Kapp
0
3
Inoka Ranaweera
c & b S Luus
1
3
Total
105/10 (19.4 overs)
Fall of Wickets:
1-6 (GWHM Perera, 0.6 ov), 2-8 (MAA Sanjeewani, 2.2 ov), 3-39 (AC Jayangani, 7.5 ov), 4-89 (HASD Siriwardene, 15.3 ov), 5-90 (HIS Mendis, 15.6 ov), 6-101 (U Thimashini, 17.3 ov), 7-101 (NND de Silva, 17.6 ov), 8-102 (OU Ranasinghe, 18.1 ov), 9-102 (KDU Prabodhani, 18.4 ov), 10-105 (I Ranaweera, 19.4 ov)
| Bowling | O | M | R | W | E |
| --- | --- | --- | --- | --- | --- |
| Marizanne Kapp | 4 | 0 | 17 | 3 | 4.25 |
| Shabnim Ismail | 3 | 0 | 11 | 0 | 3.67 |
| Masabata Klaas | 3 | 0 | 25 | 0 | 8.33 |
| Dane van Niekerk | 3 | 0 | 17 | 0 | 5.67 |
| Tumi Sekhukhune | 3 | 0 | 16 | 1 | 5.33 |
| Sune Luus | 3.4 | 0 | 14 | 5 | 4.12 |
South Africa Women's Innings
Batting
R
B
Dane van Niekerk
c & b A Kulasuriya
33
19
Tazmin Brits
lbw by S Siriwardene
10
15
Marizanne Kapp
lbw by I Ranaweera
7
13
Lara Goodall
c I Mendis b S Siriwardene
17
22
Sune Luus
c N de Silva b I Ranaweera
4
7
Nadine de Klerk
not out
15
18
Saarah Smith
c N de Silva b C Athapatthu
4
13
Faye Tunnicliffe
(runout) A Kulasuriya
9
7
Shabnim Ismail
st A Sanjeewani b C Athapatthu
0
1
Masabata Klaas
not out
2
4
Extras
6 (b 1, lb 2, w 3)
Fall of Wickets:
1-35 (D van Niekerk, 3.5 ov), 2-49 (T Brits, 7.1 ov), 3-51 (M Kapp, 8.5 ov), 4-57 (S Luus, 10.3 ov), 5-76 (L Goodall, 13.5 ov), 6-83 (S Smith, 16.5 ov), 7-93 (F Tunnicliffe, 18.2 ov), 8-97 (S Ismail, 18.4 ov)
| Bowling | O | M | R | W | E |
| --- | --- | --- | --- | --- | --- |
| Udeshika Prabodhani | 1.5 | 0 | 16 | 0 | 10.67 |
| Achini Kulasuriya | 3 | 0 | 24 | 1 | 8.00 |
| Chamari Athapatthu | 3 | 0 | 18 | 2 | 6.00 |
| Oshadi Ranasinghe | 4 | 0 | 19 | 0 | 4.75 |
| Shashikala Siriwardene | 4 | 1 | 12 | 2 | 3.00 |
| Inoka Ranaweera | 4 | 0 | 15 | 2 | 3.75 |