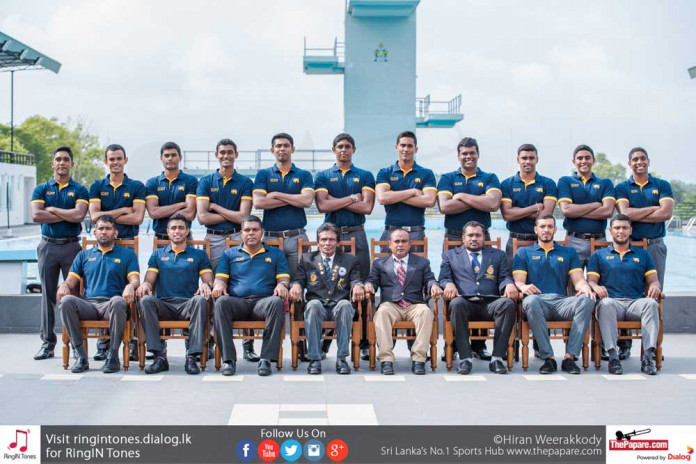 The Sri Lankan Water Polo team will be heading to Hong Kong with the intention of going one better this time around and securing gold at the Asia Pacific Water Polo Tournament (11-13 August) 2017.
Sri Lanka finished second to hosts Hong Kong in the 2016 tournament but will know they have to work hard if they are to secure gold this time around.
Sri Lanka played hard in the final of 2016 but heartbreakingly fell short by a single point (8-7) to the hosts. Sri Lanka first took part in the tournament back in 2002.
Back in 2004 under Dhanushka Saram Sri Lanka finished in fourth place, however, having taken over the coaching role, Saram will be seeking to take his team to the pinnacle of Asia.
Shehan Dassanayake, who will be leading this outfit, has a good blend of youth and experience and he will be assisted by Wasim Bawa.
The likes of Kosala Wijewardane and Kanitha Munsinghe – who have been representing their country since 2014 – have been retained for the 2017 tour along with Keshan Munsainghe and Aqueel Sourjah the other survivors from the 2016 team, alongside captain and vice-captain.
The seniors will be the cream of the team as they provide the expertise for the youngster, Ashane Francis, Satchitha Jayathilake, Basith Yakoob, Savinda Dissanayake, Sakya Gunthilake, Isura Kahandawela and Dilith Kumarasinghe who have also represented Sri Lanka's Junior teams.
This will be one of the youngest teams sent by Sri Lanka for the Asia Pacific Water Polo Tournament, with their average age standing at 20 years and they are sure to face tough competition from countries such as Japan, Guam, Hong Kong, China and Australia.
Squad:
Team
Shehan Dassanayake – Captain
Wasim Bawa – Vice Captain
Keshan Munasinghe
A Sourjah
DA Francis
Kanitha Munasinghe
Savinda Dissanayake
IS Kahandawela
Basith Yakoob
Satchitha Jayathilake
S Gunthilake
HK Wijewardane
D Kumarasinghe
Dhanushaka Saram – Coach
Bilal Hassen – Coach
Ajantha Silva – Team Manager
The tournament will be taking place for the 19th time with team namely Australia, China Shenzhen, Guam, Japan, Sri Lanka, Hong Kong (A and B), Hong Kong Deep Sand Team taking part.