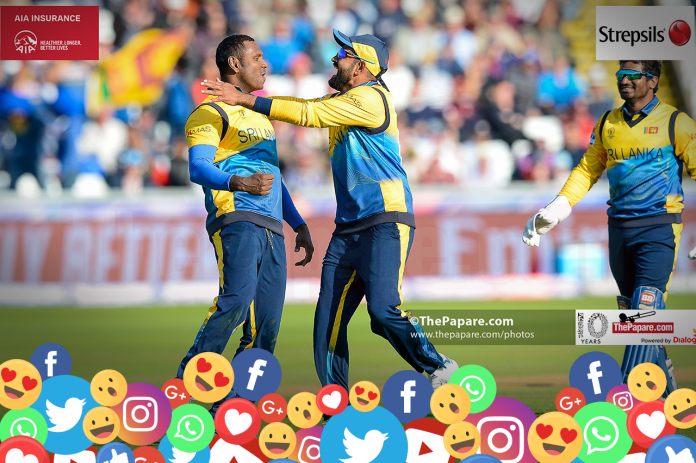 Sri Lanka recorded their customary dead rubber win today (02) at Durham, beating West Indies by 23 runs after putting up a first innings score of 338/6. 
#SLvWI | Sri Lanka Cricket, heart-attack central 😅 #LionsRoar #CWC19

Match report 👉 https://t.co/5CgPTa8TI6 pic.twitter.com/MuFb0s8nPc

— ThePapare.com (@ThePapareSports) 1 July 2019
Read : Sri Lanka win thriller after Avishka Fernando century
The highlight of the Sri Lanka innings was 21-year-old Avishka Fernando who became the youngest Sri Lankan to score a century in a World Cup and deservingly the youngster was appreciated on social media.
Well played young man.. Brilliant 100!! Something special from Avishka. 👍

— Mahela Jayawardena (@MahelaJay) 1 July 2019
Avishka Fernando !! Wow… instinctive and brilliant to watch. Took a massive step in his development today … Congratulations on a wonderful hundred #Cwc2019 #SLvWI Here is a star !!!

— Russel Arnold (@RusselArnold69) 1 July 2019
Simply magnificent #AvishkaF outstanding! Well played and well deserved maiden ton👏🏼 #CWCUP2019 #SLvWI #28

— Farveez Maharoof (@farveezmaharoof) 1 July 2019
Outstanding century by avishka . Many more to come . Keep going young man #ICCCricketWorldCup #SLvsWI pic.twitter.com/uwl28m0RN6

— Upul Tharanga (@upultharanga44) 1 July 2019
Much needed one for the Country ,
Very well played Avishka 👏 https://t.co/GBztZsYiqv

— Dilshan Munaweera (@dilshanSD24) 1 July 2019
Great stuff Avishka Fernando! Surely a star is born for Sri Lanka. A rare silver lining in a long and dark cloud!

— Roshan Abeysinghe (@RoshanCricket) 1 July 2019
I hope we saw the initial maturing of theee fine young cricketers today. Their future success is not guaranteed; but Nicholas Pooran, Fabien Allen & Avishka Fernando showed us that the game has a bright future. #ICCCWC2019 WI vs SL.

— ian bishop (@irbishi) 1 July 2019
Legendary Kumar was heard on Star Sports, beaming with pride after Fernando's century.
Kumar Sangakkara can barely contain his pride on commentary as he watches Avishka Fernando become the third youngest ODI centurion for Sri Lanka. What an exciting talent. #CWC19

— Freddie Wilde (@fwildecricket) 1 July 2019
And Sanga made a valid and important point about young talent emerging from the island.
#SLvWI | Agree with @KumarSanga2 ?

More on #CWC19 here: https://t.co/6JFa9L8uGN pic.twitter.com/7TafJ8xRv3

— ThePapare.com (@ThePapareSports) 1 July 2019
Surely, Fernando is the breakout star in this World Cup. His last four ODI innings read as 74, 49, 30, 104.
Avishka Fernando is probably the breakout star of this World Cup. Elegant, organised, clearly going to nick off a fair bit – but you can already tell he's going to be brilliant fun. #CWC19

— Ben Jones (@benjonescricket) 1 July 2019
Is this the future of Sri Lanka Cricket unraveling in front of our eyes? 
#SLvWI | Avishka Fernando is _______? #StandUnitedSL🏏

We caught up with him before #CWC19: https://t.co/94qdQt0ws0 pic.twitter.com/1nmARW60fK

— ThePapare.com (@ThePapareSports) 1 July 2019
Angelo Mathews, hasn't bowled in months, comes into the attack… Voila! Centurion is gone.
Angelo Mathews had pretty much given up bowling. I'm not sure if he's bowled a single over in training at the World Cup. Gets dropped into a pressure 48th over and nicks out the opposition centurion.

Never tell me that Pakistan is the craziest team in cricket. @OsmanSamiuddin

— Andrew Fidel Fernando (@afidelf) 1 July 2019
#SLvWI | Haven't bowled in 18 months? No problem! Angelo Mathews saves the day! #CWC19 #LionsRoar

For more photos & videos visit https://t.co/6JFa9L8uGN pic.twitter.com/7zluDRsbqy

— ThePapare.com (@ThePapareSports) 1 July 2019
The old warrior, Lasith Malinga kept on giving 120 percent for Sri Lanka.
Anyone else feel like raising a huge cheer for the mighty Lasith Malinga. Still carrying the Sri Lankan attack. Awesome.

— Harsha Bhogle (@bhogleharsha) 1 July 2019
A thrilling contest came to an end favoring the Sri Lankans though both teams are out of the race for a Semifinal spot.
Congratulations boys. What an inning from young AVISHKA fernando. He delivered at right time. @thiri66 and @KusalJPerera did wel. Most valuable and most precious over and ball balled by @Angelo69Mathews. @Lasith99Malinga simply outstanding.@IamDimuth @OfficialSLC

— Dhammika Prasad (@imDhammika) 1 July 2019
Relief indeed … #CWC2019 #SLvWI Well played Avishka Fernando got full value in the end.. Malinga the stand out again and a master stroke of Mathews biking at that stage .. phew!!!

— Russel Arnold (@RusselArnold69) 1 July 2019
Congratulations to Sri Lanka on the win. Avishka Fernando played beautifully for his century. A really spirited run-chase by the West Indies. The three run outs hurt them badly but a wonderful effort from Pooran and Fabian Allen. #WIvSL

— VVS Laxman (@VVSLaxman281) 1 July 2019