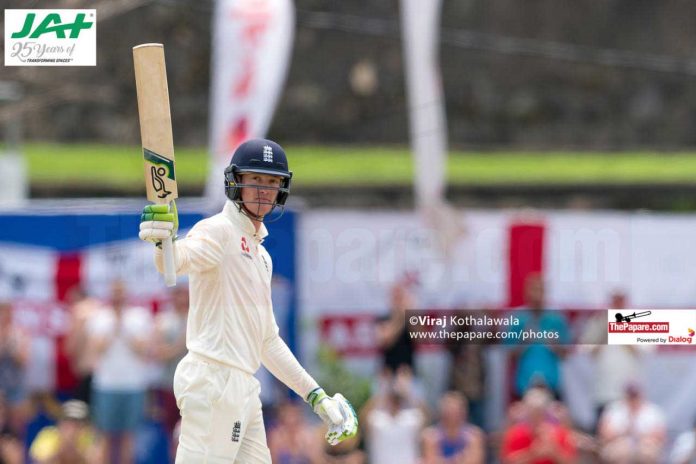 Day three of the 1st Test belonged to Keaton Jennings, a man who was not even sure of being on the plane to Sri Lanka after a dismal series against India at home. 
The stands at the Galle International Cricket Stadium were filled up soon with English supporters on the morning of day three, as it felt more and more like a home game for the Englishmen rather than a home send off Sri Lanka's legendary spin bowler, Rangana Herath would have expected.
The English dominance was unfortunately not only in the stands, but also on the pitch as well. Debutant Rory Burns – though looking uncomfortable during his stay – made sure England got off to a good start as he added 60 runs for the 1st wicket with Keaton Jennings. The Sri Lankan bowlers looked really flat before a bit of inspiration in the field from Dimuth Karunaratne provided the opening breakthrough in the form of a run-out.
Read: Roles reverse as English spinners put visitors in command
Moeen Ali who has been used as a make shift no.3 made his intentions clear but failed to execute as he held out to mid-on looking for a big heave towards cow corner before the ever reliable Herath – playing in his last international match – produced some magic when he pushed one quicker getting it to kick-off from the surface to send Joe Root back.
Jennings who was unfortunate to miss out on a half century in the first innings, made sure he made use of his opportunity as he got to a half century with ease the second time around. The England lead continued to grow as Jennings seemed at home against spin with the use of plenty of sweeps and reverse sweeps. He got good company initially from Ben Stokes who hit his way to 62 inclusive of 4 fours and 3 sixes as the duo added 107 runs for the fourth wicket.
Photo Album – Sri Lanka vs England | 1st Test – Day 3
Jennings was involved in another fruitful partnership of 77 runs with Buttler(35) for the 5th wicket while he got to the three figure mark in the process; his second century after his century on debut against India in India. A screamer at silly-point by Kaushal Silva ended Buttler's innings but centurion from 1st innings Ben Foakes came out with his intentions clear lofting Akila Dananjaya for two sixes in the same over as the English lead went pass the 450 run mark.
He fell in search of quick runs for 37 off just 34 balls, as he tried to hit another six off Dananjaya who looked ineffective throughout the match. The declaration came soon after with Jennings unbeaten on 146* and England on 322/6, 461 runs ahead of Sri Lanka. Interestingly Jennings' 280 ball marathon innings had only 9 fours in it which showed the temperament of the man who was also fighting for his place in the team.
Rangana Herath walked off the field as a bowler for one last time only with two wickets against his name while Dilruwan Perera ended with seven in the match.
The Sri Lankan opening pair of Dimuth Karunaratne and Kaushal Silva managed to survive till stumps, as Sri Lanka need a further 447 runs to win the match with two days remaining.
Full Scorecard
203/10 & 250/10
(85.1 overs)
England 's 1st Innings
Batting
R
B
Rory Burns
c N Dickwella b S Lakmal
9
12
Keaton Jennings
b D Perera
46
53
Moeen Ali
b S Lakmal
0
1
Joe Root
b R Herath
35
46
Ben Stokes
b D Perera
7
19
Jos Butler
c N Dickwella b D Perera
38
72
Ben Foakes
c D De Silva b S Lakmal
107
202
Sam Curran
c D Chandimal b A Dananjaya
48
104
Adil Rashid
c D De Silva b D Perera
35
38
Jack Leach
c D De Silva b D Perera
15
31
James Anderson
not out
0
4
Fall of Wickets:
1-10 (R Burns, 2.3 ov), 2-10 (M Ali, 2.4 ov), 3-72 (J Root, 16.1 ov), 4-98 (K Jennings, 21.1 ov), 5-103 (B Stokes, 23.3 ov), 6-164 (J Butler, 43.6 ov), 7-252 (S Curran, 77.2 ov), 8-306 (A Rashid, 87.4 ov), 9-330 (J Leach, 95.2 ov), 10-342 (B Foakes, 96.6 ov)
| Bowling | O | M | R | W | E |
| --- | --- | --- | --- | --- | --- |
| Suranga Lakmal | 18 | 5 | 73 | 3 | 4.06 |
| Dilruwan Perera | 31 | 6 | 75 | 5 | 2.42 |
| Akila Dananjaya | 20 | 2 | 96 | 1 | 4.80 |
| Rangana Herath | 25 | 4 | 78 | 1 | 3.12 |
| Dhananjaya de Silva | 3 | 0 | 18 | 0 | 6.00 |
Sri Lanka's 1st Innings
Batting
R
B
Dimuth Karunarathne
c B Foakes b J Anderson
4
2
Kaushal Silva
lbw by S Curran
1
6
Dhananjaya de Silva
b M Ali
14
47
Kusal Mendis
c B Stokes b J Leach
19
32
Angelo Mathews
c K Jennings b M Ali
52
122
Dinesh Chandimal
st B Foakes b A Rashid
33
72
Niroshan Dickwella
c J Butler b M Ali
28
39
Dilruwan Perera
c J Butler b J Leach
21
49
Akila Dananjaya
c B Foakes b M Ali
0
3
Suranga Lakmal
c J Anderson b A Rashid
15
20
Rangana Herath
not out
14
16
Fall of Wickets:
1-4 (D Karunarathne, 0.2 ov), 2-10 (K Silva, 3.3 ov), 3-34 (K Mendis, 13.2 ov), 4-40 (De Silva, 16.3 ov), 5-115 (D Chandimal, 43.2 ov), 6-136 (A Mathews, 49.3 ov), 7-171 (N Dickwella, 59.6 ov), 8-173 (A Dananjaya, 61.3 ov), 9-175 (D Perera, 62.6 ov), 10-203 (S Lakmal, 67.6 ov)
| Bowling | O | M | R | W | E |
| --- | --- | --- | --- | --- | --- |
| James Anderson | 10 | 0 | 26 | 1 | 2.60 |
| Sam Curran | 6 | 1 | 16 | 1 | 2.67 |
| Jack Leach | 18 | 2 | 41 | 2 | 2.28 |
| Moeen Ali | 21 | 4 | 66 | 4 | 3.14 |
| Adil Rashid | 9 | 1 | 30 | 2 | 3.33 |
| Ben Stokes | 4 | 0 | 22 | 0 | 5.50 |
England 's 2nd Innings
Batting
R
B
Rory Burns
(runout) D Karunarathne
23
65
Keaton Jennings
not out
146
280
Moeen Ali
c R Herath b D Perera
3
11
Joe Root
c N Dickwella b R Herath
3
19
Ben Stokes
b D Perera
62
93
Jos Butler
c K Silva b R Herath
35
58
Ben Foakes
c K Mendis b A Dananjaya
37
34
Sam Curran
not out
0
0
Extras
13 (b 4, lb 7, nb 2)
Fall of Wickets:
1-60 (R Burns, 22.6 ov), 2-67 (M Ali, 26.3 ov), 3-74 (J Root, 31.3 ov), 4-181 (B Stokes, 60.5 ov), 5-258 (J Butler, 83.1 ov), 6-319 (B Foakes, 92.5 ov)
| Bowling | O | M | R | W | E |
| --- | --- | --- | --- | --- | --- |
| Dilruwan Perera | 30 | 3 | 94 | 2 | 3.13 |
| Suranga Lakmal | 9 | 2 | 30 | 0 | 3.33 |
| Rangana Herath | 23 | 1 | 59 | 2 | 2.57 |
| Akila Dananjaya | 18.5 | 2 | 87 | 1 | 4.70 |
| Dhananjaya de Silva | 12.1 | 2 | 41 | 0 | 3.39 |
Sri Lanka's 2nd Innings
Batting
R
B
Dimuth Karunarathne
c & b M Ali
26
86
Kaushal Silva
lbw by J Leach
30
59
Dhananjaya de Silva
c J Root b B Stokes
21
44
Kusal Mendis
c M Ali b J Leach
45
77
Angelo Mathews
c J Butler b M Ali
53
92
Dinesh Chandimal
b J Leach
1
11
Niroshan Dickwella
c B Stokes b M Ali
16
32
Dilruwan Perera
c B Stokes b A Rashid
30
49
Akila Dananjaya
c B Stokes b M Ali
8
18
Suranga Lakmal
not out
14
25
Rangana Herath
(runout) B Stokes
5
18
Total
250/10 (85.1 overs)
Fall of Wickets:
1-51 (K Silva, 22.3 ov), 2-59 (D Karunarathne, 25.2 ov), 3-98 (De Silva, 37.2 ov), 4-144 (K Mendis, 50.5 ov), 5-154 (D Chandimal, 54.4 ov), 6-190 (N Dickwella, 66.1 ov), 7-197 (A Mathews, 68.4 ov), 8-229 (A Dananjaya, 76.6 ov), 9-239 (D Perera, 79.3 ov), 10-250 (R Herath, 85.1 ov)
| Bowling | O | M | R | W | E |
| --- | --- | --- | --- | --- | --- |
| Sam Curran | 5 | 1 | 15 | 0 | 3.00 |
| James Anderson | 12 | 2 | 27 | 0 | 2.25 |
| Moeen Ali | 20 | 2 | 71 | 4 | 3.55 |
| Adil Rashid | 18.1 | 0 | 59 | 1 | 3.26 |
| Jack Leach | 21 | 1 | 60 | 3 | 2.86 |
| Ben Stokes | 8 | 2 | 16 | 1 | 2.00 |
| Joe Root | 1 | 0 | 1 | 0 | 1.00 |