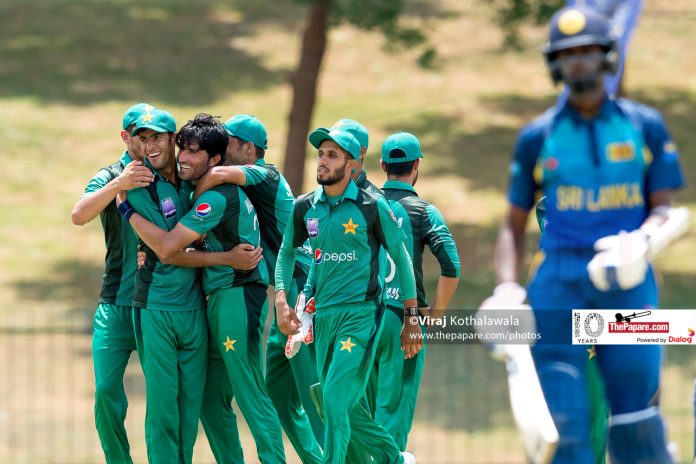 The opening batsman Haider Ali's magnificent 92* and the skipper Rohail Nazir's knock of 69 runs helped Pakistan U19 defeat Sri Lanka U19 in the 4th Youth ODI which was worked off today at the Mahinda Rajapakshe International Cricket Stadium in Hambanthota. With this win, Pakistan U19s claimed the series victory (1-3) with one game left.
The stand-in Sri Lanka U19 skipper Kamil Mishara won the toss and chose to bat first. Thaveesha Abishek and Chamindu Wickramasinghe, the new opening pair for Sri Lanka could not provide a solid start as the latter was dismissed for just 12 runs in the 4th over. The new number three batsman Ravindu Rasantha also did not last long at the crease as he was caught for 14 runs in the 12th over.
>>Rohail Nazir stars as Pakistan U19s take 1-2 lead<<
Sri Lanka's regular opening batsman Kamil Mishara came to bat at number four position but it was not a successful move as he made only 8 runs off 25 balls. At 94 for 4, Abishek was joined by the in-form batsman Avishka Tharindu and built a valuable 61-run partnership for the fifth wicket.
Apart from that there was no significant partnership built in the lower order as they were restricted to 195 runs for 8 wickets in the allotted 50 overs. Abishek was the top scorer for Sri Lanka U19 as he made 64 runs off 116 balls including 4 fours. Tharindu also contributed with a half-century which came off 79 balls at a strike rate of 63.29. Right arm seamers Shiraz Khan and Mohammad Wasim starred with the ball for Pakistan U19 as they picked up 2 wickets each.
Chasing a modest target of 196 runs to win, Pakistan U19 got off to a shaky start as the opener Basit Ali was dismissed by Chamindu Wickramasinghe for 0. However, the other opening batsman Haider Ali and number three batsman and skipper Rohail Nazir built a match winning partnership of 117 runs for the second wicket.
Photos: Sri Lanka U19 vs Pakistan U19 | 4th Youth ODI
Nazir ran himself out in the 23rd over after scoring 69 runs off 77 balls at a strike rate of 89.61 including 9 fours.  Pakistan's skipper Nazir has been in tremendous form in this series as he scored his third consecutive half-ton with the bat. After being 128 runs for 1 wicket at once stage, the visitors lost two quick wickets without adding a single run to the total but Ali made sure that there were no further hiccups as he guided them to the victory in 34.5 overs with 7 wickets in hand.
Ali made an unbeaten knock of 92 runs off 91 balls at an impressive strike rate of 101.10 with 7 fours and 1 six. Qasim Akram supported him well at the other end scoring 29 runs off 39 balls with 2 fours. Seamer Chamindu Wickramasinghe and off-spinner Sandun Mendis picked up a wicket each for the hosts.
The fifth and final match of the 5 match ODI series will be played on the 5th of June at the same venue. Stay logged onto ThePapare.com to get the latest updates, scores, reports and photos on all the matches of Pakistan 19 tour of Sri Lanka.


Batsmen
R
B
4s
6s
SR
Chamindu Wickramasinghe
c Haider Ali b Shiraz Khan
12
13
1
0
92.31
Thaveesha Abhishek
b Mohammad Wasim
64
116
4
0
55.17
Ravindu De Silva
c Rohail Nazir b Mohammad Junaid
14
22
2
0
63.64
Kamil Mishara
c Mohammad Taha b Shiraz Khan
8
25
1
0
32.00
Pawan Rathnayake 
c Abbas Afridi b Mohammad Taha
6
19
1
0
31.58
Avishka Tharindu 
run out (Akhtar Shah)
50
79
1
0
63.29
Chamindu Wijesinghe
lbw b Mohammad Wasim
5
8
0
0
62.50
Dunith Wellalage
not out
15
17
1
0
88.24
Raveen De Silva
run out (Rohail Nazir)
1
1
0
0
100.00
| | |
| --- | --- |
| Extras | 20 (b 1 , lb 2 , nb 0, w 17) |
| Total | 195/8 (50 Overs, RR: 3.9) |
| Fall of Wickets | 1-20 (3.6) Chamindu Wickramasinghe, 2-48 (11.5) Ravindu De Silva, 3-66 (17.6) Kamil Mishara, 4-94 (24.3) Pawan Rathnayake , 5-155 (42.3) Thaveesha Abhishek, 6-163 (44.2) Chamindu Wijesinghe, 7-195 (49.6) Raveen De Silva, |
| Bowling | O | M | R | W | Econ |
| --- | --- | --- | --- | --- | --- |
| Akhtar Shah | 5 | 0 | 24 | 0 | 4.80 |
| Shiraz Khan | 7 | 0 | 34 | 2 | 4.86 |
| Abbas Afridi | 6 | 0 | 19 | 0 | 3.17 |
| Mohammad Junaid | 9 | 2 | 32 | 1 | 3.56 |
| Mohammad Wasim | 10 | 0 | 42 | 2 | 4.20 |
| Mohammad Taha | 7 | 0 | 20 | 1 | 2.86 |
| Qasim Akram | 6 | 0 | 21 | 0 | 3.50 |


Batsmen
R
B
4s
6s
SR
Basit Ali
c Pawan Rathnayake  b Chamindu Wickramasinghe
0
1
0
0
0.00
Haider Ali
not out
96
92
7
1
104.35
Rohail Nazir
run out (Kamil Mishara)
69
77
8
0
89.61
Mohammad Taha
lbw b Sandun Mendis
0
2
0
0
0.00
Qasim Akram
not out
29
39
2
0
74.36
| | |
| --- | --- |
| Extras | 5 (b 0 , lb 1 , nb 1, w 3) |
| Total | 199/3 (34.5 Overs, RR: 5.71) |
| Fall of Wickets | 1-11 (1.1) Basit Ali, 2-128 (22.6) Rohail Nazir, 3-128 (23.2) Mohammad Taha, |
| Bowling | O | M | R | W | Econ |
| --- | --- | --- | --- | --- | --- |
| Naveen Fernando | 2 | 0 | 18 | 0 | 9.00 |
| Chamindu Wickramasinghe | 4 | 0 | 27 | 1 | 6.75 |
| Chamindu Wijesinghe | 4 | 0 | 17 | 0 | 4.25 |
| Dunith Wellalage | 5.5 | 0 | 41 | 0 | 7.45 |
| Sandun Mendis | 9 | 1 | 31 | 1 | 3.44 |
| Raveen De Silva | 7 | 0 | 51 | 0 | 7.29 |
| Kamil Mishara | 3 | 0 | 11 | 0 | 3.67 |