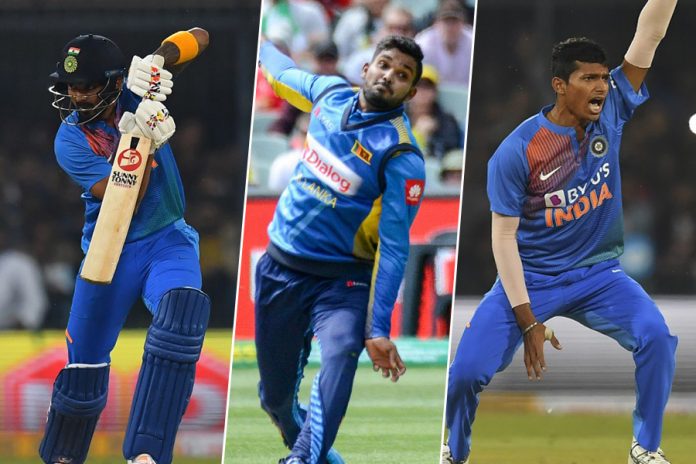 India cantered to a 7-wicket win over tourists Sri Lanka to go 1-0 up in the 3-match T20I series after a flawless performance at the Holkar Cricket Stadium in Indore in the 2nd T20I. 
With the advantage of fielding first in a venue highly regarded as favourable for chasing, India's young bowling attack showed character and maturity, bowling with brilliant discipline. Despite the wicket being a batsman-friendly strip, Sri Lanka were unable to build a good partnership after the openers were separated on 38 as the bowlers gave away nothing.
Avishka Fernando started off excellently with a first ball boundary off Jasprit Bumrah. With Fernando and his partner Danushka Gunathilaka finding the fence easily, India quickly turned to their variations to keep things under control.
Opening T20I in Guwahati abandoned after toss
The introduction of Washington Sundar decelerated the Lankan innings, hence forcing Fernando to miscue a shot straight to mid-off. Young speedster Navdeep Saini, who eventually was adjudged Man of the Match, announced himself with a pin-point Yorker to cleanup Gunathilaka. 
Sri Lanka's problems in the middle overs were once again exposed as the best batsman of their playing XI Kusal Perera struggled to get to his usual rhythm. He struggled his way to a 28-ball 34 which included no boundaries but 3 sixes. The 3 sixes helped him equal Rohit Sharma as the player with most sixes in India vs Sri Lanka T20 matches.
Kuldeep Yadav once again proved his worth as he removed both Oshada Fernando and Perera with his flight, loop and variations, despite being hit for some runs. None of the Lankan batsmen showed intent in playing freely as they kept losing wickets.
However, 3 consecutive boundaries in the last 3 balls of the innings from Wanindu Hasaranga off Jasprit Bumrah helped Sri Lanka finish on a respectable 142, which seemed well below par.
Lasith Malinga's start looked promising as he made Shikhar Dhawan hurry on a couple of occasions, but an overthrow off the last ball of the first over awarded 5 extra runs to India and also gave the run-chase a kick-start.
KL Rahul and Dhawan fighting for the 2nd openers slot to partner rested Rohit Sharma in the upcoming T20 World Cup, showed no mercy to the Lankan bowlers. Rahul in particular was glorious in his stroke play with exquisite timing and placement.
The pair was finally separated in the 10th over by Sri Lanka's best bowler of the day, Hasaranga as his googly went through Rahul to hit the stumps. He then went on to trap Dhawan before Shreyas Iyer scored 17 off his last over to diminish whatever hope Sri Lanka had by then. The final touches were done by Captain Virat Kohli as he finished off proceedings with a six off Lahiru Kumara. He also reached 1000 T20I runs as Captain during his cameo.
A huge loss for Sri Lanka was the injury picked up by Isuru Udana who was ruled out and couldn't bowl a single ball. His status will be a concern for Sri Lanka going forward in the series. The final game will be played in Pune on Friday the 10th.


Batsmen
R
B
4s
6s
SR
Danushka Gunathilaka
b Navdeep Saini
20
21
3
0
95.24
Avishka Fernando
c Navdeep Saini b Washington Sundar
22
16
5
0
137.50
Kusal Perera
c Shikhar Dhawan b Kuldeep Yadav
34
28
0
3
121.43
Oshada Fernando
st Rishabh Pant b Kuldeep Yadav
10
9
1
0
111.11
Bhanuka Rajapakse
c Rishab Pant b Navdeep Saini
9
12
1
0
75.00
Dasun Shanaka
b Jasprit Bumrah
7
8
0
0
87.50
Dhananjaya de Silva
c Navdeep Saini b Shardul Thakur
17
13
2
0
130.77
Wanindu Hasaranga
not out
16
10
3
0
160.00
Isuru Udana
c Navdeep Saini b Shardul Thakur
1
2
0
0
50.00
Lasith Malinga
c Kuldeep Yadav b Shardul Thakur
0
1
0
0
0.00
Lahiru Kumara
not out
0
0
0
0
0.00
| | |
| --- | --- |
| Extras | 6 (b 1 , lb 1 , nb 0, w 4, pen 0) |
| Total | 142/9 (20 Overs, RR: 7.1) |
| Fall of Wickets | 1-38 (4.5) Avishka Fernando, 2-54 (7.4) Danushka Gunathilaka, 3-82 (11.3) Oshada Fernando, 4-97 (13.2) Kusal Perera, 5-104 (14.5) Bhanuka Rajapakse, 6-117 (16.6) Dasun Shanaka, 7-128 (18.2) Dhananjaya de Silva, 8-130 (18.5) Isuru Udana, 9-130 (18.6) Lasith Malinga, |
| Bowling | O | M | R | W | Econ |
| --- | --- | --- | --- | --- | --- |
| Jasprit Bumrah | 4 | 0 | 32 | 1 | 8.00 |
| Shardul Thakur | 4 | 0 | 23 | 3 | 5.75 |
| Navdeep Saini | 4 | 0 | 18 | 2 | 4.50 |
| Washington Sundar | 4 | 0 | 29 | 1 | 7.25 |
| Kuldeep Yadav | 4 | 0 | 38 | 2 | 9.50 |


Batsmen
R
B
4s
6s
SR
 KL Rahul
b Wanindu Hasaranga
45
32
6
0
140.62
Shikhar Dhawan
lbw b Wanindu Hasaranga
32
29
2
0
110.34
Shreyas Iyer
c Dasun Shanaka b Lahiru Kumara
34
26
3
1
130.77
Virat Kohli
not out
30
17
1
2
176.47
Rishabh Pant
not out
1
1
0
0
100.00
| | |
| --- | --- |
| Extras | 2 (b 1 , lb 1 , nb 0, w 0, pen 0) |
| Total | 144/3 (17.3 Overs, RR: 8.23) |
| Fall of Wickets | 1-71 (9.1)  KL Rahul, 2-86 (11.2) Shikhar Dhawan, 3-137 (17.1) Shreyas Iyer, |
| Bowling | O | M | R | W | Econ |
| --- | --- | --- | --- | --- | --- |
| Lasith Malinga | 4 | 0 | 41 | 0 | 10.25 |
| Lahiru Kumara | 3.3 | 0 | 30 | 1 | 9.09 |
| Dhananjaya de Silva | 2 | 0 | 15 | 0 | 7.50 |
| Dasun Shanaka | 4 | 0 | 26 | 0 | 6.50 |
| Wanindu Hasaranga | 4 | 0 | 30 | 2 | 7.50 |