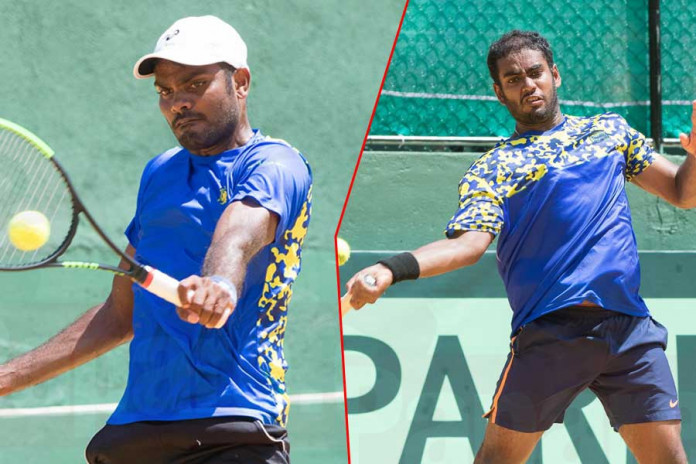 As the 4th day of the Davis Cup drew to a close Sri Lanka bagged another win as they played against Syria. Sri Lanka beat Syria 2-1 in the all-important match to decide who gets to play the promotional qualifier.
The first single for the day was between Harshana Godamanna from Sri Lanka and Yacoub Makzoume from Syria. The first set was an easy win for Harshana winning it 6 games to 1. The 1st set was witness to Harshana getting a couple points from a few aces as well as him dominating the break points. The 2nd set of the game wasn't as easy going for Harshana, with the Syrian fighting back winning 3 games during the set although a couple double faults on his end lost him the match and Sri Lanka won the first singles match of the day.
The second single was between Sharmal Dissanayake from Sri Lanka and Kareem Al Allaf from Syria. The first set of the match was a quick win for Kareem beating Sharmal 6 games to 1. The second set, however, was a nail bitter. With both players getting 6 wins each it was tough to say who would win but unfortunately for Sharmal Kareem was able to beat him in what was a very close game. Kareem Al Allaf got Syria the first win for the day beating Sharmal in the second set 7 games to 6.
Once again the Sri Lankan players found themselves in a pressurising situation facing a crucial doubles match that would decide their fate. Sri Lanka qualifying to play in the semi-finals was all dependent on their performance in the final doubles.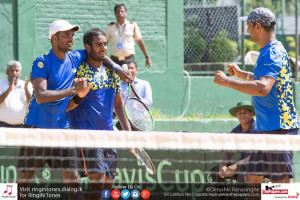 The final match was played between Sharmal Dissanayake and Harshana Godamanna representing Sri Lanka and Kareem Al Allaf and Majdi Salim representing Syria. Throughout the match, the Sri Lankan team struggled to win the break points but made up for it getting many quick points through a few aces. The Syrians gave a tough fight during the 1st set winning 4 games but a few mistakes including a couple double faults gave victory of the 1st set to the Sri Lankan duo 6 games to 4. The second set was when the Sri Lankan duo settled in and got in their groove winning the set 6 games to 1.
Sri Lanka thereby beat Syria 2-1 and qualified to play the semi-finals that will be held on Saturday at the Sri Lanka Tennis Association courts. The winners of the semi-finals will be able to qualify to play for Group 2 at the Davis Cup in the following year.
Drop by at the SLTA tennis courts to find out who Sri Lanka will face on Saturday as Malaysia plays against Qatar to decide the other semi-finalist. If you miss the live action stay tuned to ThePapare.com for updates on the Davis Cup.