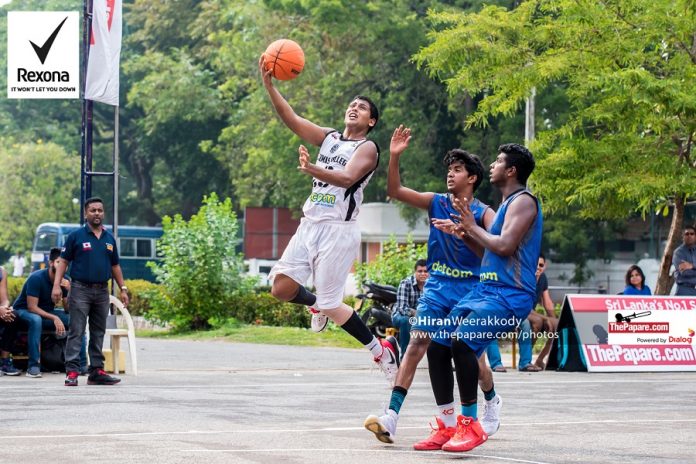 ThePapare Basketball Championship boys' semi-finals concluded last evening (30th) at the Royal College Outdoor Basketball Complex. S. Thomas' College(STC) overcame Gateway College Colombo (GCC) to make it into finals for the 2nd time in 3 years.
STC's Shevaan Perera continued his form and started the scoring from downtown. He managed to score 7 points in the 1st quarter. GCC answered via their exceptional point guard Chevaan De Costa who also recorded a shot behind the arc in the 1st quarter, as the scores stood tied at 14-all at the end of the 1st quarter.
The intense game went back and forth with several lead changes in the 2nd quarter. STC's captain Yasiru Bimantha also started to contribute getting on the scoreboard with couple of lay ups, penetrating the defence and making shots from behind the arc.
Photos: S.Thomas' College v Gateway College | TPBC 2018 | Semi Finals
Nevertheless, Gateway came back strongly with Center Aaron Fonseka getting offensive boards and scoring second chance points. With help from Chenuka Kasturiarachchi GC managed to keep the scores tied at halftime.
 Halftime: S. Thomas' College 34 – 34 Gateway College, Colombo
Yasiru Bimantha continued to penetrate the defence of GC. By doing so he was able to draw some fouls and made full use, accumulating points through free throws.
Shevaan Perera too kept scoring for STC but GC answered with similar tactics as Mirtesh Thurairajah converted 7 points from the free throw line. However, the STC lads slowly began to pull away from GCC, as they led by 5 points, going into the final quarter.
The boys from Mount Lavinia pulled away completely during the final quarter, as they made some changes to its defense. Double-teaming Aaron Fonseka of Gateway, STC were able to score second chance points thanks to Dunal Fernando.
GCC continued to struggle in the 2nd half of the game and did not find an answer to the late tactical change by STC.  In-form duo Shevaan Perera and Yasiru Bimantha continued their scoring pace and the lead quickly increased to double digits with 4 minutes remaining on the clock.
>>Match Replay – TPBC18 | Boys' Semi-Final | S. Thomas' College v Gateway College – Colombo<<
Yasiru Bimantha, with a shot from downtown, concluded STC's victory, securing a trip to the finals of the 2018 Championship, outscoring Gateway 23-07 in the final quarter.
Full time: S. Thomas' College 75 – 54 Gateway College
The Head Coach of S. Thomas' College Shiyantha Jayaweera speaking to ThePapare.com said " Both teams did struggle in the beginning of the game as it was low scoring opening quarter, but I think towards the 2nd half Gateway couldn't keep up with the tempo and pace of our boys. All credit goes to them, making it so far in the tournament but it was simply our day today"
Top Scorer
S.Thomas' College – Yasiru Bimantha -17 points

Gateway College Colombo – Mirtesh Thurerajah -15 points