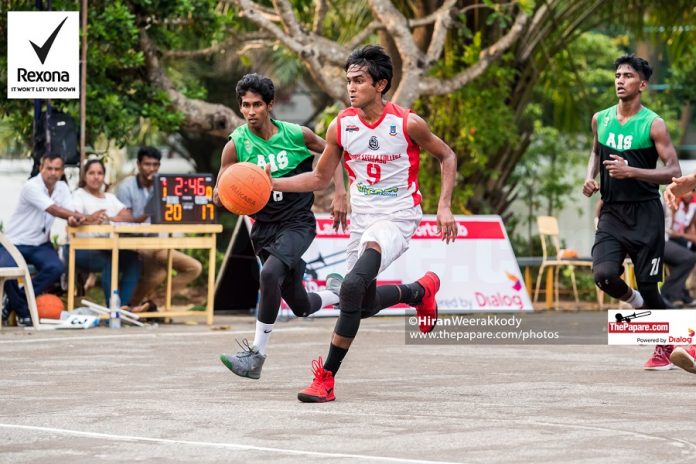 The 2nd Semi Final of ThePapare Basketball Championship concluded yesterday (30th) at the Royal College Basketball Complex with Maris Stella College Negombo(MSC) defeating Asian International School(AIS), who were recently crowned U20 Inter-International Champions.
It was quite a struggle for both teams from the tip off to find the net. MSC's national youth player Chenura de Alwis opened the scoring for MSC via free throws but they managed to score only six points in the 1st quarter. AIS faced the same problem with scoring as the scores were tied at 6 all at the end of the 1st quarter.
Both teams came back with more aggression in the 2nd quarter and the lead exchanged hands frequently. MSC's Chenura shot from the behind the arc and penetrated the defence of AIS to score some points via lay ups. AIS answered with their own national youth player Joel Perera and Abdul Khaldeen, who shot a couple from downtown to even the playing field to edge ahead by 1 point at the end of the 1st half.
Halftime: Maris Stella College 21 – 22 Asian International School
Another shot from behind the arc by MSC's Chenura De Alwis opened the scoring for the 2nd half. Joel Perera answered to tie the game as the lead exchanges continued in the opening minutes of the 3rd quarter.
Photos: Maris Stella College v Asian International School | TPBC 2018 | Semi Finals
MSC started to play more smartly towards the middle of the 3rd quarter. With tight defence being implemented thanks to their power forward Dimag Rochana and Dulan Shaminda locking down at the defensive end, MSC waited to for the openings to score. With in-form Chenura De Alwis continuing to score and with help from the 3-point specialist Malshan Rumaiz, MSC took the lead to 10 points at the end of the 3rd quarter.
AIS made changes in its defensive end, implementing a double team on Chenura De Alwis in the final quarter, nevertheless they couldn't find an answer to MSC's tight defense. With the lead back to double digits, MSC simply ran down the clock in the last quarter.
AIS then implemented a full court press trying to cut the lead but this led to gaps in the defence which Chenura De Alwis was able to exploit and drive through to continue the scoring.
With the win MSC will make their first finals appearance in the ThePapare Basketball Championship as they play S. Thomas' College on the 1st of November.
Full time: Maris Stella College 58 – 48 Asian International School
The Head Coach of Maris Stella College, Samantha Kandegedara speaking to ThePapare.com said "We knew they were a tough team as they had good, talented players in their team. Even though they were leading in the 1st half our game plan was to keep up with them. Recognizing that we have a strong bench and really good shooters, our game plan was to simply wait for the right moment to run plays and convert into points. Our defence was good thanks to our post players thus help us to come away with the victory"
Top Scorers
Maris Stella College – Chenura De Alwis – 29 points

Asian International School – Joel Perera – 12 points