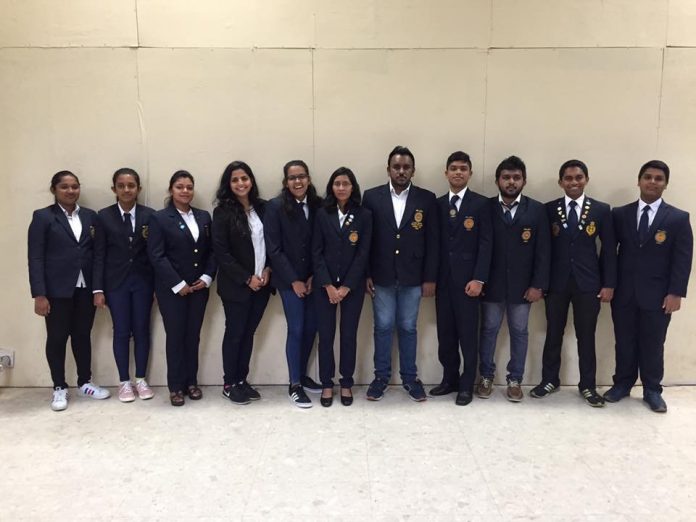 The most prestigious event of the year 2018, Chess Olympiad, was successfully held from 26th September to 6th October at Sports Palace Batumi in Georgia. This was the 43rd edition of the Chess Olympiad.
This event was organized by the Federation Internationale Des Echees (FIDE) and Georgia was selected as the host nation. It was a team event comprising of open and women's tournament as well as several events to promote the game. Inthe open category there were 920 competitors representing 180 nations and 750 competitors represented 146 nations in the women's category.
Two teams from Sri Lanka competed as well in this event. Sri Lankan representatives were Luxman Wijesuriya(FIDE delegate), Buddhi Panagoda(women's team captain), SachiniRanasinghe, Dinushki Premanath,Tenara De Silva, Hashara Abeysinghe, Sayuni Gihansa Jayaweera, Jon.S.Speelman(open team captain), Isuru  Alahakoon, Akila Kavinda, Minul Doluweera, Sasith Nipun Piyumantha & Harshana Thilakarathne. The Sri Lankans performed well in this tournament while China ended up winning both the open and the women's category. Following is a look at how Sri Lankans performed in this event.
Women's Category
Sri Lanka started in the 91st position in starting ranks with an average rating of 1760.They were paired with Mongolians who had an average rating of 2329. The Mongolians were too strong for the Sri Lankan ladies and they suffered a 4-0 defeat.In the round two Sri Lanka entered the arena to battle against Mauritius. The Sri Lankan ladies recorded a 4-0 victory quite easily. In the third round Sri Lanka was paired with Guatemala with an average rating of 1881.Our ladies managed to win the round sharing  3-1 points over their strong opponents. In the fourth round Sri Lankan ladies suffered 3-1 defeat against Germany, one of the strongest competitors in the tournament. Germans had an average rating of 2397.Young Tenara De Silva rated 1764 points managed to secure a win surprising her higher rated opponent, who has a rating of  2355 womens' grand master Hoolt Sarah. Tenarawas highlighted with that performance in the tournament. Our ladies settled to a draw with Uruguay sharing two points each in round five. Uruguay entered the arena as favourites to win with an average rating of 1839 but the Sri Lankan ladies capitalized to secure a draw against their strong opponents from South America.
There was no luck at all for the Sri Lankan ladies when they paired with another strong opponent from Europe. In round six France with an average rating  of 2418 entered the arena hoping to flatten the ladies from Asia. Our ladies managed to steal a point from the French as round ended 3-1. Dinushki Premanath 1813, won over womens grand master,2390 Guichard Pauline. Ladies won over Chinese Taipei in round 7 sharing 2.5-1.5 In the 8th round the ladies faced strong Austrians and stole 1.5 points as well. Sri Lankan ladies demolished Madagascar to a 4-0 victory. Sri Lankans were eligible for a category prize after round nine. Unluckily Sri Lanka was beaten by Monaco 2.5-1.5 in the 10th round. In the final round  Sri Lankans won over Syria 2.5-1.5 but it was not enough for category Gold. They missed category Gold by just a point, however it was a great experience for the ladies.
Open Category
Sri Lanka was ranked 115th on the starting ranks list with an average of 2167.Greece with an average of 2595, one of the contenders for the championship was paired with Sri Lanka.They were too strong for the Sri Lankans as they secured a comfortable win of 4-0. In the second round Sri Lankans flattened Djibouti with a 4-0 victory. Italy, another strong team from Europe with an average rating of 2554 entered the arena hoping to flatten Sri Lanka but the Sri Lankans did hang around with the grandmasters and grabbed a point. Sasith Nipun and  Harshana Thilakrathne ended their games settling for draws. After suffering that defeat the lions managed to win over Guernsey 4-0.That round gave them some confidence as they secure another 3.5-0.5 win over Qatar in round 5. In the 6th round they suffered an unexpected  defeat of 1.5-2.5 to our South Asian friends, Nepal. In round 7 Sri Lankans managed to over come the task of Kosovo with a 2.5-1.5 victory. A big defeat of 3.5-0.5 to Ecuador on round 8 floated away the hopes for category prize. Without much confidence Sri Lanka bounced back to secure a win over Nicaragua grabbing 3 points. However hopes for a category prize was ruined after losing to Bosnia & Herzegovania in the 10th round. In the final round Sri Lanka suffered another 3.5-.05 defeat to Yeman.
However the tournament ended with lots of positives for Sri Lanka. 15 year old Harshana Thilakarathne missed the International Master title by just 0.5 points. Sasith NipunPiyumantha the 16 year old and Minul Doluweera 17 year old showed great fighting skills as well. This was a great experience for all the competitors. Sri Lanka has found theteam which can take Chess to great heights in the future.
ThePapare.com takes this opportunity to congratulate all the players for completing a great tournament.