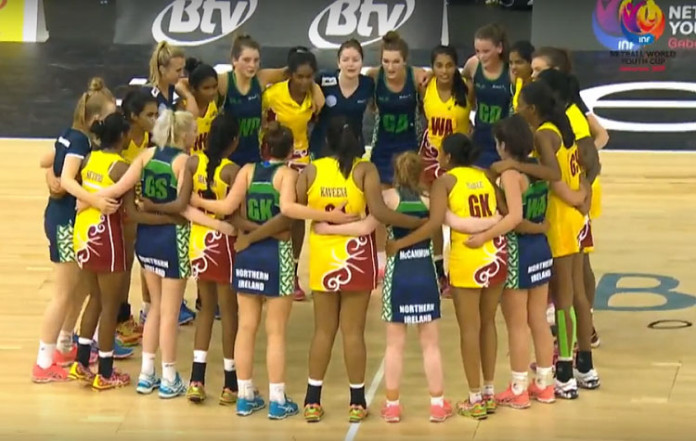 Lackluster first quarter plagued with bad passing and interceptions denied Sri Lanka a chance at a possible victory, as Northern Ireland registered a 56-44 win in a pool A encounter at the 8th Netball World Youth Cup 2017 in Gaborone, Botswana.
Sri Lanka was coming off another disappointing first outing losing 69-48 to Scotland while Northern Ireland lost heavily 89-22 to defending champions New Zealand in their first match.
Excellent mid-court play from Scotland strangled Sri Lanka to secure a comfortable 69-48 win..
Both sides exchanged points in the early going but Northern Ireland capitalized on Sri Lankan errors to go on a 5-0 run to lead 8-3. Sri Lanka did well to bring the scores down to 9-7 but Northern Ireland closed the 1st quarter on another 5-0 run to make it 17-9.
Sri Lanka who deployed Suseema Kumari as Center instead of Sachini Rodrigo struggled to string together the passes and looked out of sorts resulting in the opponents outscoring Sri Lanka 7-0 early in the 2nd quarter. The lead swelled to 15 points at one time with the scores reading 25-10.
Midway through the 2nd quarter Sachini moved back to her usual Center position as Sri Lanka started to build momentum with a 6-0 scoring run and ended the 1st half just 8 points behind.
Half time – Northern Ireland 28 – 20 Sri Lanka
Sri Lanka vice-captain and Goal Attack (GA) Kaveena Rajapaksha worked tirelessly in attack, creating chances for her and Goal Shooter (GS) Mellony Wijesinghe. Both sides kept each other in check, exchanging points as neither side could assert any dominance as the 3rd quarter finished 41-30.
The Sri Lanka Youth Netball team will be participating in the 8th Netball World Youth Cup 2017..
Captain Mandira Charuni (Goal Defense) and Tharushi Illangarathna (Goal Keeper) had a good game defense and even with Mellony and Kaveena doing their utmost in attack the early slipup proved too much to overhaul as Northern Ireland finished off the match with a 12-point lead.
Full time – Northern Ireland 56 – 44 Sri Lanka
| | | | | | |
| --- | --- | --- | --- | --- | --- |
| Team | 1st Quarter | 2nd Quarter | 3rd Quarter | 4th Quarter | Full Time |
| Northern Ireland | 17 | 11 | 13 | 15 | 56 |
| Sri Lanka | 9 | 11 | 10 | 14 | 44 |
Sri Lanka will play their next game on July 11th against Samoa at 5.30pm (SL Time).