The Sri Lankan Netball team, who finished as runners up at the recently concluded Asian Netball Championship, are to be awarded a special cash prize, by the ministry of sports, in appreciation of their achievement.
At a special felicitation held at the Sports Ministry Auditorium, Minister Dayasiri Jayasekara praised the young team and expressed that they had come through to do well despite having faced many issues in the run up to Asia's premier Netball tournament. While commending their dedication to their sport, Minister Jayasekara also gave special mention to the team's win over Singapore, the top ranked team in the region.
Photo Album – Felicitation Ceremony for the National Women's Netball Team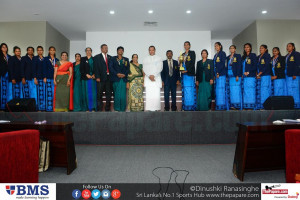 The squad, led by Captain Gayanie Dissanayake, Coach Deepti Alwis, President of the Sri Lanka Netball Federation Yasa Ramachandra and other office bearers were among those present during this occasion.
The Minister went on to say that from now onwards, he has given the SLNF a directive to form training squads well ahead of tournaments, instead of waiting for the last few months to conduct trials, as has been the practice over the past few years.
According to the Minister, each of the 12 players is to receive a sum of Rs. 150,000, while Coach Deepti Alwis is set to receive Rs. 450,000.