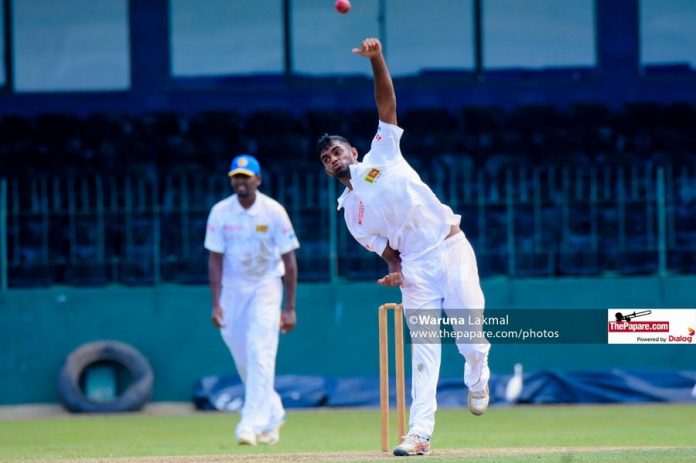 Sri Lanka A managed to register a comprehensive victory over the touring Ireland A team in the 1st unofficial-test match between the two sides which concluded today at the Sinhalese Sports Club Grounds in Colombo.
Read More : Milinda Siriwardane and Kamindu Mendis lift Sri Lanka A
The Ireland A team's last pair Jonathan Garth and James Cameron-Dow resumed day three on 182 runs for 9 wickets and added another 14 runs to the total before the latter was dismissed by off-spinner Ashan Priyanjan in the 55th over. Left arm spinner Lasith Embuldeniya picked up a match bag of 9 wickets to demolish the Irish batting line-up. It set the hosts a target of 42 runs to chase and go 1-0 up in the series.
Photos : Ireland A Team Tour to Sri Lanka 2018/19 – 1st Four Day Game – Day 2
The Sri Lankan opening batsmen Pathum Nissanka and Avishka Fernando were in a hurry as they chased down the target in 6.5 overs. Pathum Nissanka scored 26 runs off 23 balls including 6 fours at a strike rate of 113.04 while Avishka Fernando stroked 16 runs off 18 balls with 2 boundaries at a strike rate of 88.88.
Photos: Ireland A Team Tour to Sri Lanka 2018/19 – 1st Four Day Game – Day 1
With this win, Sri Lanka A leads the two match series 1-0 and the second game between the two sides will commence on the 13th January at Mahinda Rajapakshe International Cricket Stadium in Sooriyawewa.
Read More : Siriwardane and Embuldeniya put Sri Lanka A close to victory
Stay logged onto ThePapare.com to get the latest updates, scores, reports and photos on all the matches of Ireland A's tour of Sri Lanka.
Photos: Ireland A Team Tour to Sri Lanka 2018/19 | 1st Four Day Game | Day 3
Full Scorecard
153/10 & 196/10
(54.3 overs)
SL A won by 10 wickets
Ireland A's 1st Innings
Batting
R
B
S Doheny
c Siriwardane b M Shiraz
7
16
JA McCollum
b L Ambuldeniya
76
108
A Gillespie
lbw by M Shiraz
2
6
JNK Shannon
b M Shiraz
0
3
H Tector
b N Peiris
0
10
L Tucker
lbw by N Peiris
0
2
MR Adair
c M Sarathchandra b L Ambuldeniya
11
9
N Rock
c Fernando b M Shiraz
28
54
J Little
b L Ambuldeniya
5
21
JJ Garth
c N Peiris b L Ambuldeniya
10
30
J Cameron-Dow
not out
7
18
Extras
7 (lb 1, nb 5, w 1)
Total
153/10 (45.2 overs)
Fall of Wickets:
1-10 (S Doheny, 3.6 ov), 2-20 (A Gillespie, 7.1 ov), 3-21 (JNK Shannon, 7.3 ov), 4-41 (H Tector, 13.1 ov), 5-41 (L Tucker, 13.3 ov), 6-62 (MR Adair, 16.5 ov), 7-112 (N Rock, 30.3 ov), 8-129 (J Little, 35.3 ov), 9-136 (JA McCollum, 39.5 ov), 10-153 (JJ Garth, 45.2 ov)
| Bowling | O | M | R | W | E |
| --- | --- | --- | --- | --- | --- |
| Nisala Tharaka | 6 | 1 | 20 | 0 | 3.33 |
| Mohamed Shiraz | 13 | 1 | 47 | 4 | 3.62 |
| Lasith Ambuldeniya | 13.2 | 1 | 46 | 4 | 3.48 |
| Nishan Peiris | 11 | 0 | 30 | 2 | 2.73 |
| Ashan Priyanjan | 2 | 0 | 9 | 0 | 4.50 |
Sri Lanka A's 1st Innings
Batting
R
B
Pathum Nissanka
b Cameron-Dow
11
41
Avishka Fernando
c Tucker b Adair
20
31
Ashan Priyanjan
c Tucker b Adair
6
6
Angelo Perera
c Tucker b Adair
4
8
Milinda Siriwardane
c Gillespie b Cameron-Dow
104
126
Kamindu Mendis
b Cameron-Dow
91
135
Manoj Sarathchandra
lbw by Cameron-Dow
20
38
Nisala Tharaka
b Cameron-Dow
6
11
Lasith Ambuldeniya
c Hector b Cameron-Dow
10
23
Mohomed Shiraz
c Adair b Cameron-Dow
17
41
Nishan Peiris
not out
5
10
Extras
14 (b 5, lb 2, nb 7)
Total
308/10 (77.1 overs)
Fall of Wickets:
1-32 (WIA Fernando, 10.4 ov), 2-42 (SMA Priyanjan, 12.4 ov), 3-42 (P Nissanka, 13.1 ov), 4-46 (AK Perera, 14.6 ov), 5-233 (TAM Siriwardana, 54.6 ov), 6-252 (PHKD Mendis, 59.2 ov), 7-263 (NT Gamage, 63.2 ov), 8-276 (DM Sarathchandra, 65.3 ov), 9-297 (L Ambuldeniya, 73.4 ov), 10-308 (M Shiraz, 77.1 ov)
| Bowling | O | M | R | W | E |
| --- | --- | --- | --- | --- | --- |
| Joshua Little | 11 | 1 | 67 | 0 | 6.09 |
| James Cameron-Dow | 26.1 | 7 | 77 | 7 | 2.95 |
| Mark Adair | 14 | 3 | 43 | 3 | 3.07 |
| Jonathan Garth | 7 | 0 | 28 | 0 | 4.00 |
| Harry Tector | 11 | 0 | 54 | 0 | 4.91 |
| James Shannon | 8 | 0 | 32 | 0 | 4.00 |
Ireland A's 2nd Innings
Batting
R
B
S Doheny
c K Mendis b L Ambuldeniya
7
18
JNK Shannon
lbw by L Ambuldeniya
32
47
A Gillespie
c A Fernando b L Ambuldeniya
13
23
H Tector
lbw by K Mendis
1
16
L Tucker
c M Siriwardane b M Shiraz
26
57
MR Adair
c A Fernando b L Ambuldeniya
17
42
N Rock
c N Tharaka b L Ambuldeniya
17
41
J Little
c K Mendis b M Shiraz
18
10
JJ Garth
not out
15
29
J Cameron-Dow
b A Priyanjan
18
27
Extras
10 (b 4, lb 1, nb 5)
Total
196/10 (54.3 overs)
Fall of Wickets:
1-16 (S Doheny, 5.3 ov), 2-40 (A Gillespie, 11.5 ov), 3-57 (JNK Shannon, 15.6 ov), 4-63 (H Tector, 18.4 ov), 5-103 (MR Adair, 33.2 ov), 6-103 (L Tucker, 34.1 ov), 7-123 (J Little, 36.5 ov), 8-156 (J Little, 36.5 ov), 9-162 (N Rock, 45.6 ov), 10-196 (J Cameron-Dow, 54.3 ov)
| Bowling | O | M | R | W | E |
| --- | --- | --- | --- | --- | --- |
| Nisala Tharaka | 8 | 1 | 25 | 1 | 3.13 |
| Mohamed Shiraz | 10 | 2 | 47 | 2 | 4.70 |
| Lasith Ambuldeniya | 21 | 6 | 73 | 5 | 3.48 |
| Nishan Peiris | 7 | 0 | 29 | 0 | 4.14 |
| Kamindu Mendis | 8 | 3 | 13 | 1 | 1.63 |
| Ashan Priyanjan | 0.3 | 0 | 4 | 1 | 13.33 |
Sri Lanka A's 2nd Innings
Batting
R
B
Pathum Nissanka
not out
26
23
Avishka Fernando
not out
16
18
| Bowling | O | M | R | W | E |
| --- | --- | --- | --- | --- | --- |
| Mark Adair | 3 | 0 | 21 | 0 | 7.00 |
| James Cameron-Dow | 3 | 1 | 13 | 0 | 4.33 |
| Jonathan Garth | 0.5 | 0 | 8 | 0 | 16.00 |