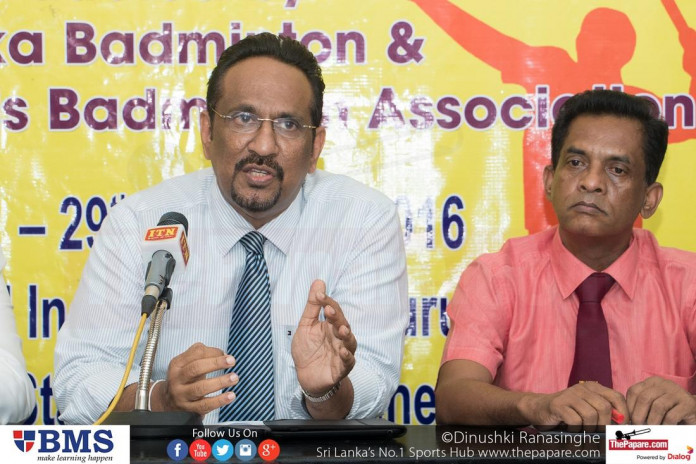 Sri Lanka's flagship badminton national tournament; The Sri Lanka National Badminton Championship will come alive for the 64th occasion from the 22nd to the 29th October 2016 in the district of Kurunegala.
This will be the first ever occasion where the national body; Sri Lanka Badminton will be joining hands with the school governing body to organise a collaborative tournament that will include both the regular National Championship along with the Junior National Badminton Championship that is organised by the Sri Lanka Schools Badminton Association.
Speaking at the press conference held for the announcement of the National Badminton tournament, President of the Sri Lanka Badminton Association, Suraj Dandeniya added that the governing body will be looking to take the sport outside of the vicinity of Colombo and encourage the growth.
"Last year we had the nationals in Anuradhapura and this time, we will be taking it to Kurunegala and with the merging of the Junior National tournament, we are expecting a total of over 5000 school going individuals also making their way to the courts in Badminton"
The National tournament will be organised in collaboration with the Kurunegala Badminton Federation who will be hosting the tournament on behalf of Sri Lanka Badminton. The National tournament will be played in two venues; the Municipal Courts in Kurunegala and the VIP Army Camp Badminton Stadium Boyagane.
The Junior National Championship that will run in par with the main tournament will have age groups of under 11, 13, 15, 17 & 19 and will include both singles and doubles in the boys and girls categories. The initial matches will be played at the D. S. Senanayake College and Sri Lanka Badminton Association courts on the 22nd and 23rd while the tournament will take a shift to Kurunegala from the quarterfinal stage and is expected to conclude on the 29th.
The Hon. Minister of Sports Dayasiri Jayasekara and Hon. Minister of Education Akila Viraj Kariyawasam is expected to grace the finals that will be followed by the awards ceremony that will take place on the 29th of October.