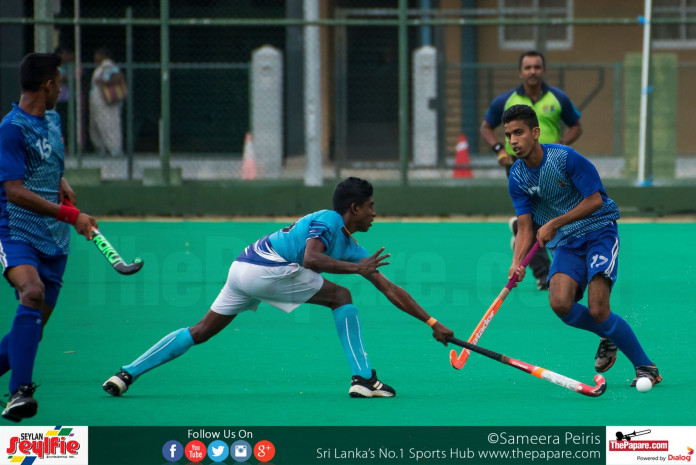 The Sri Lanka Air Force hockey team took on the Bangladesh Air Force hockey team this evening, at the Astro Turf Colombo, where Sri Lanka beat Bangladesh 1-0. The game was part of a two-match friendly series.

The home team was led by K.M.T.I Gunawardena while the Bangladesh team was led by Rumman Ali. The game was started off by Bangladesh under cloudy weather conditions in Colombo.
Within minutes into the game, the Sri Lankans showed their dominance in both their attack and defence. Their efforts were rewarded with a classy goal by Chamara Molder through brilliant passing by his team mates. This was the only goal of the game.
The home team kept pressurizing the Bangladesh team denying them any opportunity to score. However, Sri Lanka conceded a lot of penalties in the process but Bangladesh were unable to capitalize on their opposition's mistakes. The Bangladesh team finally seemed to be gaining their   ground as the game went into half time, Sri Lanka leading 1 goal to nil.
Sri Lanka started off the second phase of the game in the same dominant fashion of the first half. V.D Fernando used his dynamic skills to get the ball through the gaps but was unfortunately not able to make his mark on the scoreboard.
Shahidul Islam of Bangladesh was carded for illegal play. Even though Bangladesh was down to 10 men, they never showed signs of giving in as they began to worry the Sri Lankan team and the spectators. Not so later on, B.A.D.R.S Nimananka was also sent out for illegal play. The Bangladesh team was yet unable to gain the upper hand even though they had the extra-man advantage.
The game ended with the Sri Lankans walking away with a 1-0 advantage on the score line. The second game of the two-match series will be held on18th May 2017, 4 pm onwards at the Astro Turf Colombo 07.