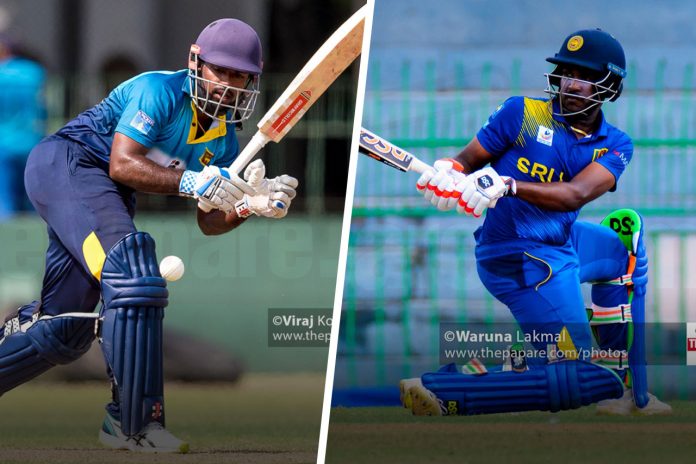 Another clinical performance by the young Emerging Sri Lankan cricketers consolidated their top spot in the South Africa Tri-Series points table as they beat the University Sports South Africa XI by 4 wickets today in Pretoria.
Having chased down a target of 268 set by the same opposition in their previous game, Sri Lanka Emerging team skipper Charith Asalanka opted to chase once again after winning the toss. Playing with the same winning combination which played the first two games, Sri Lanka once again started brilliantly.
The third game of the One Day Tri-Series of the Sri Lanka Emerging tour of South Africa concluded….
Lahiru Madushanka sharing the new ball with Asitha Fernando provided his team with the first breakthrough in the 6th over of the game during his excellent opening spell. Announcing the entry of the spinners, who have been exceptional for the tourists throughout the tour, Amila Aponso struck in his very first over.
Following Fernando's first wicket in his second spell, the home team rebuilt their innings courtesy a 94-run 6th wicket stand between Delano Potgieter and wicket-keeper Rubin Hermann. However, it was Madushanka once again who provided the breakthrough for Sri Lanka as he dismissed Hermann for 45 in the 44th over.
Potgieter on the hand steered his team to bat through the 50 overs as he ended unbeaten on 97 after he made a century in the previous game against Sri Lanka Emerging. Aponso and Chamika Karunaratne ended their spells with superb economy rates of just above 3 taking a wicket apiece while Madushanka's 2-for were the best figures. Skipper Asalanka and Sammu Ashan also contributed with some economical overs.
The run-chase didn't begin well for Sri Lanka as their highest run-scorer from the previous match, Sandun Weerakkody was dismissed for a duck in the very first over. Soon they were struggling on 30/3 in the 9th over with all 3 top-order batsmen back in the dressing room.
Standing up to the requirement Captain Asalanka and his long-term team-mate Ashan put up a solid 111-run stand for the 4th wicket to bring Sri Lanka back on track. With opening pacer Beyers Swanepoel taking the first 3 wickets, off-spinner Luke Philander removed 3 more wickets including Asalanka and Ashan to give his team a chance once again. Star all-rounder Kamindu Mendis was the sixth wicket to fall for 10.
With 47 more runs required, in-form Ashen Bandara and Madushanka guided the visitors to a convincing 4-wicket victory in the last over. They will now play their next game against the South Africa Emerging team tomorrow, 6th July, at the same venue.
University Sports South Africa XI
207/6 (50)


Batsmen
R
B
4s
6s
SR
Kabelo Sekhukhune
c Ashen Bandara b Lahiru Madushanka
14
25
2
0
56.00
Isma-eel Gafieldien
lbw b Amila Aponso
19
31
2
0
61.29
Neil Brand
b Chamika Karunarathne
5
13
1
0
38.46
Lesego Senokwane
run out (Charith Asalanka)
2
6
0
0
33.33
Delano Potgieter
not out
97
106
3
5
91.51
Ruan de Swardt
c Charith Asalanka b Asitha Fernando
6
16
2
0
37.50
Rubin Hermann
c Charith Asalanka b Lahiru Madushanka
45
88
2
1
51.14
L Philander
not out
11
16
1
0
68.75
| | |
| --- | --- |
| Extras | 8 (b 0 , lb 1 , nb 1, w 6, pen 0) |
| Total | 207/6 (50 Overs, RR: 4.14) |
| Fall of Wickets | 1-27 (5.5) Kabelo Sekhukhune, 2-36 (8.6) Neil Brand, 3-42 (11.5) Isma-eel Gafieldien, 4-44 (13.2) Lesego Senokwane, 5-61 (18.2) Ruan de Swardt, 6-155 (43.4) Rubin Hermann, |
| Bowling | O | M | R | W | Econ |
| --- | --- | --- | --- | --- | --- |
| Asitha Fernando | 10 | 1 | 46 | 1 | 4.60 |
| Lahiru Madushanka | 8 | 0 | 47 | 2 | 5.88 |
| Chamika Karunarathne | 10 | 1 | 38 | 1 | 3.80 |
| Amila Aponso | 10 | 0 | 33 | 1 | 3.30 |
| Charith Asalanka | 7 | 0 | 21 | 0 | 3.00 |
| Sammu Ashan | 5 | 1 | 21 | 0 | 4.20 |


Batsmen
R
B
4s
6s
SR
Sandun Weerakkody
c Delano Potgieter b Beyers Swanepoel
0
4
0
0
0.00
Sangeeth Cooray
c Rubin Hermann b Beyers Swanepoel
15
23
2
0
65.22
Minod Bhanuka
c Rubin Hermann b Beyers Swanepoel
5
13
1
0
38.46
Charith Asalanka
c Rubin Hermann b L Philander
66
84
6
0
78.57
Sammu Ashan
lbw b L Philander
57
90
5
0
63.33
Kamindu Mendis
lbw b L Philander
10
20
0
0
50.00
Ashen Bandara
not out
32
36
2
1
88.89
Lahiru Madushanka
not out
22
25
2
0
88.00
| | |
| --- | --- |
| Extras | 4 (b 0 , lb 1 , nb 0, w 3, pen 0) |
| Total | 211/6 (49.1 Overs, RR: 4.29) |
| Fall of Wickets | 1-0 (0.4) Sandun Weerakkody, 2-9 (4.3) Minod Bhanuka, 3-30 (8.4) Sangeeth Cooray, 4-141 (32.4) Charith Asalanka, 5-152 (38.1) Sammu Ashan, 6-161 (40.4) Kamindu Mendis, |
| Bowling | O | M | R | W | Econ |
| --- | --- | --- | --- | --- | --- |
| Beyers Swanepoel | 5 | 2 | 9 | 3 | 1.80 |
| Gideon Peters | 7.1 | 0 | 38 | 0 | 5.35 |
| Ruan de Swardt | 8 | 0 | 33 | 0 | 4.12 |
| L Philander | 10 | 1 | 33 | 3 | 3.30 |
| Delano Potgieter | 4 | 0 | 22 | 0 | 5.50 |
| S Mallie | 4 | 0 | 17 | 0 | 4.25 |
| Neil Brand | 8 | 0 | 39 | 0 | 4.88 |
| Lesego Senokwane | 3 | 0 | 19 | 0 | 6.33 |