At 6'2, the tattooed 100kg forward Sharo Fernando is an unforgettable character to anyone who has followed rugby in Sri Lanka. He cuts a commanding figure on the rugby field with penchant for getting himself into trouble. A former Peterite who was part of the successful 2006/07 & 08 teams has been a mainstay in the National XV a side since graduating to the big league.
Sharo's Rugby journey starts when his big body structure was noticed at his alma mater St. Peter's college, Bambalapitiya. He had not played any serious rugby apart from the annual class matches in school, but was picked up for his size by the Rugby maestro Sanath Martis in the latter part of 2005 for the 1XV squad. Originally a flanker, young Sharo took to the game like a duck to water and quickly got noticed for his big tackles and aggressiveness he brings to the game.
"I didn't play rugby at junior level, but since I was a big made kid I was asked to come for 1st XV practice by Coach Martis" Fernando recalls his start as a Rugby player "I was a member of the 2006 team captained by Haren Ariyawardane and we went on to become league champions, In 2007 under Ranuka Jayasinghe we became unbeaten double champions. In 2008 we were captained by Poornak Delpachithra and my performance in this season earned me a place in the Sri Lanka Under-19 team that year"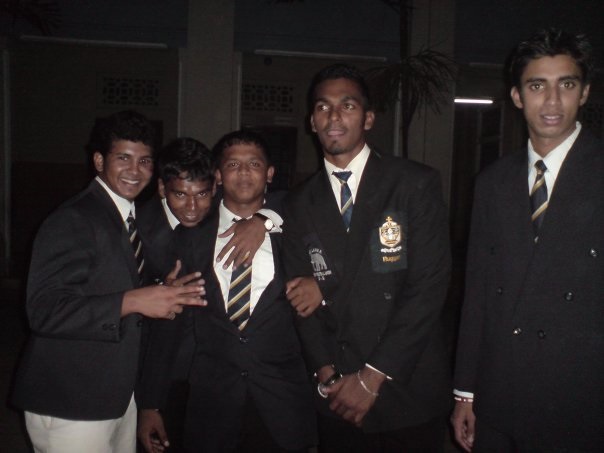 Soon after leaving school Fernando made his club rugby debut at Havelocks sports club the same year in 2008, although they did not have a great season this young flanker was spotted by the national selectors for his good form and was picked for the National XV a side squad.
"I was really happy that I got picked for the national squad in my first club rugby season. This gave me the belief and confirmed that I am capable of performing at the national level and drove me to become a better player".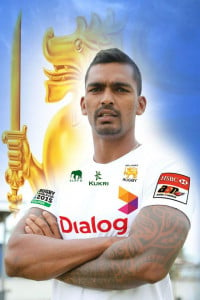 After representing CR & FC for a couple of seasons, Fernando returned to the park club in 2012/13 season. This was a memorable year not only for Sharo but everyone in the Island rugby circles as Havelocks managed to end Kandy SC's decade long dominance, winning the Club rugby league in 2012/13.
The following 2013/14 season saw the destructive flanker changing the pink shirt to be part Navy SC. He remembers this as one of the most memorable seasons. This is where Sharo Fernando – the Flanker was converted to a Flanker/Lock forward. He excelled in his new position as his height coupled with defensive capabilities added an extra dimension to the second row position. Fernando's good showing wearing the No.5 jersey was even sweeter as Navy Sports Club went onto win the league title at the end of the season. This meant that he had won the league title in consecutive years although not with the same club.
In a very physical and full contact game as rugby collisions and clashes are a plenty. Players who play with much heart and hunger will pick up more than their required share of yellow cards. Sharo Fernando's belligerence naturally got him into much trouble which resulted in him being sidelined during the games. This is a big disadvantage to both him and his team. We had query him on this disconcerting side of his game. "It's true that I have had trouble giving away penalties. It is partly due to the fact that I try to be a forceful tackler and try my level best to turn over the ball. In a ruck situation, there are so many rules around a ruck and a tackle so it's easy to get penalized"  We were cruel. Drilling him on developing a reputation for getting into scuffles and brawls during the game; he was bashful and disclosed "Yes, I admit that it has been a problem.  Rugby is a full contact game and sometimes it is easy for the emotions to overspill and get the better of you. There have been times that I have lost my calm and I am not proud about it. In the current season I am making a conscious effort to make sure that the only place my name is mentioned is on the team card and the try scorers list." He claims that a lot of people judge players by what happens in the middle but dont see what happens after "Last season Gayan Weeraratne (Kandy SC) and I had a brawl in the middle of the field and a few blows were exchanged. But after the game we apologized to each other over the phone and we have no malice against each other."
With plenty begin documented about this lanky forward's rugby playing antics, we had to quiz  him about life away from the rugby pitch. It was a no brainer that we start with his love for tattoos. Sharo claims he got his first tattoo done when he was just 13. "It was a fish on my leg and I did it myself, I have now covered it up with a better tattoo" He loves ink on his body and has over 20 tattoos and plans on getting a few more provided they are sanctioned by his better-half. An avid outdoors-man who loves to get away from the hustle and bustle of the city and go into the jungle to enjoy the challenge of fishing as he claims it demands patience and solitude.  "I love spending time in the wilderness and fishing. It makes me feel closer to nature. Nothing beats a BBQ around a camp fire with some close mates".
Sharo credits all his success to the support system he has behind him. "My farther Milton Fernando passed away 12 years ago, since then my mother Rupika was the chief of the house and she backed me in becoming the rugby player I am today. My siblings – Sister Resha and Brother Shane were always supportive of me playing rugby as they would come for games to encourage me."
Having tied the knot three years ago, Sharo revels to us that his wife has been a main source of strength in his life. "I got married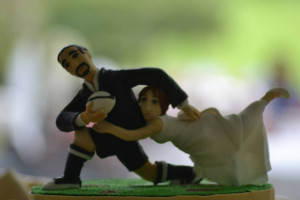 to Gayadi in 2013 and since then she has been my pillar, from taking care of my nutrition needs to washing my practice clothes she has completely taken over everything my mom did for me. Gayadi is from Kandy and has a Rugby background; it is very helpful for me as she is my biggest critique and helps me to settle down after bad games. I am very thankful for the support and the confidence she gives me"
Having returned to the Park club Sharo Fernando has made his presence felt in the pink jersey. He has already contributed with a try in their opening game of the 2016/17 and is determined to help the club regain the league title that they won last time he turned out in a Havelock's shirt.
It was indeed a privilege sitting down with this enigmatic character and ThePapare thanks him for his time.