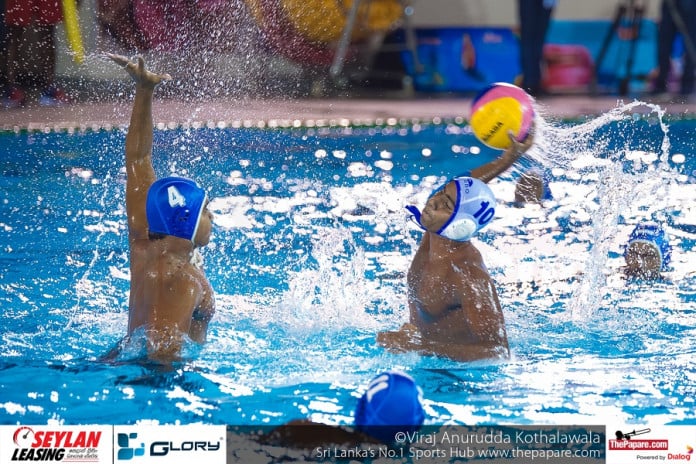 India's fightback in the final quarter of the first match at the 1st South Asian Aquatic Championship saw them securing a 10-8 win to take a 1-0 lead in the series.
The 1st of the 5 match water polo series between the two countries commenced last evening with the Sri Lankan Junior Boys' Water polo team facing their Indian counterparts for the first time. The 1st match was held as an exhibition encounter as a part of the opening ceremony with the dignitaries including the Hon. Minister of Sports Dayasiri Jaysekara.
The Sri Lankan team led by Thomian Ashane Francis had a perfect start to the championship with Basith Yakoob drawing first blood but India soon replied with a goal by Sarang Vaidya.
Sri Lanka's danger man Sachitha Jayatilake was heavily marked throughout the first passages of play but he made a difference with a goal just before the end of the 1st quarter as Sri Lanka went into the break with a 2-1 lead.
The second quarter was an even affair with both teams scoring at each end. Sri Lanka scored off the efforts of Sachitha Jayatilake who contributed with two goals and one other by Shakya Gunathilake. In reply to the three goals, India scored two goals off the efforts of Shivam Gadge and Kartick Chandra. Sri Lanka went into halftime leading 5-3.
Sri Lanka maintained the two-point lead until the end of the third quarter at 7-5 but matters changed course in the fourth quarter. Four goals came in for the visitors in quick succession while Sri Lanka only managed a single goal off a penalty. To finish off the 1st encounter India slotted a final goal to end with double figures as India won the encounter 10-8.
Full time: 10 -8 in favour of India
Goal scorers
India – Bhogesh Kulte, Sibin Varghese (2), Sarang Vaidya, Karthick Chandra (3), Shivam Gadge, Prakash S (2)

Sri Lanka – Sachitha Jayatilake (4), Basith Yakoob (2), Shakya Gunathilake, Kisal Assalarachchi