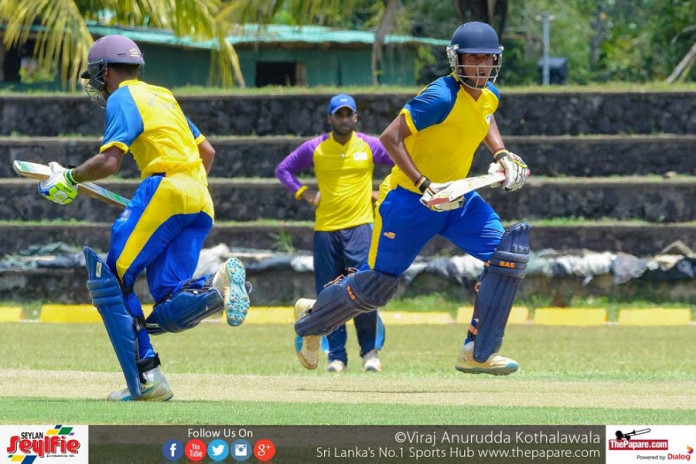 Sanjika Ridma of Eastern Province scored an unbeaten 152 runs against Uva Province in their group B clash which ended in a draw today in the SLC Inter Provincial U23 cricket tournament. 
Uva Province resumed play at 105 for 2 in their first innings. Unfortunately due to over night rain the match had to be suspended until the afternoon session due to a wet outfield. The match was clearly heading for a draw but it was Eastern Province who took honours in all three departments.
The weather permitted only 44 overs to be bowled today and Uva could only manage 88 runs in those overs while Eastern bowlers bagged 6 wickets. Nimesh Vimukthi and K Thanushan shared 3 wickets each. Harsha Rajapaksha top scored with 43 runs while Lisula Lakshan scored 30 runs. At stumps they were 193 for 5 in 69 overs.
Early on, Eastern Province posted 384 for 9 in 73 overs. Sanjika Ridma scored a magnificent unbeaten 152 which was the highlight of the whole match. He found good support from Ravindu Nikeshala who missed out on three figures by just ten runs as he was dismissed for 90. The only positive from this match for Uva was the bowling spell from Hashan Vimarshana who bagged 5 for 61.
Eastern Province U23 384/9d (73) 

Sanjika Ridma 152*, Ramindu Nikeshala 90, Sachintha Jayathilake 32, Pramud Hettiwatta 32, Nimesh Vimukthi 27, Ramesh Nimantha 22, Hashan Vimarshana 5/61, Harsha Rajapaksha 2/76, Evanka Sanjula 2/96 

vs 

Uva Province U23 193/9 (69) 

Harsha Rajapaksha 43, Lisula Lakshan 30, Samahi Salfdeen 29, Nimesh Vimukthi 3/36, K Thanushan 3/32