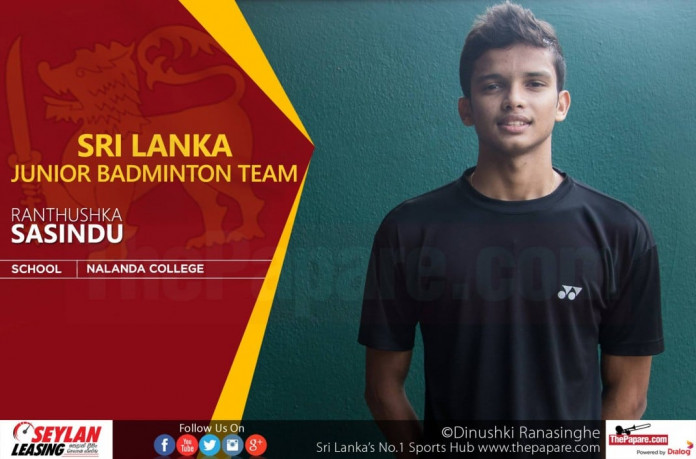 Sri Lanka's junior shuttler Ranthushka Sasindu defeated Markus Bath of Norway as he gained passage to the fifth round of the BWF World Juniors Men's Singles where he will take on either Masayuki Onodera of Japan or Miha Ivanic of Slovenia.
The BWF World Juniors that commenced on the 2nd of November 2016 in Bilbao, Spain progressed to its individual events after the completion of the mixed team events and currently the Sri Lankan shuttlers are battling it out amongst the best junior players in the Singles and Doubles draws.
Junior Shuttlers win big against Norway and Lithuania
Three Sri Lankan players were listed on the Men's singles in the initial drawing of 170 players that included Ranthushka Sasindu, Madhuka Dulanjana & Sewmina Gunatillake. Sewmina Gunatillake had to exit the draw in his first match, losing out to Fong Hau Sim of Malaysia. The scores read 21-12 & 21-17.
Madhuka Dulanjana had the privilege of winning his first round game against Bruno Barrueto Deza but lost to Christopher Grimley of Scotland in his next match. The scores read 21-12, 21-13 in favour of the Scottish national.
BWF World Juniors – Team Sri Lanka finish 36th
Sri Lanka's hopes will be vested on Nalandian Sasindu, who is currently in the fifth round of the Men's singles. He defeated Chen Xin-Yuan of Chinese Taipei in Round 2 21-8, 21-18 and later defeated Marcus Bath of Norway to make it to the fifth round of the singles draw. Sasindu is one win away from reaching the quarterfinal stage of the competition.
Sri Lanka's Women's captain Buthmi Galagamage was the only successful player in the Women's Singles making it to the second round by winning her tie against Silvia Garino of Italy. She later lost to Asuka Takahashi of Japan. The other two players, Inuri Kuruppu and Chathumhari Wijayarathne lost their 1st round games.
Ranthushka Sasindu is expected to play his Round 5 game later in the evening.
Also read: Sri Lanka Shuttlers ready for BWF World Junior Mixed Team Championships