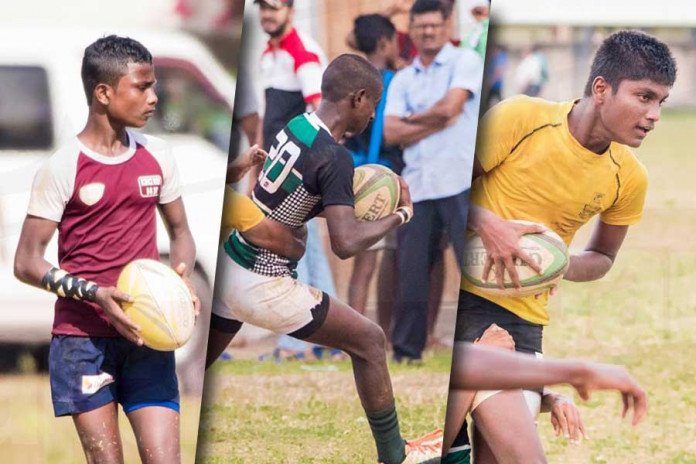 Colombo Race Course will be the venue as the final eight schools battle it out for the Schools' Under 16 fifteen-a-side Rugby Championship on the 24th, 25th, 28th of August and the 1st of September 2017.
The pre-quarterfinals of the tournament kicked off on the 3rd and 6th of August as 16 teams from Colombo battled it out for 4 spots in the Quarter final stage.
The initial eight teams for the quarter final were to be selected from Colombo (4), Kandy (2), Sabaragamuwa (1) and  Galle (1),  however due to a draw following extra time in the game between DS Senanayake College and St. John's, the authorities decided to elect five teams from the Western province at the expense of the single team from the Sabaragamuwa district.
Read More: Science, Isipathana & Lumbini advance while DS vs St. John's ends in controversy
Hence the single team from the Sabaragamuwa district will compete in the Plate segment of the tournament. Speaking to ThePapare, tournament secretary W. S. Wijerama added these words on the change.
"The last match during the Colombo quarterfinals saw D. S. Senanayake College and St. John's College Nugegoda being drawn at the end of extra time and we could not decide a winner. Thereby, considering the competitiveness in the Colombo schools, a decision was taken to accommodate the fifth school from Colombo and allow the Sabaragamuwa team to partake in the Plate segment"
The Schools selected for the quarterfinals from the Western Province are Science, Isipathana & Lumbini alongside D. S. Senanayake College & St. John's College Nugegoda following the decision made by the organizing committee. Meanwhile the teams from Kandy and Galle are yet to be finalized.
With the Under 16 ten-a-side tournament also happening on the 19th and 20th of this month, the tournament organizers have decided to shift the dates of the 15-a-side fixture to the last week of August.
"The Under 16 ten's is a ten-a-side format is a different format so we plan to halt the 15's and give the teams a break and the tournament will resume on the 24th with the cup quarterfinals" the tournament secretary further added.
In addition to the main cup segment, there will be Plate, Bowl and Shield titles on offer for the teams contesting.