These are some of the best fast bowlers who represented Sri Lanka and cut short their career due to injuries and various other reasons.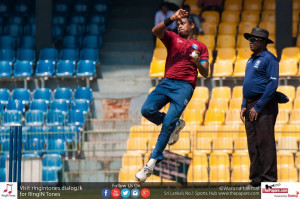 Hailing from the town of Balapitiya in Sri Lanka, Thilan Thushara Mirando is one of the few left-arm seamers who did well in the international arena. He impressed the selectors with his pace 135+ and seam movement and was rewarded with a Test debut against West Indies in 2003.
But an ordinary turnout on debut, saw him dropped him and back in the domestic arena. With some terrific performances in the provincial side in 2008, Thushara came back into the national side where he did considerably well. Thushara has played in 38 ODI games claiming 50 wickets with best being 5/47. He has managed 28 wickets in 10 Tests. Also, known for his hard hitting in the late order, his best being an unbeaten 54 in ODIs. Thushara has 310 wickets in first-class and 182 wickets in List 'A' in his domestic career.
During the time, he was playing for Sri Lanka, he was given the opportunity to play Chennai Super Kings in the 2009 Indian T20 League. He is one of the most entertaining personalities among the cricketers and is fondly referred to as "Amba"
He had a major knee injury and his confidence suffered thus. Thushara's last Test was against the West Indies in Galle, where he under-performed and the game ended in a draw. Chris Gayle smashed 333 as Thushara went wicket-less for whopping 79. He continues to working hard in the domestic stage at present representing Moors SC in the last season in the hopes of a comeback to the national side.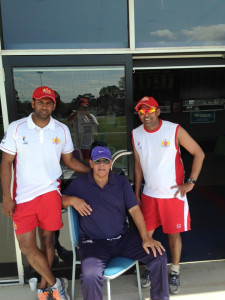 Prabath Nissanka is from Ambalantota and burst onto the international stage as a genuine fast bowler, who could bowl a 140+ and trouble the batsmen with his pace and bounce. He started his career from Matara Sports club and then continued with Bloomfield. Nissanka has 76 first-class wickets with an average of 29.18.
He enjoyed a great ODI debut in the 2001/02 season, claiming 2/24 including a maiden in 8 economical overs in Sharjah against Pakistan.
A cluster of injuries forced this speedster to end his international bowling career prematurely. He played 4 tests and 23 ODIs for Sri Lanka and has 27 wickets to his name in the ODI format.
Later, Nissanka shifted his focus towards coaching career. After completing a level 3 coaching course in Australia, he was employed by SLC as an assistant fast bowling coach.  Currently he coaches a domestic side in Australia (Melbourne).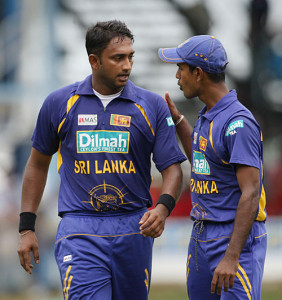 Weeraratne hails from Gampola, he is a genuine all-rounder who bowls right-arm medium-fast and bats left hand. This dashing hard hitter could change the game any time with his clean hitting. Weeraratne is more of an out-swing bowler and having studied at Trinity College in Kandy, he went on to play club cricket for Bloomfield, Colts CC, NCC and ended his career at Ragama CC.
He came up the ranks by picking up 12 wickets at an average of 13.00 in the 2000 U-19 World Cup. Soon he was selected for the national side for his magnificent performances and made his debut in the 2000 Asia Cup against Bangladesh.
Inconsistency and injuries did not allow him to get a permanent place in the Sri Lankan side and he was dropped after a playing only 11 games. However, he made a comeback after 5 long years with the help of some great domestic performances. In one such performance, he smashed the fastest first class fifty, scoring it in 12 balls breaking the record previously held by Adam Holliake of England. The all-rounder only played 15 ODIs and 5 T20Is games for the country.
Weeraratne played 4 games after forcing his way back, in those matches he failed to pick-up a wicket and went for plenty of runs. This prompted the selectors to axe him and he didn't play an ODIs again. Weerathne has 4125 runs and 277 wickets in first class cricket.
Weeraratne is another all-rounder who changed his mind and started playing cricket in down-under.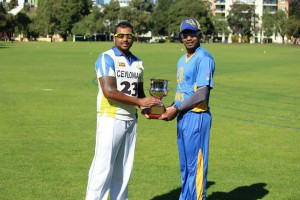 Suresh Perera is another destructive all-rounder who did not go on to making a huge impact in the international circuit. Commencing his cricket at Isipathana College, he played club cricket for CCC, Badureliya SC Moors SC and SSC accumulating 2431 runs and capturing 147 wickets in his first-class career.
Perera was once considered a most exciting prospect in Sri Lankan cricket. After Sri Lanka were thrust into cricket prominence following their breathtaking 1996 World Cup victory. He was part of a new wave of talent to come through after the era of the great Arjuna Ranatunga and Aravinda de Silva.
Perera played only 3 tests and 20 one-day internationals for Sri Lanka in his short career and is yet another player who could have easily become a super all-rounder for Sri Lanka cricket.
He is currently getting involved playing cricket in Perth and he still hits a long ball.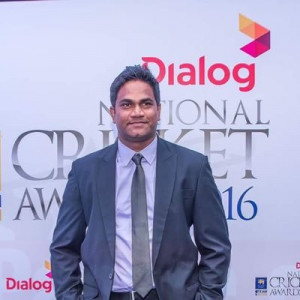 Demuni Nuwan Tharanga Zoysa started his cricketing career from Isipathana College moved to SSC to play club cricket. He has over 300 wickets and 2065 runs in his long first-class career.
The 6' 5" Zoysa was a left-arm pacer, who was best known for the bounce he could generate especially coming down from such a height.  After Chaminda Vass, he was one of the best left-arm seamers to come through the ranks but his career was cut-short by injuries and inconsistency.
Zoysa came in to the scene under the leadership of Arjuna Ranatunga, for some outstanding performances in First-Class cricket, making his Test debut against New Zealand in Dunedin in 1997. He has taken 64 Test wickets and 108 ODI wickets respectively.
The lanky seamer reached great heights by taking a hat-trick in a Test against Zimbabwe in Harare but cutting short his career due a serious knee injury he played his final Test against Australia in Cairns in 2004.  Zoysa was more suited for the ODI format and proved his worth on many occasions. One of his better bowling spells came against South Africa at Colombo (RPS) in 2004 when he took 5 for 26 and won the game for Lanka in a low scoring encounter.
In 2010, he was picked in the Provisional Sri Lankan squad for the World T20 and played a few games for Deccan Chargers in IPL 2008.
Zoysa is currently doing his duties as a fast bowling coach for Sri Lanka Cricket.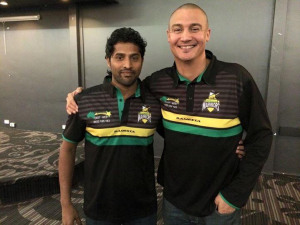 Chanaka Welegedara, is a tall and well-built lively left-arm seamer who is a natural in-swing bowler for the right-handers. He is a product from S. Thomas' College, Matale and played club cricket for Moors SC and Tamil Union. Welagedara has over 300 first-class wickets with 8 five wicket hauls.
He made his first-class debut in 2002 for Moors SC, picking up 34 wickets at 24.14 in 2002/03 season. His impressive performances rewarded him for the Sri Lanka development squad against UAE and earned him a place in the Sri Lanka 'A' squad.
However, he received a huge setback due to an ankle injury and after being operated in Australia, he was out of action for 18 months. His performances in the 'A' team got him a call-in Sri Lanka's Test squad for the tour of West Indies in 2008 before being included for the India series in November-December 2009. Chanaka took 55 wickets in 21 tests and 15 scalps in 10 ODIs. He has 2 five wicket hauls in Test cricket and a five-for in ODIs respectively. Chanaka equaled the world record for the most economical four-over T20 spell his figures were of 4-2-2-4.
This very humble character "Wele' opted to move to Melbourne after being left out of Sri Lanka's squad for the series against Pakistan.