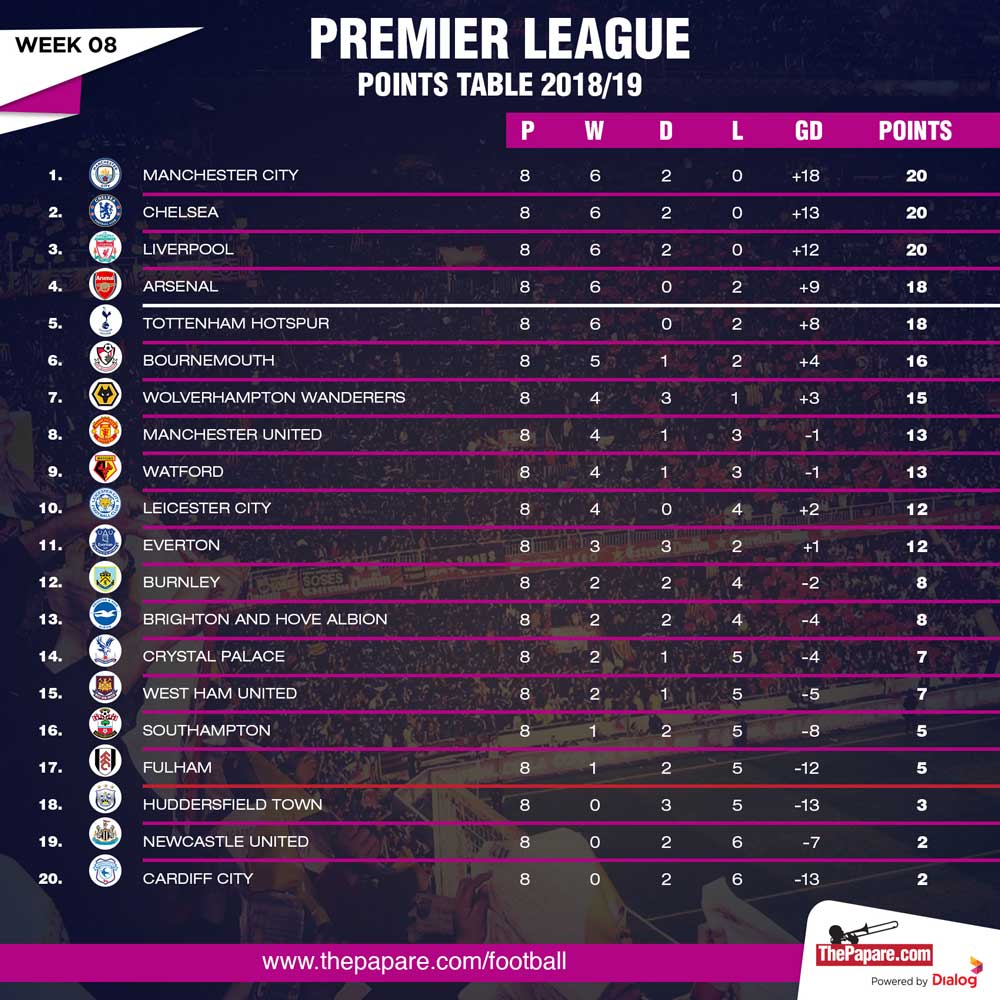 Gameweek 8 of the 2018/19 Premier League produced some significant comebacks while also seeing some high scoring encounters.
Manchester City remains at the summit of the Premier League after drawing out a 0-0 battle with Liverpool. This draw also sees Liverpool drop to 3rd with the top 3 teams all on 20 points; Liverpool trail second place Chelsea by a goal on goal difference.
Chelsea as mentioned previously climbed to second on goal difference, tying with City and Liverpool on 20 points after another dominating victory, this time in a 3-0 triumph over Southampton. The Saints managed to hold onto the 16th position despite the loss.
Arsenal ran riot at Craven Cottage as they defeated Fulham 5-1, in a result that saw both Pierre-Emerick Aubameyang and Alexandre Lacazette get onto the scoresheet twice and Ramsey finishoff what surely would become one of the goal of the season contenders. This result sees the Gunners climb to a familiar 4th position while Fulham remain at 17th.
Tottenham, who are level on points with rivals Arsenal, dropped to 5th based on goal difference despite producing a 1-0 victory over Cardiff City. Cardiff dropped to the bottom of the table due to this result. Bournemouth produced a dominant display against Watford as they came out 4-0 winners, climbing over Watford into 6th place. Watford meanwhile dropped down to 9th.
Newly promoted Wolverhampton Wanderers continued their impressive run of form as they pulled off a 1-0 win against Crystal Palace, to climb two spots to 7th, while Palace dropped a place to 14th.
Manchester United were trailing 2-0 at half-time to Newcastle in what looked like it would be Jose Mourinho's final match in charge, but a probable hairdryer half time talk produced a significant comeback, with Alexis Sanchez heading in the late winner for United to win 3-2 and move to 8th. Newcastle dropped one spot to 19th.
Everton triumphed in a 2-1 win over Leicester City, seeing Everton remain at 11th, while the Foxes dropped to 10th. Burnley battled out a 1-1 draw against Huddersfield, seeing the Terriers move up from the bottom of the table to 18th, while Burnley remained at 12th.
Brighton battled West Ham in a 1-0 victory, that saw The Seagulls climb two places to 13th, while The Hammers dropped to 15th.