Sri Lanka will be participating in the AFC U23 Championship China 2018 Qualifiers and are in the process of selecting the 30 man pool ahead of training.
Sri Lanka is drawn in group A alongside Islamic Republic of Iran, Oman and hosts Kyrgyz Republic for the qualifiers which will take place from 19th to 23rd July 2017.
Sri Lanka was drawn in group A of the AFC U23 Championship China 2018 Qualifiers at the..
ThePapare.com looks at the in-form players who should make the squad.
Naveen Jude (Java Lane SC)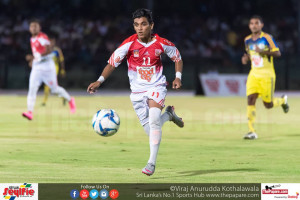 The 19 year old Royalist has been in stupendous form in the last 11-12 months and is a vital cog in the wheel of Java Lane SC.
Java Lane had a disastrous Dialog Champions League 2016 campaign where they were relegated to the Premier League Division I but the former Sri Lanka u19 striker stood out from the rest being the silver lining in the dark cloud.
In eight games of the DCL16 group stage he scored 6 goals. Two goals each against Police SC and Saunders SC and one each against New Youngs FC and Air Force SC. He was at it once again when Java Lane revived their fortunes in the last few months going on a memorable FA Cup 2017 campaign in which they came to the final for the first time in the club's history.
Naveen scored six goals in six games. He was on target twice in the round of 32 match against Kirulapone United, who had an impressive run in last year's FA Cup. He would score twice again and this time against last year's finalists Renown SC and add a goal each against Saunders and Army in the semi-final and final.  
To put into context Naveen's form – at the end of the DCL16 group stage Army's Mohamed Issadeen had 8 goals. Issadeen bullied minor oppositions like Easwaran SC and Super Sun SC scoring 5 and 3 goals each in the FA Cup while Java Lane faced tough oppositions like Renown, Crystal Palace FC, Saunders and Renown in their FA Cup campaign. Issadeen finished both campaigns as the Golden Boot winner. Mind you the veteran Issadeen plays for a much superior team than Java Lane and has years of experience playing for Sri Lanka.  
Afeel Mohamed (Colombo FC)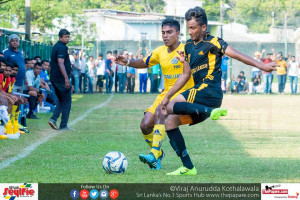 One of Sri Lanka's bright young prospects, Afeel has the ability to play in central or defensive midfield position or at center back. In his school and Sri Lanka u19 days he played in midfield but since his arrival at Colombo FC he has been used as a center-back by coach Mohamed Roomy.
He settled into the position seamlessly alongside veteran Mohamed Ramees where Colombo FC became back to back Dialog Champions League winners and made it to the semi-finals of the FA Cup. In the DCL16 group stage Colombo FC had 4 clean sheets and only conceded more than 1 goal in three games. When it came to the business stage the Super 8's Colombo had 2 clean sheets and never conceded more than a goal in the rest of the five games. DCL campaign record stands at 14 goals conceded in 15 games – 2nd best defensive record.
Afeel's raw pace and hard tackling makes him a strong defender while his calm ball playing skills allows him to control the game from defensive or from midfield.
Kaveesh Fernando (New Youngs FC)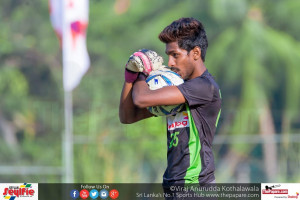 The New Youngs FC goalkeeper has been in the Sri Lanka national squad during the last year. He keeps getting improving and won't be long before he threatens Sujan Perera's long standing national no.1 position.
In the 2016/17 season Kaveesh did not have the best of defences in front of him but was on numerous occasions preventing a dismal score line for the Wennappuwa side. In the group stage he had one clean sheet and did not concede more than 1 goal in 4 matches. In the Super 8 stage he had 2 clean sheets and had 4 games where he only conceded a goal. Apart from this stat he saved a penalty as well as few brilliant saves.
Zarwan Johar (Colombo FC)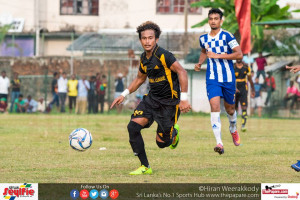 Zarwan who needs no introduction to the Sri Lanka football community, has added a new dimension to his game in the concluded season – his 2nd season for the champions Colombo FC.
Zarwan is a known goal scorer, a clinical finisher and potent creative force. In the 2016/17 season has shown he has a lot more in his repertoire. Deployed in midfield he now looks to control the pace and flow of the game together with his passing range, something he has developed from his six time FA Cup winning captain Rawme Mohideen.
Zarwan was adjudged ThePapare.com Player of the Match in three DCL16 games, one of which was the championship decider against Renown SC. Discipline is still a worry for this youngster but a stern coach like Colombo FC's Mohamed Roomy would keep him in check and would know how to bring the best out of the star player.   
Sanjuka Priyadarshana (Saunders SC)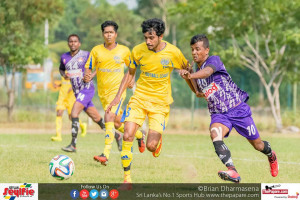 The Saunders SC center-back is one of the defenders who have been elevating his form as each match goes by.
The youngsters playing alongside veteran Sri Lanka center-back Dumidu Hettiarachchi has grown in confidence and formed a strong center-back partnership in which Saunders made their way into another FA Cup semi-final.
He has a couple of clean sheets in the last few matches, including one against Moragasmulla SC in the City FL President Cup and against Rathnapura MC in the FA Cup 3rd round. Sanjuka was also instrumental in keeping the in-form Naveen Jude quiet in the FA Cup semi-final.
Danushka Madushanka (Colombo FC)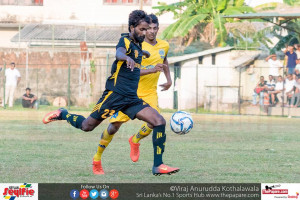 Madushanka is a former Sri Lanka U19 player who captained the side in 2016. He has been part of the champion Colombo FC outfit for the last three years.
Apart from being Colombo FC's super-sub and scoring vital goals in pressure matches he has become one of Roomy's utility players. A player who usually plays as a striker may well be utilized as a midfielder or a right wing player.
After getting a an extended run in the FA Cup, he showed the value he brings to the side by becoming one of the best if not the best player for Colombo FC in the quarter final and semi-final.
Chamara De Silva (Java Lane SC)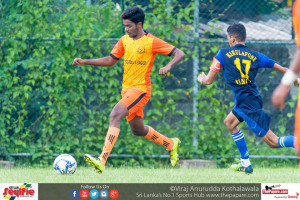 Chamara De Silva is another one of the center-backs who has impressed in the last few months. He was rather poor in the Champions League where Java Lane got relegated but a new coach and a stronger partnership with Fahim Nizamdeen at center-back resulted in the Slave Island club coming to the finals of the City Football League President Cup and FA Cup.
He uses his height and strength to good use and can easily improve to be one of the best center-backs in the country.
Mohamed Mujeeb (Renown SC)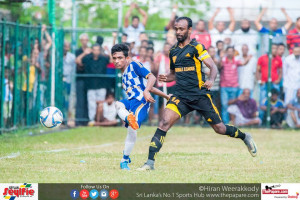 A gem that Renown SC and Head Coach Mohamed Amanulla unearthed after the injury to Afam Akram. The former Hameed Al Husseinie College midfielder came into the Renown setup in the DCL16 Super 8 Week 2 and straight away impressed with his ball control and passing.
He scored in his 2nd ever start for the Kotahena club and went onto become ThePapare.com Player of the Match in the same game with an assist. Mujeeb makes up for his small stature with his passing control, quickness and the ability to free himself up to receive the ball.
Apart from the above,
there is Afam Akram, Dilip Peiris, Rizkhan Raheem and Rasik Rishad in the mix. Afam Akram, Dilip Peiris and Rasik Rishad are in the rehabilitation process from ACL surgery which they suffered late last year while representing the Sri Lanka national side.
Dilip is a clinical finisher and dribbling skills along with his pace can be a handful for any defence. Afam after switching clubs from Java Lane to Renown SC has grown steadily. Him being a winger naturally fell into place with the playing style of Renown and became an important part of the side.
Rasik Rishad, from St.Aloysius' College was the 2016 Sri Lanka U19 goalkeeper who too has been playing regularly for Saunders SC. Rizkhan Raheem is the unsung hero of Renown SC. Amidst the star studded names like Rifnaz, Fazal, Fazul, Hakeem and Uzman it is Rizkhan who has grown to be a consistent performer at left back.
Do you agree with the picks? are they deserving? Who do you think should be in the Sri Lanka U23 squad and why? Comment below!