St Peter's College coach, Sanath Martis will no doubt be working hard to deny his former team Royal from repeating last season's success as he plans to bring back the Schools' Rugby League title to Bambalapitiya and with it the B.C.Anghie trophy after a lapse of 4 years.
When: 09th June 2018
Where: Royal Complex
Kick off: 4.00pm
It's a rather straightforward equation for Royal College. Anything other than a loss will do for the boys from Reid Avenue as they aim to become the first team to retain the league title in the last decade.
Read more: Royal take Schools league and Bradby first-leg honours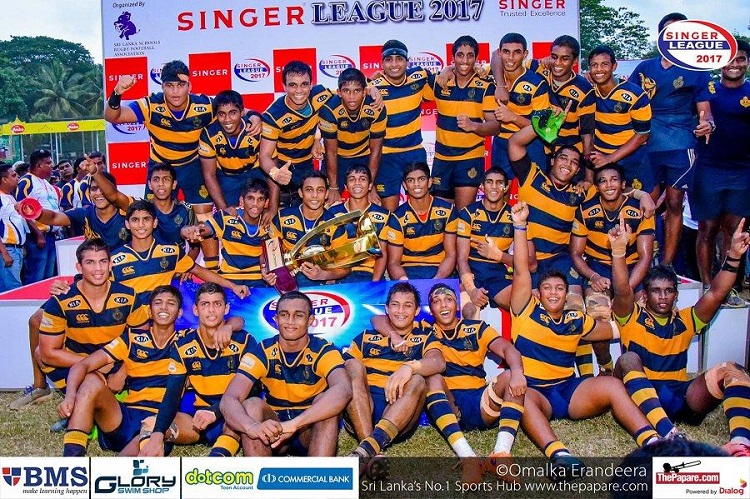 Even if the Royalists lose, they still have more than 50% chance of winning the league, so the odds are stacked heavily in their favor.
For St. Peter's though it is a different story. They need a win; not just any win, a win with a deficit of more than 7 points and then hope that Isipathana College manage to prevent St. Joseph's from taking away any points from their game.
Past Results:
2017 – Royal College beat St. Peter's College 17-10
2016 – Royal College beat St. Peter's College 33-24
2015 – Royal College beat St. Peter's College 36-25
Last Season: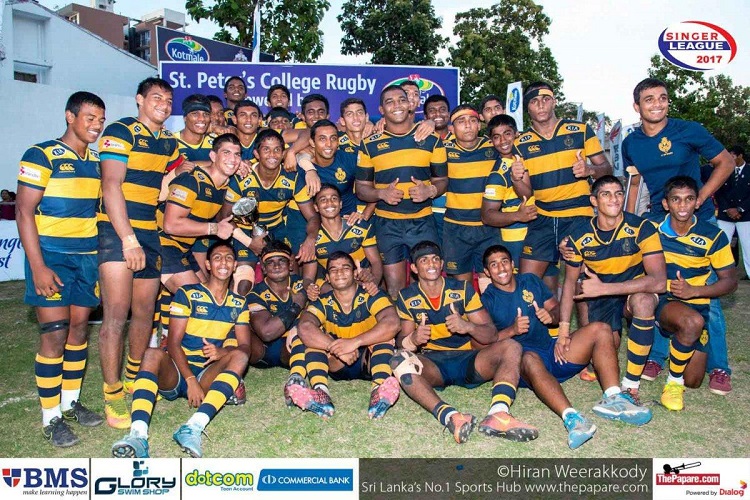 Royal took a fourteen-point lead at half time, away at St. Peter's last season and unsurprisingly managed to hold on despite a strong counterattack from the Bamba Brigade in the 2nd half.
St. Peter's pushed the visitors to the brink, breaking open the defense once, but, failed to breach them on a second occasion as Sanath Martis' Royal held on to secure the win and retain the B.C.Anghie trophy for a fourth consecutive time.
Read: Royal beat St.Peter's in a scrappy affair
Form
The home team has been in red hot form, even going on to dismiss Isipathana College from their presence last weekend. Their forwards have dominated teams, holding on to possession and frustrating their opposition. Even when they have decided to spread the ball wide, they haven't failed to bring on the razzle-dazzle they are known for, catching a few off-guard.
Find out more about the standings this year: ThePapare Stats Centre 
St. Peter's had sparkling season, but fell short at the final moments last weekend, showing that they are not the 'invincibles' of 2010. The lads from Bambalapitiya have gone on to stun a few of their opponents this season but they will have to bring something special into the reckoning if they are to end the hosts' unbeaten run.
Players to Watch out for:
Royal College
The mid-field pairing of Thulaib Hassan and Janidu Dilshan has stood out time and time again. At times Dilshan has overshadowed his partner and they will surely be on their toes as the two powerful forward packs meet at the Complex.
Along with the swift backline, Royal College have dominated teams with their forward pack and picking one man out of the eight would be unfair on their colossal forwards.
St. Peter's College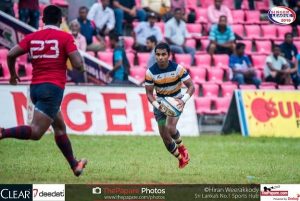 Five-eighth Kenneth Wimaladasa was the only Peterite to get on the scoresheet last weekend and he alongside Full-back Shehan Liyanapathirana will be looked to to provide something special for the Bamba Brigade.
The forwards tried hard but failed to breach the Josephian defense last week, and will need to put on a better performance this weekend if they are to dismantle a bigger forward from Royal College.
Final Say
This will no doubt be a different challenge for the lads from Reid Avenue with Martis at the helm at St. Peter's College, the former Royal coach and master tactician will surely know his way around his former team.
Having said that Royal come in as overwhelming favorites as their big forwards will look to dominate St. Peter's on their home turf.
Prediction
Royal College to win by 10-14 points.
Stay Logged on to ThePapare for exclusive action from the League showdown on Saturday 9th June 3.25 p.m. onwards on Dialog Tv Channel 1, My Tv and on ThePapare.com.
Watch Live: Royal College v St. Peter's College – Singer Schools Rugby League 2018 #43