The previous segment (Oldest Players in International Cricket – Tests) brought you oldest player records from Test cricket. Continuing with the final episode, let's take a journey on ODI, World Cup and T20 records for the oldest players.
ODIs
The oldest ever player to appear in an ODI is Nolan Clarke of Netherlands. Born in Barbados, Clarke was 47 years and 257 days old when he played for Netherlands against South Africa at Rawalpindi during the 1996 World Cup campaign.
Nolan Clarke is also the oldest player on debut (47y 240d). He made his debut against New Zealand at Vadodara during the 1996 WC.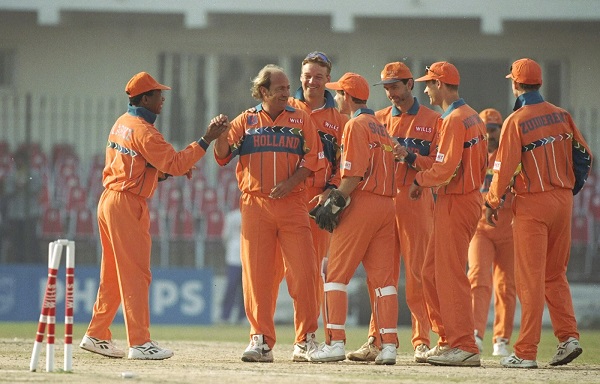 The second oldest is John Traicos (45y 312d). Born in Zagazig, Egypt, Traicos made his debut for South Africa in 1970. After South Africa was forced into sporting isolation, Traicos made his ODI debut for minnows Zimbabwe against Australia during the 1983 World Cup. His debut was memorable as Zimbabwe secured a shocking 13-run victory over Australia on their debut World Cup game. His Test debut for Zimbabwe in 1992, sealed his name of having the biggest gap between two Test appearances (22y 222d). An excellent off spinner, Traicos was electric at gully, better than most of the players half his age. He played his final ODI against India at Pune in 1993.  
The oldest ODI player for Sri Lanka is D.S. de Silva. He was 42 years and 261 days old when he played against Australia at Melbourne in 1985. Michael Tissera is the oldest to make an ODI debut for Sri Lanka (36y 76d). His debut was also the first ever World Cup game for Sri Lanka, against West Indies at Manchester in 1975. The match also featured the oldest to play against Sri Lanka, the West Indian legend Lance Gibbs who was 40 years 251 days old.
The oldest to make his ODI debut against Sri Lanka was Omar Henry of South Africa (40y 39d). The first non-white to play for South Africa in the post-apartheid era, Henry made his debut against Sri Lanka at Wellington in 1992, a World Cup game best remembered for Sri Lanka defeating the eventual semifinalists by 3 wickets in the penultimate delivery.
Absolutely accurate, meticulously and painstakingly researched, Gala our stats buff, lays it all on.
Khurram Khan of UAE is the oldest to score an ODI century (43y 162d). His unbeaten 132 came against Afghanistan at Dubai in 2014. Previously, the record for the oldest player to score an ODI hundred was held by Sanath Jayasuriya (39y 212d). He made 107 against India at Dambulla in 2009.
Khan is also the oldest captain to score an ODI century. His 132* against Afghanistan was his first century, making him the oldest to score a maiden ton as well. The oldest to score his maiden ton for Sri Lanka is Thilan Samaraweera (32y 351d). His 104 came against New Zealand at the RPS in 2009.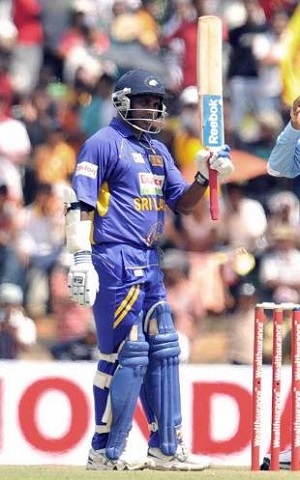 The oldest to take a 5 wicket haul in an inning is Sunil Dhaniram. The Canadian was 39 years 256 days old when he captured 5 for 32 against Bermuda at Ontario in 2008. It was Dhaniram's maiden 5 wicket haul, the oldest to do so.
Muttiah Muralitharan is the oldest Sri Lankan to take a 5 wicket haul in an ODI. Murali was aged 36 years and 227 days when he grabbed 5 for 29 against Zimbabwe at Harare in 2008. Upul Chandana's maiden 5 wicket haul, 5 for 61 came against South Africa at SSC in 2004. He is the oldest to take a maiden 5 wicket haul for Sri Lanka in an ODI (32y 116d).
Norman Gifford is the oldest to lead a side in an ODI (44y 361d). He captained England against Pakistan at Sharjah in 1985. For Sri Lanka, it is D.S de Silva, who holds the Test record as well. D.S. de Silva was 40 years and 264 days old when he captained Sri Lanka against New Zealand at Dunedin in 1983. The respective appearances were captaincy debuts for both Gifford and D.S. de Silva.
T20s
Ryan Campbell of Hong Kong is the oldest to play in an international T20 (44y 34d). The Aussie born player appeared for Hong Kong against Scotland at Nagpur in 2016.
Sanath Jayasuriya's appearance against England at Bristol in 2011 makes him the oldest T20 player for Sri Lanka (41y 360d). Campbell is also the oldest player to make his T20 debut (44y 30d) while Jayasuriya is the oldest T20 debutant for Sri Lanka (36y 350d) with his debut against England at Southampton in 2006. The game was also Sri Lanka's inaugural T20 international.
Mohammed Tauqir of UAE is the oldest to captain a side in a T20i. He was 43 years 129 days leading his side against Netherlands at Edinburgh in 2015. Aged 35 years and 133 days, Mahela Jayawardene led the Sri Lankan side at the World T20 finals against West Indies in 2012, the oldest T20 captain for the island nation.
World Cup
While Nolan Clarke is the oldest to appear in a World Cup, Mohammed Tauqir is the oldest to captain a side on the highest stage (43y 60d). He led UAE against West Indies during the 2015 World Cup.
Imran Khan is the oldest captain to win the World Cup (39y 5m 20d). Interestingly, he led a Pakistani side which featured the three youngest World Cup winners, Aaqib Javed (19), Moin Khan (20) and Mushtaq Ahmed (21).
However, the oldest to win a World Cup is Rohan Kanhai of West Indies. When West Indies won the inaugural World Cup in 1975, Kanhai was 39 years 5 months 26 days old, a mere 6 days older than Imran Khan. The finals in 1975 and 1992 were the last international games for both Rohan Kanhai and Imran Khan.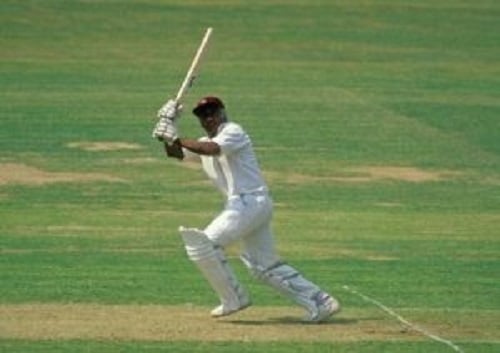 At 38 years and 148 days, T.M Dilshan is the oldest to score a century in the World Cup. He made 104 against Scotland at Hobart in 2015. Shaukat Dukanwala (39y 40d) of UAE took 5 for 29 against Netherlands at Lahore in 1996, the oldest to take five wickets in a World Cup game.