Who do you think the all-time most successful Cricket captain at Trinity College, Kandy is? Let me give you a clue, he is a left handed wicket keeper batsman and a National cricketer….
No its not who you thought, the super legend Kumar Sangakkara's heroics in the International arena is well documented and he definitely is the greatest to take the cricketing field from Trinity but  the correct answer is Niroshan Dickwella, the protagonist of our story and holder of a record that will never be broken.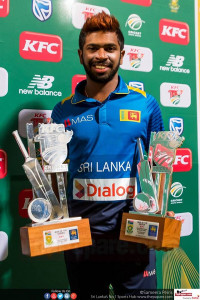 Dickwella is currently a hot topic in the national cricket circuit after his explosive performance in the Zimbabwe tour and his man of the series performance in the T20 series against South Africa. Dickwella fondly known as Niro has been slotted-in as an attacking opening batsman and has provided the much needed fire power Sri Lanka longed for at the top of the order. Dickwella has grown into a huge national prospect but the foundation for him to become the cricketer he is today was laid at his Alma mater Trinity College, Kandy.
Under Dickwella's captaincy in the 2011/12 season Trinity became the first team in the Island to become triple champions winning the schools two day league tournament, one day knock out tournament and the T20 championship which included 14 outright wins in the two day league but the icing on the cake was winning the all-important big match against St. Anthony's College, Katugasthota after 26 long years.
Rugby football is the number one sport at the hill country school and most if not all who walk through the Trinity College corridors thrive to become a rugby player and wear the coveted Red, Gold and Blue. We asked Niro how he was drawn to the willow instead of the Oval ball "It was my parents who initially wanted me to take on the game of cricket, they enrolled me in a cricket academy by Mr. Bernard Perera and Harold Ranasinghe, I excelled in the house tournaments in the junior level and was picked for the under 13 team and that's where I first represented Trinity College in cricket"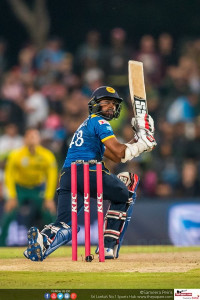 Niroshan rose through the ranks as an aggressive batsman and was spotted by 1st XI cricket coach at the age of 15 years. In his debut game for Trinity Dickwella could not get off the mark in both innings "My debut 1st XI match was against St. Peter's in 2008/9 season I was just 15 years old and there was big pressure , I was out for nougat in both innings and was devastated . It was not a good start by me as I couldn't perform well in the season and I was dropped for the 9th game. But fortunately for me there were only 3 lefthanders in our side and one of them got injured in that game. I was given another crack at opening the batting against Vidyartha and I got a score of 140 runs"
This performance got Niro a place in the team that would face St. Anthony's in the 2008/9 big match under the captaincy of Rushan Jaleel , the first of four big matches he will be a part of.  15 year old Dickwella was thrilled but terrified at the same time to take the field in a big match at such a young age. "We had won the toss and opted to bat first, so there was no time to acclimatize to the surroundings and I had to go to the middle to bat with Kithmal Wimalaweera , There was a lot of pressure because I wasn't very successful during the opening stages of the season  but I managed to score 46 runs in the first innings and put on a good partnership with Kitty (Kithmal Wimalaweera)"
Niro claims that his first big match experience did a world of good for the rest of his school cricket career. He says being able to handle the big game atmosphere at such a young age helped him to develop as a cricketer.
Dickwella first led Trinity in the Under 17 age group and advanced to become the skipper of the 1st XI side in 2011/12 season.  The season he laid claim to the tag of becoming the most successful schools cricket captain. Niro's Trinity team made headlines week in week out having won 14 two day games but their crowning glory came when they defeated the Antonians in the big match after laps of 26 years.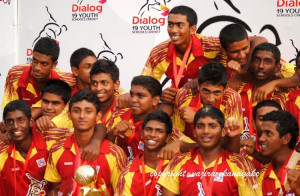 "Winning the big match is the biggest moment in my cricketing career so far. It was played at Asgiriya our home grounds and majority of the team including myself wanted to bowl first if we won the toss as we had done well at Asgiriya bowling first, but our coach Sampath Perera wanted us to bat first and put a good score on the board because he said a 300+ score will put the opposition under severe pressure in a big match. Most of us were not comfortable with that decision."

Niroshan won the toss and as his coach opted to take first lease of the wicket. "At the time I had already gathered up 1200 runs in the season and our openers had regularly given good starts to the team.  But as fate would have it I got out in the first ball of the second over for a mere run and when I looked up at the dressing room I saw Alvin Fernando bashing a chair on the floor. He was against the decision from the very beginning. I never lost confidence in the team because all eleven of us could handle the bat very well and we had performed well throughout the season. When I made my way to the dressing room I pleaded with everyone that it's not about how many runs I got but how much we get as a team I reminded them if we bat well getting 300 is not difficult"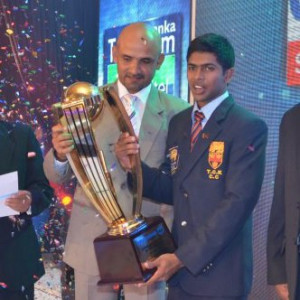 Trinity batting did exactly as asked, as they managed to get 302 before tea with Janishka Premasinghe  and Akila Jayasundera both getting 61 runs and Alvin Fernando getting important 47 runs. Having gotten to their target Trinity sportily declared and put the Eagles to bat and it came in good stead when they managed to take four key Antonian wickets at the end of days play leaving them at 77/4 at close of play on day one.
"Janishka, Akila and Alvin took us past the 300 mark and getting 4 wickets on the first day lifted our spirits up. In the first session of the second day Alvin and Janishka were at it again as they ran through the Antonian tail end to bundle them out for 192. At this time we started believing that we can win the match outright if we bowl well"
Trinity camp enforced a follow on. Trinity's medium pacer Amrith Srimahan bowled beautifully to lay claim to 5 wickets for 39 runs. Antonian middle order collapsed like a deck of cards but the tail enders were resilient and were determined to draw the game but the Lions were to have none of it.

"Amrith came out and bowled the best spell I have ever seen from a fast bowler in school cricket; he was just brilliant and accurate. Janishka ran through the middle order but the tail-enders were making it really hard for us. With only 15 minutes to go we were struggling to get the last wicket and if Antho got more runs it would have been a draw even if we got them out because padding would have taken 10 minutes and there wouldn't have been enough time to for us to bat again. I got a catch off Janishka's bowling with just 1 run to spare and we won the big match with an innings and 1run. It's an experience I can't describe in words. We won it after 26 years. Iit was an emotional moment for Janishka as his father who passed away the same year had been part of the team that won it last for Trinity. " said Dickwella who's face brightens up when he strolls down the memory lane which he claims to be his fondest.
Niro's Trinity team bagged all the awards on offer with Janishka Premasinghe adjudged the man of the match for his match bag of 6-85 and 61 in the first innings. Amirth named best bowler for his impeccable figures of 5-39. Akila Jayasundara best batsman for his firm 61 and Niroshan himself the best fielder for his glove work behind the stumps.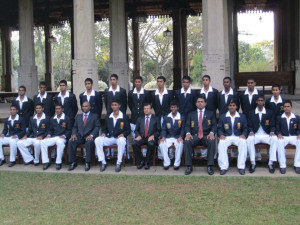 This year will be the centenary Big Match for Trinity and St. Anthony's as they celebrate a century of friendly rivalry. Niroshan who has watched the Trinity team play a couple of times this year is confident that the Lions can overcome the Eagles in the historic encounter. However there is a twist in the tale as Niroshan's Cricketing mentor and the coach he credits his success to and the man who saw Dickwella's potential at the age of 15, Sampath Perera has changed camps and is the coach now at St. Anthony's College, Katugasthota. We asked Niroshan how much of an effect that will have on the result.  
"I always say if not for Sampath Perera there will be no Niroshan Dickwella as he is the one who guided me, made me understand my priorities and molded me to the player I am today. He is a great coach and knowing him he would already have plenty of tactics to counter our bowlers and batsmen. But Trinity coach Kavinda has worked with him and knows exactly how he thinks and I know he has his own tactics to counter them. It will be an interesting battle but I am confident the Lions will be victorious if they play to their full potential.  "
We thank Niroshan for taking time off his busy schedule as a national cricketer to talk to ThePapare.com and wish him all the very best and eagerly await seeing him returning to red ball cricket with the National team in the upcoming test series.