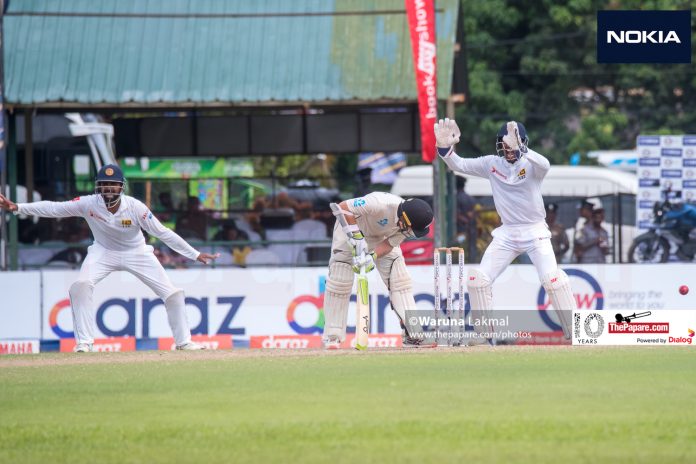 New Zealand ended day 4 of the 2nd ICC Test Championship game against Sri Lanka on 382/5, adding 186 runs to their overnight score of 196/4 on a rain-hit day. The visitors lead by 138 runs, going into day 5.
More rain during the early part of the day meant play on day 4 could only begin at 1.40pm local time. BJ Watling and day 3 centurion Tom Latham continued from where they left off, looking comfortable against both pace and spin.
The pair added 73 runs to the overnight score, before a rare miss from Latham saw him dismissed lbw by off-spinner Dilruwan Perera for 154. A 99-run opening session signaled New Zealand's intent on what looked like a pitch that was offering little to nothing. 
Colin de Grandhomme used the long handle to good effect in the post-tea session, racing to 50 off just 45 deliveries, breathing life into a game which looked like it was heading for a draw. The big man took a liking to the left arm spin of Lasith Embuldeniya in particular, smashing 2 sixes and a four off the youngster in the 19-run 99th over of the visitors' innings. He did have his share of luck however, when Dinesh Chandimal, on the field for the injured Niroshan Dickwella, put down a tough chance behind the stumps when de Grandhomme was on 13 – Embuldeniya the unlucky bowler, who would eventually go on to bear the brunt of de Grandhomme's attack.
Dhananjaya, Latham tons leave game in the balance
The Sri Lankans looked flat in the field as the conditions and New Zeland's batting offered no respite. De Grandhomme and Watling put on 113 runs for the 6th wicket, with the former doing the bulk of the scoring as he finished with 83 off 75 deliveries, inclusive of 5x4s and 5x6s.
Sri Lanka were dealt a heavy blow on day 4 when it was revealed that skipper Dimuth Karunaratne had suffered a quadricep tear in the field last afternoon. With the time he's been off the field, Karunaratne will also be unable to open the batting – having to come in at No. 7 or lower as the law dictates.
Photos: Sri Lanka vs New Zealand | 2nd Test – Day 4
Niroshan Dickwella too did not take the field today, having injured his right pinkie finger while gathering a delivery from Lahiru Kumara yesterday.
After losing the 1st Test, New Zealand were intent on forcing the pace in the game, in a bid to get a win which would translate to 60 Test Championship points. The Sri Lankan weather did not come to their aid, but the Kiwis did the maximum they could in the time available on day 4 to ensure they still had a chance of winning the game, albeit a small one, going into the final day.
Watch Live – New Zealand tour of Sri Lanka 2019 – 2nd Test Match
244/10 (90.2) & 122/10 (70.2)


Batsmen
R
B
4s
6s
SR
Dimuth Karunaratne
c BJ Watling b Tim Southee
65
165
6
0
39.39
Lahiru Thirimanne
c Kane Williamson b William Somerville
2
35
0
0
5.71
Kusal Mendis
c BJ Watling b Colin de Grandhomme
32
70
4
0
45.71
Angelo Mathews
c BJ Watling b Trent Boult
2
29
0
0
6.90
Kusal Perera
lbw b Trent Boult
0
4
0
0
0.00
Dhananjaya de Silva
b Trent Boult
109
148
16
2
73.65
Niroshan Dickwella
c BJ Watling b Tim Southee
0
3
0
0
0.00
Dilruwan Perera
lbw b Ajaz Patel
13
54
1
0
24.07
Suranga Lakmal
c BJ Watling b Tim Southee
10
24
1
0
41.67
Lasith Embuldeniya
lbw b Tim Southee
0
2
0
0
0.00
Lahiru Kumara
not out
5
11
0
0
45.45
| | |
| --- | --- |
| Extras | 6 (b 1 , lb 2 , nb 3, w 0, pen 0) |
| Total | 244/10 (90.2 Overs, RR: 2.7) |
| Fall of Wickets | 1-29 (14.4) Lahiru Thirimanne, 2-79 (32.3) Kusal Mendis, 3-93 (41.1) Angelo Mathews, 4-93 (41.5) Kusal Perera, 5-130 (57.3) Dimuth Karunaratne, 6-130 (57.6) Niroshan Dickwella, 7-171 (74.5) Dilruwan Perera, 8-214 (83.5) Suranga Lakmal, 9-224 (85.1) Lasith Embuldeniya, 10-244 (90.2) Dhananjaya de Silva, |
| Bowling | O | M | R | W | Econ |
| --- | --- | --- | --- | --- | --- |
| Trent Boult | 22.2 | 6 | 75 | 3 | 3.38 |
| Tim Southee | 29 | 7 | 63 | 4 | 2.17 |
| Colin de Grandhomme | 17 | 3 | 35 | 1 | 2.06 |
| William Somerville | 6 | 3 | 20 | 1 | 3.33 |
| Ajaz Patel | 16 | 4 | 48 | 1 | 3.00 |


Batsmen
R
B
4s
6s
SR
Jeet Raval
c Dhananjaya de Silva b Dilruwan Perera
0
9
0
0
0.00
Tom Latham
lbw b Dilruwan Perera
154
251
15
0
61.35
Kane Williamson
c Kusal Mendis b Lahiru Kumara
20
28
2
0
71.43
Ross Taylor
c Dhananjaya de Silva b Lasith Embuldeniya
23
43
3
0
53.49
Henry Nicholls
c Dhananjaya de Silva b Dilruwan Perera
15
46
0
0
32.61
BJ Watling
not out
105
226
4
0
46.46
Colin de Grandhomme
c Lahiru Kumara b Lasith Embuldeniya
83
77
5
5
107.79
Tim Southee
not out
24
10
2
2
240.00
| | |
| --- | --- |
| Extras | 7 (b 0 , lb 4 , nb 0, w 3, pen 0) |
| Total | 431/6 (115 Overs, RR: 3.75) |
| Fall of Wickets | 1-1 (3.1) Jeet Raval, 2-34 (12.5) Kane Williamson, 3-84 (26.2) Ross Taylor, 4-126 (42.3) Henry Nicholls, 5-269 (85.3) Tom Latham, 6-382 (110.2) Colin de Grandhomme, |
| Bowling | O | M | R | W | Econ |
| --- | --- | --- | --- | --- | --- |
| Dilruwan Perera | 37 | 4 | 114 | 3 | 3.08 |
| Dhananjaya de Silva | 5 | 1 | 10 | 0 | 2.00 |
| Suranga Lakmal | 11 | 2 | 32 | 0 | 2.91 |
| Lahiru Kumara | 25 | 0 | 115 | 1 | 4.60 |
| Lasith Embuldeniya | 37 | 4 | 156 | 2 | 4.22 |


Batsmen
R
B
4s
6s
SR
Lahiru Thirimanne
run out (Ajaz Patel)
0
5
0
0
0.00
Kusal Perera
c BJ Watling b Trent Boult
0
3
0
0
0.00
Kusal Mendis
b William Somerville
20
63
3
0
31.75
Angelo Mathews
c Ross Taylor b Colin de Grandhomme
7
30
0
0
23.33
Dhananjaya de Silva
c Tim Southee b Ajaz Patel
1
19
0
0
5.26
Niroshan Dickwella
c Tom Latham b Ajaz Patel
51
161
4
0
31.68
Dimuth Karunaratne
lbw b Tim Southee
21
70
2
0
30.00
Dilruwan Perera
c Ross Taylor b Tim Southee
0
12
0
0
0.00
Suranga Lakmal
c Tom Latham b William Somerville
14
45
2
1
31.11
Lasith Embuldeniya
c Kane Williamson b Trent Boult
5
11
0
0
45.45
Lahiru Kumara
not out
0
3
0
0
0.00
| | |
| --- | --- |
| Extras | 3 (b 0 , lb 2 , nb 0, w 1, pen 0) |
| Total | 122/10 (70.2 Overs, RR: 1.73) |
| Fall of Wickets | 1-0 (0.5) Lahiru Thirimanne, 2-4 (2.2) Kusal Perera, 3-11 (11.3) Angelo Mathews, 4-22 (18.3) Dhananjaya de Silva, 5-32 (21.5) Kusal Mendis, 6-73 (43.5) Dimuth Karunaratne, 7-75 (47.4) Dilruwan Perera, 8-115 (65.3) Suranga Lakmal, 9-118 (69.3) Niroshan Dickwella, 10-122 (70.2) Lasith Embuldeniya, |
| Bowling | O | M | R | W | Econ |
| --- | --- | --- | --- | --- | --- |
| Trent Boult | 14.2 | 8 | 17 | 2 | 1.20 |
| Tim Southee | 12 | 6 | 15 | 2 | 1.25 |
| Ajaz Patel | 19 | 3 | 31 | 2 | 1.63 |
| Colin de Grandhomme | 4 | 1 | 8 | 1 | 2.00 |
| William Somerville | 21 | 6 | 49 | 2 | 2.33 |