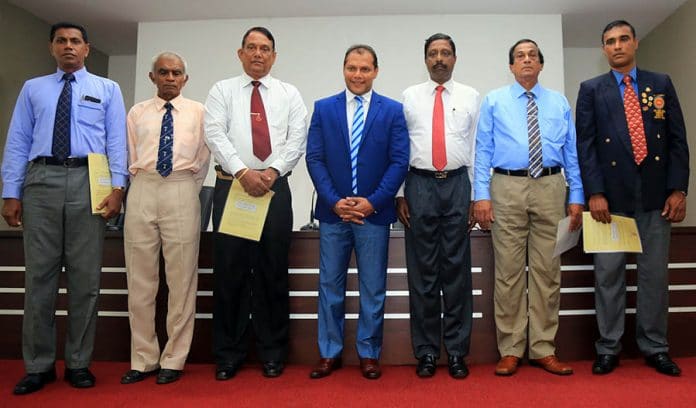 The new Selection Committees of 09 national level sports teams were handed their appointment letters yesterday (28th).
Munchee, the flagship brand of Ceylon Biscuits Limited (CBL) will once again sponsor the National…
The new Selection Committee of the Sri Lanka National Volleyball team along with new Selection Committees of 08 other national level sports teams received their appointment letters in a ceremony which was held yesterday at the Sports Ministry Auditorium under the patronage of the Hon. Minister of Sports, Mr. Dayasiri Jayasekara.
Volleyball Selection Committee

Chairman
Mr. Sarath Wijethunga
Members
Mr. N. D. Gunasena
Mr. E. M. L. C. Ekanayake
Mr. M. A. Ranjith Premaratne
Mr. C. W. Mahindarathna
Cricket, Badminton, Hockey, Rowing, Athletics, Judo, Basketball and Canoeing and Kayaking are the 08 other sports that the new selection committees have been appointed for.
North Western Province won both the Men's and Women's championships at the 43rd National…
The Hon. Minister of Sports, Mr. Dayasiri Jayasekara addressing the newly appointed selection committee members said;
"You all are shouldered with a huge responsibility. The future of Sri Lanka sports is in your hands now. So your duty is to select the right players to national squads and lead our teams to glory. And you can be assured that as the Sports Minister, I won't be interfering to work relating to your selection committees. You have the total freedom to carry out your responsibilities. So it's your responsibility to make maximum use of that freedom and select talented players for the national teams. I request you all to form a proper mechanism in order to conduct this process successfully."

"There have been instances where the parents of players who have not been selected to the squads complained to me about the unjust selections. So what I said in those instances is that I can find out whether there have been any unjust selections or not. But, the matters regarding selections should be discussed with the selection committees."       

"To deal with such matters, we'll establish an appeal council in the near future. So if there are any unjust selections, the appeal council will take necessary action regarding that. Another thing I want to mention is that you all must find a way to watch the regional and provincial level competitions. The first step to selecting regional level players to the national squad will be to watch how they play. The national selection committee members of all the sports, except Cricket must definitely take steps to watch the National Sports Festival games of their respective sports. I think this will be a good first step in selecting players to the national squads."

"From the 1st of January, next year all the players must go through and pass fitness tests to be selected to the national squads. The fitness tests will be conducted by the National Institute of Sports Science with the help of bio mechanism technology."