The National Schools Chess Finals-2018 was completed successfully on the 16th, 17th and 18th of September at Dharmasoka College, Ambalangoda. Schools from across the Island participated at this event, which was very competitive from the beginning.
St. Michael's College Batticaloa, Kokuwil Hindu College, Zahira College Kalmunai, Hartley College Jaffna, Methodist Girls High School Jaffna participated from the Northern and Eastern Provinces. These schools participated in numbers, proving that distance does not matter when it comes to sports and competitions.
The controlling panel was led by Mr. Dayal Siriwardena with assistance from Werochana Perera, Pavithra Athukorala, Sanjeewa Athukorala, and their commitment and genuine interest should be highly appreciated.
Ranidu Liyanage of Ananda College, Sasith Nipun of Dharmasoka College, and Harshana Thilakarathne of Maliyadewa College missed the first two rounds of the Tournament, as they represented Sri Lanka in the World Junior Chess Championship.
New champions were crowned in all categories. In the under '17 Girls' Category, last year's Runner up Visakha Vidyalaya was crowned as Champions with 28.5 points out of 36. They won 5 Rounds out of the 6, with one Round being a draw. Girls' High School Kandy were the runners-up with 2 points less than the Visakhians.
H.D. Jayasekara, W.B.J. Epa, T.H.D.N. Tharushi, K.M.S.D. Jayasundara, N.D. Hewawasam, W.B.V. Epa, H.K.T.D. Dharmapriya were the members of the winning Visakha Team. Southlands College, Galle won Third Place with 20 Points, 0.5 points higher than the defending Champions, Dharmasoka College, Ambalangoda.
Mahamaya Girls College Kandy, Won the Championship in the 'under 20' Girls category, winning all of the six rounds. They scored 27.5 points out of 36 and had a comfortable lead of 5 Points. Sangamiththa Balika Vidayalaya Galle and Maliyadewa Balika Vidayalaya won the Runner-up and First Runner- up respectively. Last Year's Silver and Bronze Medalists Visakha Vidyalaya and Dharmasoka Vidyalaya never look comfortable as they finished in 7th and 6th positions.
Members of the Winning Mahamaya team are Naduni Peththanayake, Yasasirini Thuduawage, Shalini Ranasinghe, Hashara Abeysinghe, Uthpala Herath and Nuwani Peththanayake.
In the 'under 17' Boys Category, Maliyadeva College was crowned Champions. They took the lead straight after the Second Round, winning by 2 points. Ananda College Colombo and D.S. Senanayake College Colombo finished 2nd and 3rd. B.W.M.M. Madushanka, K.A.K.P. Abhayarathne, G.W.D.M. Dabarera, H.M.G. Thilakarathne, G.M.H. Thilakarathne, I.A. Vithanage, I.M.P.T. Gunawardena were a part of the winning Maliyadeva College team.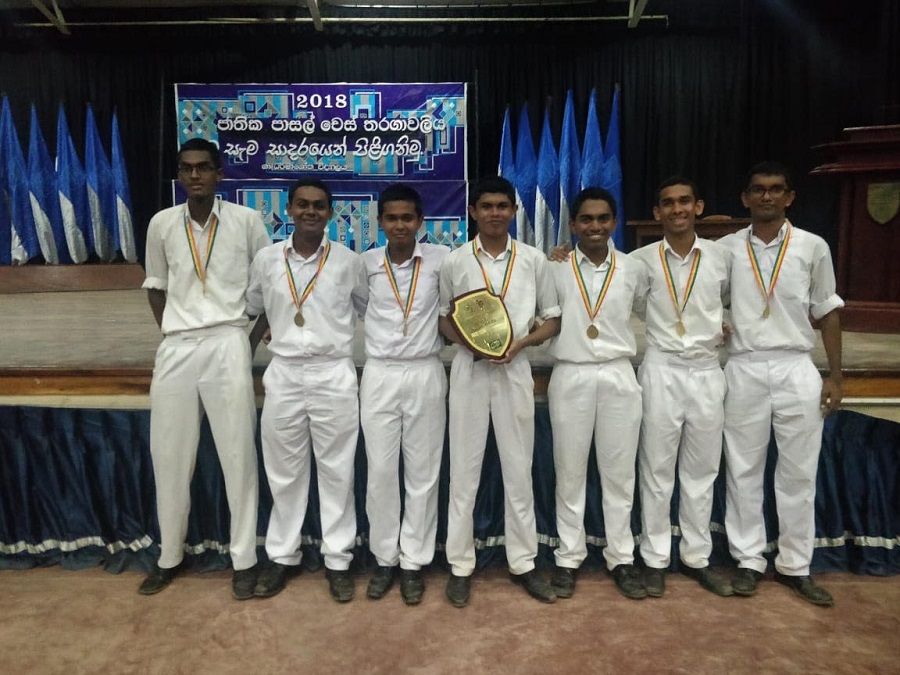 The merciless category was the 'Under 20' boys. It was very exciting till the 4th Round of the Tournament. But thereafter none of the teams managed to stop the Champions from Reid Avenue. It was quite a comfortable victory for the Royalists, as they finished with a difference of 3 points. Royal was led by Harith Hasanga, and the other Members of the team were Minul Doluweera, Charanga Gamage, Anojman, Suveen Ellawela, Lakindu Vithanage, and Vishmika Rathnayake. Defending Champions D.S. Senanayake won the Silver Medal and the Bronze was won by Maliyadeva College, Kurunagela to finish off proceedings.