A staunch and stubborn Navy defense held firm to inflict more pain on Kandy beating the visitors 37-32 in an 8-try thriller in week five of the Dialog Rugby League.

Veteran Flyhalf Fazil Marija kicked off the game on a gloomy, overcast evening at the Navy grounds, Welisara.
The hosts welcomed back the likes of influential scrum-half Richi Dharmapala and No.8 Nivanka Prasad while Saliya Handapangoda replaced Dinusha Fernando on the Wing.
Visitors Kandy had to make do without Sri Lankan 7's player Kanchana Ramanayake at  Centre but he was replaced by the very versatile Lavanga Perera.
Kandy came out with a point to prove and struck like lightning in the second minute of the game. Navy Winger Buddima Priyarathne grassed the very first restart of the game, Navy was penalized from the resulting scrum and found themselves defending a maul but failed to defend successfully as Dimitri Wijethunga dived over silencing the crowd. Thilina Wijesinge failed to convert. (Navy 00-05 Kandy)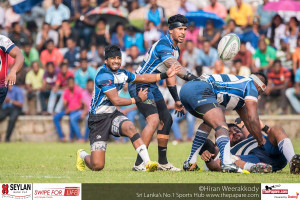 Navy looked a bit rattled as Kandy started off in scintillating fashion but the Sailors showed exceptional defense in the first few exchanges. They defended wave after wave and struck back with a try of their own through Buddhima Priyarathme. A stolen lineout bamboozled the Kandy defence and a lovely cut out pass found the Winger as hestepped inside and evaded the final defender to dive over under the post. Fullback Thilina Weerasinghe converted with ease to put the host ahead by two points. (Navy 07-05 Kandy)
Navy pulled further ahead through a penalty from the Fullback as Kandy was penalized for impeding a kick chaser. (Navy 10-05 Kandy)
Navy fought their way back and extended the lead with another try, this time by Scrum half Richi Dharmapala as a Jamaldeen, knock-on was pounced on by Lee Keegal who made a switch sending Saliya Handapangoda through. The wInger was caught out for pace but two phases later Navy Scrum half threw a dummy as he dived over from close range to drag Navy further ahead in the game. Thilina made no mistake.(Navy 17-05 Kandy)
Jamaldeen punished an infringement in the defensive line with the Centre making no mistake from in front, pegging back the hosts who seemed to be running away with the game. (Navy 17-08 Kandy)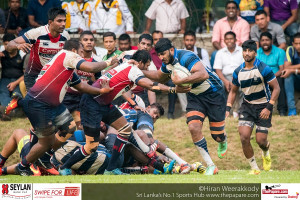 The hosts seemed to be on cruise control taking the first half as they scored their third and final try of the first half through Supun Peiris. The exit plan off the restart of Kandy was quite simple but Arshad Jamaldeen complicated matters as he took an age to clear and it was charged down by Peiris recollecting and diving over. The conversion placed Navy far ahead. (Navy 24-08 Kandy)
Having lead by sixteen, Navy seemed to switch-off and were made to rue their lapse of concentration as Kandy hit back. Captain- scrum half Roshan Weerarathna was the first to react as Navy was penalized for offside. He took the quick tap and went through a host of bodies to score under the post. Jamaldeen converted and Kandy was back in contention. (Navy 24-15 Kandy)
Kandy's mercurial Centre Danushka Ranjan pulled-off a try through an excellent back line move off a centre field scrum. He made a quick switch from the opposite side of the scrum bursting through a huge gap to score. Jamaldeen converted. (Navy 24-22 Kandy)
Half Time: Navy 24 (3T, 3C, 1P) – Kandy 22 (3T, 2C, 1P)
The second half began from where it ended as two Thilina Weerasinghe penalties saw the Sailors go to the thirty point mark leaving Kandy with all to do. (Navy 30-22 Kandy)
A lapse in concentration by Navy let Kandy take the lead in the game with yet another try through Danushka Ranjan. Navy was penalized for being within ten meters of the kick as Fazil Marija used his experience in favor of the visitors. The old-wise head came to use as Marija spotting space in the near corner put in a lovely cross-kick. Ranjan was the first to react chasing and dotting over near the touch line. Jamaldeen was accurate at the uprights and the difference was a mere point. (Navy 30-29 Kandy)
Kandy hit the lead through a kick from Jamaldeen as Navy was penalized for their defenders being lazy and not stepping back. (Navy 30-32 Kandy)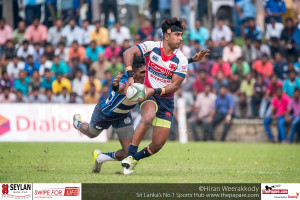 Having let the lead slip away, Navy regrouped and struck back through a trademark pick and go move by Hooker Dulanjana Wijesinghe. A well-constructed lineout maul broke, setting up the Hooker as he dived over to take Navy into the lead with minutes left on the clock. Thilina made no mistake from close range to make it a five point game.(Navy 37-32 Kandy)
That final try took the steam off the Kandy attack even though they continued to push the hosts defence to the breaking point. Navy held firm as time ran out on Kandy leaving the visitors with their second loss of the season.
Full Time: Navy 37 (4T, 4C, 3P) beat Kandy 32 (4T, 3C, 2P)
ThePapare.com Player of the match: Supun Peiris (Navy SC)
Man of the match expressed his views to ThePapare.com.
"First of all I would like to thank my coach. He put in a mammoth effort for us to nullify the Kandy attack, we studied their team during the week and came out and did our job"
Score breakdown :
Navy
Tries: Buddima Priyarathne, Richie Dharmapala, Supun Peiris, Dulanjana Wijesinghe.
Thilina Weerasinge 4 Conversions, 3 Penalties.

Kandy
Tries: Dimitri Wijethunga, Roshan Weerarathna, Dhanushka Ranjan 2.
Arshad Jamaldeen 3 Conversions, 2 Penalties.