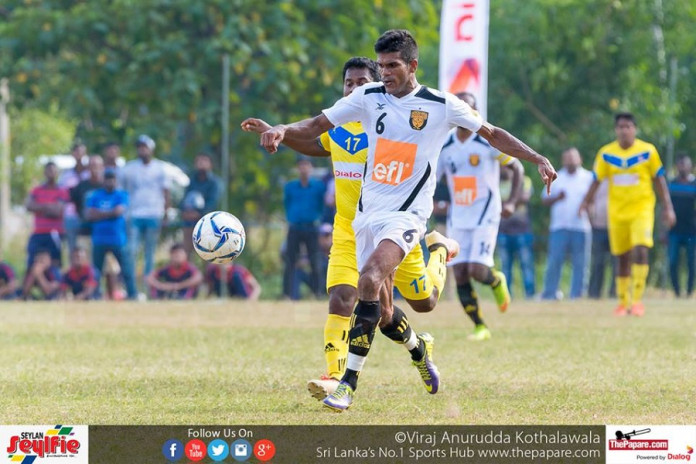 Nagoor Meera who represented Colombo FC in the 2016/17 season has left the club to join Navy SC.
Nagoor, who represented the club for a single season, becomes the 2nd high profile departure from the back to back Dialog Champions League winners within two months after Tuan Rizni left beginning of April.
Tuan Rizni is on the verge of leaving the back to back Dialog Champions League winners Colombo FC after requesting a release.
Nagoor played a crucial part in the championship campaign at right midfield position. His lightning quick pace, strength and superior fitness level was a highlight of his game. He scored three goals in the 15 match campaign with his standout performances coming against powerhouse Army SC and Navy SC in the Super 8 stage. He was a key figure in head coach Mohamed Roomy's tactical plan of a high pressing game where his pace, hassled and harried defences into committing many an error.
"Travelling for practices and matches was a major issue and also I wanted to be more stable in terms of my career and mainly family," Nagoor expressed exclusively to ThePapare.com.

"The club, management and coach were incredible throughout my stay. Roomy is a very good coach and I loved playing for Colombo FC and win a championship. Now I am looking forward to new challenges with Navy," he added.
Born in 1987 Nagoor Meera had his education at St.Mary's College, Nawalapitiya and upon leaving straight away joined Young Marians SC. In 2006 he joined Java Lane SC and would go onto play for the Slave Island club until 2012. In 2008 Java Lane got relegated but Nagoor was part of the side that brought them back up to the Champions League in 2012.
Nagoor got his first national call up in 2009 at the age of 22. However he would be dropped from the squad in 2010 before making a comeback in 2011 and playing until 2013.
In 2013 Nagoor signed with the Up Country Lions and then played the 2015 season in Maldives.
"Nagoor is a professional and disciplined player. Whenever he played and even in practice he would give his 100%. There were no questions from him. He played through some injuries in crucial matches for us. We will miss him and wish him the best for the future," Roomy added.